The blazing and searing sun covers Lyon, France on this August week, like a wool blanket on a baby. The heat is going to be a factor as Blake Leeper the American Bladerunner is in the midst of a battle that he knew was coming and has prepared for all of his life!
The fact that Leeper had been born African American to a middle class family in the deep south with no legs (and being told that walking would never be an option) has certainly not slowed down America's number one Bladerunner and Paralympic Athlete. In fact, the opposite has happened. Not only is he the fastest and most decorated American Bladerunner that America has ever produced, but he's on track to be the first disabled American to run in the primary games in Rio 2016.
Until a year ago, the name "Blade Runner" was primarily associated with the movie of the same name starring Harrison Ford. That changed in the blink of an eye when the world woke up to global news that South Africa's Oscar Pistorious shot and killed his girlfriend, Reeva Steenkamp. That was a game changer, not only for the athletes that were called "Blade Runner" but all disabled athletes worldwide.
The media circus was frenzied and palpable, so much so that Leeper was sucked up in the media vortex with a round of interviews on Piers Morgan, CNN, Greta van Sustren and a host of other print and radio outlets worldwide. It was as if at long last, the light had finally been shined brightly on to the Paralympic world, but it was not a good light. It is a scorching bad light, a light as bad as it could be.
A year has now passed since Leeper first showed the world his carbon fiber cheetah legs at the London 2012 games, and six months since Pistorious was arrested, and all of that is behind this young Olympic hopeful.
The International Paralympic Committee (IPC) Athletics World Championships here in Lyon, France belongs to Leeper and others that would take the spotlight and the others came and they certainly took. Medal after medal were claimed; world records being crushed daily and the hopes and dreams of the disabled all around the world fall squarely on Lyon. The problem? Nobody is watching! America turns a blind eye on her high level disabled athletes. NBC, CBS, CNN, FOX and all other media outlets fail to cover.
There is a huge thank you to ABC's "Good Morning America" who gave The American Bladerunner two minutes on July 4th in Times Square. A bold move from a bold network. The irony is that NBC is the network for the Olympics, and all calls for media coverage fell on deaf ears but once again Leeper does not let these minor annoyances get in his way to achieve greatness and yes greatness came to Lyon this blistering week and it was a sight to behold.
Lyon is an amazing city in the south of France some four hours south of Paris. Nestled between two rivers (the Rhone and the Siene) it was the perfect backdrop for these wonderful athletes and their achievements.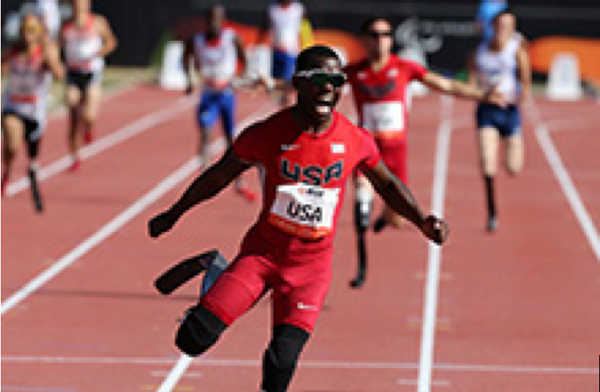 American Bladerunner Blake Leeper during the 2013 IPC Athletics World Championships in France. Photo: Vanilla Fire Productions
On every corner thousands of years of culture are amazing to behold and at the same time this new 21st century high technology allowing a man with no legs to compete on a world stage at speeds that are only one second from the fastest abled bodied man (Usain Bolt) has the juxtaposition of a great sci-fi thriller... Bladerunner comes to mind!
Leeper has his work cut out for him. There is a new sheriff in town by the name of Alan Olivera and he comes from Brazil. He is packing three-foot carbon fiber cheetah blades and has the same congenital birth defect as Leeper, giving them both the title of below the knee double amputees.
Pistorius has this same congenital birth defect as well, and with all of the hundreds of blade runners competing around the world, these three men are the cream of the crop, and are all within a 10th of a second of each other on any given day.
Olivera came into the worldview in London 2012 when he beat the now disgraced Pistorious for the famed 100 meters, which Pistorious had owned for 10 years. Leeper was also in that race, and Olivera came out of nowhere at the very end of the race blazing by both Pistorious and Leeper to win the gold.
Pistorious cried foul immediately stating that Olivera somehow cheated, manipulating the formula and the rules, heightening his blades to an illegal level. That call by Pistorious was the start of a downslide he would never come back from. Leeper was able to take the bronze that fateful day in London, and these three Blade runners were now down to two, the American and the Brazilian.
Day one in Lyon, Leeper came out of the shoot full of piss and vinegar! The stakes were high. A deal with Wheaties for a $25,000 pay day, and a cereal box cover were looming and all Leeper had to do was beat the fastest Blade Runner in the world, Olivera, and claim his first gold medal. The 200 meters was his first race, and he came off the blocks like Secretariat, but the Brazilian was not going to be denied, and Leeper would have to settle for silver.
Immediately after the race in a candid interview with Leeper on camera, he was confident, exuberant and letting me know in no uncertain terms that he was just getting warmed up, and the Brazilian should get ready for the 200, the 400 and the 4x400 relay. The American Bladerunner was in town and this was his moment!
48 hours later the 200 meters came during race two and once again Leeper was as confident as a young athlete can be. When the gun sounded, out of the blocks charged the American Bladerunner. It was at that moment trailing a full second behind the Brazilian as he crossed the finish line, a reality check became very apparent for Leeper.
Whatever Olivera was doing, he was doing it just a little better than the American, and with two races to go, a bit of a funk settled in. Another on camera interview would prove to be the antithesis of the first interview and Leeper was certainly shaken. I could see his confidence was in trouble. I assured him that gold was still available and to realize that he was now officially the most decorated American Bladerunner in history of the United States, and to run his race, and not to worry about Olivera. "Just do your best."
Obviously, to tell a champion to just "do his best" was probably not the best coaching advice he had ever received, but I am not a coach. I am a filmmaker, writer and huge fan. I was doing the best I knew how.
Race number three came and went and once again a silver for the American Bladerunner. By this point Leeper knew that the 4x400 was his last attempt to not only get the gold and crush the Brazilian, but to not have to listen to the Brazilian national anthem ever again. Much to Leeper's chagrin it seems he knew every note.
Then, just like that, it was on and the Americans were ready and this would become quite obvious. Not only did they win the gold and establish a new world record, but Leeper was the last man on the leg taking the baton across the finish line well in front of the Brazilian. At this moment everything was perfect. Being born with no legs, being picked last on the baseball team, being constantly bullied for all of those years. It was all gone. Gone forever!
Leeper has come back to America after running for his country and bringing with him four medals along with the hopes, dreams, and aspirations of every disabled person in the country.
Firmly back on American soil he will rest for a few months and in 2014 he will do it all over again in Toronto, and in 2015 in Qatar, and of course the Road to Rio 2016, where the opportunity exists for him not only to be in the Paralympics, but to be the first disabled American to run in the primary games.
No pressure Blake. America stands with you!
Blake Leeper information can be found at WWW.AMERICANBLADERUNNER.COM and WWW.BLAKELEEPER.COM and WWW.VANILLAFIRE.COM and WWW.REALITYTVCOUPLE.COM