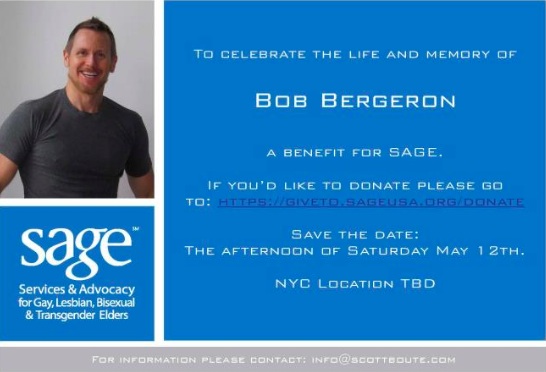 Question: The New York Times recently did a long article on a gay psychotherapist who committed suicide, ostensibly because he had trouble accepting his age as he approached 50. Ironically, he had just finished writing a book about smart strategies for aging in the LGBT community. While terribly sad, I was puzzled by the invitation for his memorial service (posted on his Facebook page), which read:
To celebrate the life and memory of Bob Bergeron, a benefit for SAGE [Services and Advocacy for Gay, Lesbian, Bisexual and Transgender Elders]. If you'd like to donate please go to [link]. Save the Date: The afternoon of Saturday, May 12th, NYC location TBD.
Isn't turning someone's death into a fundraising opportunity rather inappropriate?
Answer: I read that Times story, too, and my heart broke for Dr. Bergeron and the dark place he must have found himself in. His friends and family have my deepest sympathy as they work through the aftermath of this tragic end to his life.
In many ways our community has historically taken the lead in creating new ways to remember, celebrate, and mourn the dearly departed. As an example, the Celebrations of Life that are fairly common now were born from the saddest days of the early HIV/AIDS epidemic. And as much as I appreciate innovation, this new practice of positioning memorial services as fundraising opportunities strikes me as setting the wrong tone. Not surprisingly, this is not the first time I've heard of a memorial service turned funeral fundraiser. In fact, Chipin.com is one of several services whose mission is to raise dollars in memory of the deceased. Another, CharityWeb.net, promises it "can take your vision and turn it into a funeral fundraising success."
I have to say it: Yuck!
Funerals and memorials are a time for friends and family to come together to remember and celebrate the deceased -- with no price for admission. It would have been more seemly for the invitation to focus on the time and place of the service, with a line at the end saying, "In lieu of flowers, the friends and family of Dr. Bergeron suggest a contribution to SAGE to support the good work they do for LGBT elders." (It's a group I also heartily endorse.)
I did ask Michael Adams, SAGE's executive director, for his thoughts on the matter, and he emailed me:
I have been to numerous services over the years where charitable contributions have been suggested and have always found that they are a very meaningful way to honor loved ones who have passed... We deeply respect and are grateful for the underlying intent -- I would think that's what's most important.
Of course, I totally agree, and I was also glad to hear that no one will be turned away if they fail to make a donation. As for the "save the date" language, though, I'd strike it altogether. That's mostly associated with weddings and galas, not this type of terribly sad gathering. Announcing the date, with a line that said, "Details to follow," would have been more appropriate.
Perhaps the best way for any of us in the LGBT community to memorialize Dr. Bergeron would be to reach out to an older gay friend who may be suffering from some of the same fears and dark thoughts that claimed Bergeron's life. Many LGBT folks who are turning (or have passed) 50 have moments of anxiety about aging, especially if they're not in a long-term relationship. A little reassurance about the steadfast support of friends just might help someone else get through a tough time, and help prevent another tragic death. It's not only teens and 20-somethings who need to hear the "It Gets Better" message.
This article originally appeared on Advocate.com.
Image: from Facebook
Steven Petrow is the author of Steven Petrow's Complete Gay & Lesbian Manners and can be found online at gaymanners.com. Got a question? Email him at ask@gaymanners.com, or contact him on Facebook and Twitter.