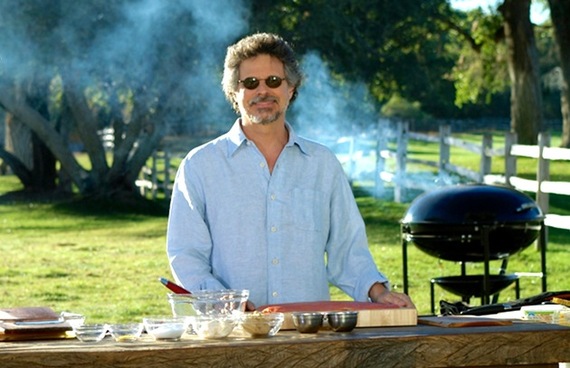 Everyone makes them. Everyone breaks them. I'm talking, of course, about New Year's resolutions, but if you're a die-hard barbecuer or griller, you have a leg up on the population at large. Unlike starting an exercise regimen or boosting your savings for retirement, setting new goals for barbecue virtually guarantees you'll follow through. Here are my six top barbecue resolutions for 2014. For additional resolutions, plus my personal resolutions for the coming year, check out my blog post on BarbecueBible.com.
Resolve to up your game at the grill. If you grill on gas, try charcoal, and if you normally grill with briquettes or instant light, try grilling on natural lump charcoal. If you're a charcoal griller already, try grilling with wood.
Resolve to slow things down. Have you mastered the art of true grilling (that is cooking hot and fast directly over the fire)? How about lowering the temperature and prolonging the cooking time the next time you cook a large hunk of meat, like brisket or pork shoulder? In short, make 2014 the year of cooking low and slow.
Remember to keep the grill hot, clean, and oiled—both before and after grilling. You've probably worked good grill hygiene into your ignition ritual, but how many of us remember to clean and oil the grill grate after the food comes off? No, that burnt-on skin from last week's salmon doesn't enhance flavor. Remember, if your spouse thinks something is disgusting, it probably is disgusting.
Resolve to follow Meatless Monday—at least once. OK, I can already hear the groans among my carnivorous followers. But forgoing meat once a week has definite health benefits for you—and the planet. You'll certainly be in good company: Supporters of Meatless Monday include Paul McCartney, food activist Michael Pollan, and the cities of Baltimore and Los Angeles.
Make a contribution to a grill- or hunger-related charity. We spend so much of our time and energy making sure we and our family and friends eat well. Please help the less fortunate. One great charity is Operation BBQ Relief, which brings pit masters, rigs, and free food to areas hard hit by tornados, hurricanes, forest fires, and other natural disasters. Another worthy organization is Oxfam International, which not only feeds the hungry abroad, but helps them grow food for the future.
READ THESE BOOKS BY STEVEN RAICHLEN: