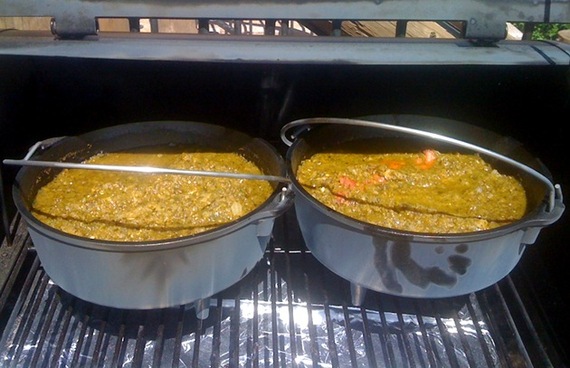 The aroma of good chili should generate rapture akin to a lover's kiss.
-Motto of the Chili Appreciation Society International
Chili. It's an ingredient. A dish. An iconic American favorite. And the fastest way I know to start a food fight. Especially if a Texan is present.
Fire the first salvo by announcing you like beans in your chili. The Texan will damn you as a heretic (and likely call you some other names, too) before ranting a proper "bowl of red" should contain diced beef, dried chiles or a Lone Star State-approved chili powder like Gebhardt's, and a few flavorings--not tomatoes and especially not beans. Throw fuel on the fire by bringing up Cincinnati's unique twist on the dish, where chili parlor chains like Skyline ladle chili laced with Middle Eastern spices (cinnamon, clove, cardamom) over spaghetti, maybe with a side of hot dogs. The fight will escalate. But mention the vegan chili cook-off you just read about, and you're on your own. (Texans own about a fifth of the legal firearms in the U.S. Just sayin'.)
Even accompaniments to these bowls of bliss expose deep partisan rifts. Saltines? Oyster crackers? Tortilla chips? Fritos? Or a hunk of corn bread? (I vote "yes" on the corn bread.) Should chili be topped with grated cheese, sour cream, cilantro, sliced black olives, diced green peppers, chopped jalapenos, chunks of avocado, or nothing at all? Yeah, it's complicated.
Texas has reason to be proprietary about chili. Contrary to popular belief, chili con carne didn't come from Mexico. Historians say the first chili seen in the United States was made around 1731 by immigrants from Spain's Canary Islands, who settled in San Fernando de Béxar (now San Antonio, Texas). By the 1850s, cowboys and gold miners were pounding dried meat, chiles, fat, and spices together into brick-like shapes to be rehydrated on the trail--a kind of Southwestern pemmican. Later, enterprising Latino women sold plates of homemade chili and tortillas to Spanish soldiers at San Antonio's Military Plaza from colorful carts, keeping the food hot over mesquite fires. San Antonio still honors its "Chili Queens," as they were affectionately called, with an annual festival held Memorial Day weekend. (For the record, the city put the Queens out of business in 1937 for health department violations.)
As for the extreme partisanship that surrounds chili, I say we should all just calm down. All chili is good. From ground meat and tomato-based chili to the top secret pots of red concocted by cook-off competitors.
Great as chili is cooked on the stove, there's a way to make it even better. You guessed it: smoke-simmered on the grill. Here are some of my tips to help you up your chili game, as well as my recipe for chili Barbecue! Bible-style, featuring three meats, a secret ingredient, and of course, wood smoke.
Try these tips to improve your signature recipe:
If you prefer chili made with ground meat, grind the meat yourself, or pick out the cuts (a mix of fat and lean) and ask your butcher to grind it for you according to your specifications.
Use a thick-walled pot for chili and use a long-handled spatula to stir it. The straight edge of the spatula makes better contact with the bottom of the pot than a spoon. Note: The pot and its handles should be smoker- and grill-proof.
Aim for a generous proportion of meat to gravy in the finished chili.
If your recipe calls for beef or chicken stock (or both), buy low-sodium versions. Extra points if you have homemade stock on hand. (Even better if it's made with smoked chicken carcasses.)
Seed peppers and tomatoes, if using, before adding to the chili. Otherwise, the seeds will float unappetizingly on top.
If you're developing your own recipe or tweaking an existing one, take good notes so you can replicate your successes.
Is the chili too acidic? Try adding a little sugar, honey, or even chocolate to smooth the flavors.
Get 9 more tips on BarbecueBible.com.
See these other chili recipes, including one regional favorite, Cincinnati Chili:
SIGN UP for Steven Raichlen's UP IN SMOKE newsletter to learn more about barbecue!
READ MORE ABOUT GRILLING AT BARBECUEBIBLE.COM
Steven Raichlen is the author of the Barbecue! Bible cookbook series and the host of Primal Grill on PBS. His web site is www.barbecuebible.com.