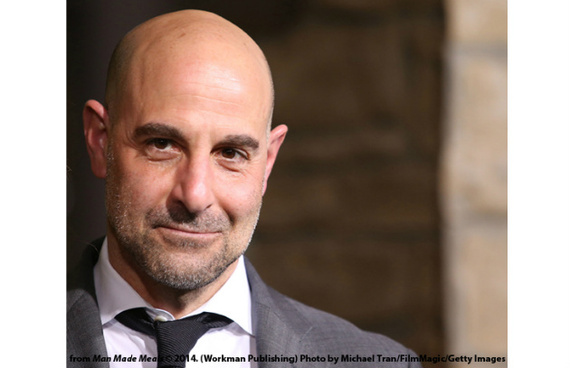 "I'm completely food-obsessed," says actor and cookbook author Stanley Tucci, who attributes his passion for cooking and eating to his parents and his grandparents, who were born in Calabria, Italy. "We didn't eat out much because we never had any money. We always sat down to a home-cooked dinner."
The actor wooed the new love of his life (now his wife) by spit-roasting a twenty-six pound suckling pig for her. "Unlike most guys, I like making really complicated dishes," Tucci says. "You have a few glasses of wine. You really get into the process. You have so much fun, you just don't want it to stop."
I interviewed Tucci for my book, Man Made Meals: The Essential Cookbook for Guys, and excerpted it here to give you a taste. He has great ideas for the kitchen and the grill, so listen up:
What's your favorite seduction dish?
Risotto. It takes a long time, so you can talk while you're making it. It takes care and attention to detail, and you can show the lady you have good hands.
Three dishes every guy should know how to make?
Uova fra diavolo--eggs poached in marinara sauce. My father used to make it every Friday night for dinner. It's one of those grand simple dishes you can enjoy equally as breakfast, lunch, or dinner. [You'll find the recipe in Man Made Meals.]
Paella. I learned to make it in the mountains in Majorca, Spain, where we were shooting a movie. We cooked it outside over a wood fire. It's a lot of work, but I like a dish that's a lot of work. The harder it is to make it, the more satisfying it is when you succeed.
Rabbit. Underutilized, but it's delicious.
Three ingredients you can't live without?
Eggs, rice, and wine. Eggs are the protein; rice the starch; and wine you can mix with both.
Three tools you can't live without?
A cast-iron skillet. You can cook with it on the stove and in the oven.
My grill. I've been through four. My fiancée gave me a grill when we got engaged. Talk about the way to a man's heart.
My wood-burning pizza oven. I fire it up at noon so it's ready for dinner. You have to tear me away from it.
Read the rest of the interview on BarbecueBible.com and in Man Made Meals.
SIGN UP for Steven Raichlen's UP IN SMOKE newsletter to learn more about barbecue!
READ MORE ABOUT GRILLING AT BARBECUEBIBLE.COM
--
Steven Raichlen is the author of the Barbecue! Bible cookbook series and the host of Primal Grill on PBS. His web site is BarbecueBible.com.