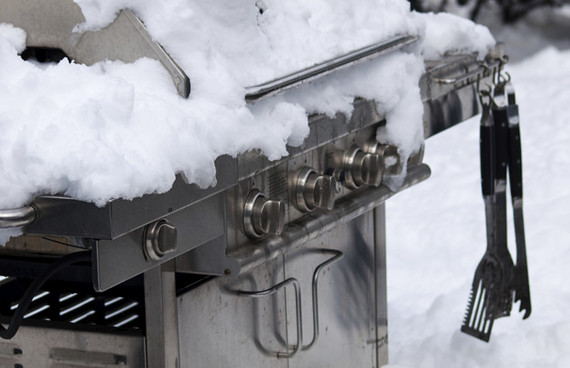 We're just weeks into it, but 2014 will be remembered as the year we added "polar vortex" to our vocabulary.

So you may wonder what a guy who lives in Miami could possibly have to say about winter grilling.
Well, long before I traded maplewood for citrus wood, I spent two decades in New England. I know what it's like to crave barbecue in the dead of winter, to shovel a path through the snow to the woodpile, chip ice off the grill, and light a chimney while dodging the arctic winds.
Those skills came in handy in May a few years ago when I was shooting my French-Canadian show, Le Maitre du Grill. I left Miami for Montreal wearing a cotton shirt and Topsiders. Four days later, I was grilling in three inches of snow that blanketed our pond-side set.
According to a Hearth, Patio, and Barbecue Association survey, 56 percent of the respondents claim to grill during the winter months. If you're one of them, you probably know some of the following advice already. If not, listen up—these tips will improve your chances for success no matter how low the temperature plummets.
Do not, I repeat, do not, position your grill directly under a snow-laden tree branch.
Tempting as it might be, do not pull your grill into the garage, covered patio, or other outbuilding, even if you leave the door open. This not only creates a fire hazard, but noxious and potentially fatal carbon monoxide fumes can accumulate.
If using a propane grill, make sure the tank is topped off before you start your grilling session and preheat for 10 minutes more than usual. If using charcoal, preheat your grill using 25 percent more charcoal than you would on a summer day. I like to have a second chimney of hot coals standing by for extra heat in case it's needed.
Add 20 to 30 percent to the cooking times when temperatures fall below freezing.
When indirect grilling, do not lift the grill lid unnecessarily as precious heat will escape.
To avoid protracted exposure to the elements, choose foods that can be direct grilled in 30 minutes or less -- burgers, steaks, chicken breasts, pork chops, tri-tip, fish fillets, shrimp, oysters, kebabs, etc.
Have a deep-seated desire for brisket or pulled pork? Help your low-temperature smoker retain heat by throwing a welder's blanket over it during long cooks. (Avoid blankets insulated with fiberglass.)
Get six more tips for grilling in the cold.
Do you have a cold weather barbecue story? Outrageous photos? Winter grilling advice to share with our barbecue community? Details, please! Post on the Barbecue Board at BarbecueBible.com.
SIGN UP for Steven Raichlen's UP IN SMOKE newsletter to learn more about barbecue!
READ MORE ABOUT GRILLING AT BARBECUEBIBLE.COM
Steven Raichlen is the author of the Barbecue! Bible cookbook series and the host of Primal Grill on PBS. His web site is www.barbecuebible.com.