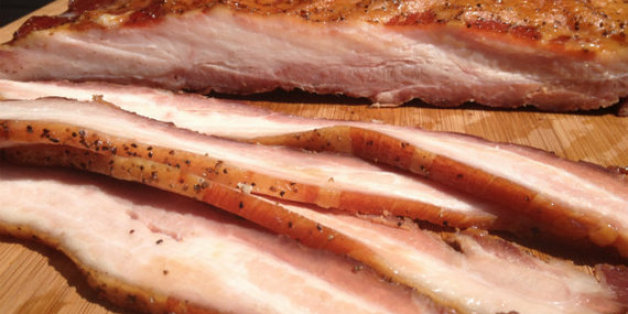 While curing salts might seem like an obscure subject, a growing number of home pit masters--not to mention recent grads of Barbecue University--have taken to curing and smoking their own bacon, pastrami, jerky, etc.
Picture the incarnadine color of corned beef and pastrami. The shimmering translucence of Spanish lomo (cured pork loin) and bresaola and bündnerfleisch (respectively, Italian and Swiss air-dried beef). The rich hammy flavor of bacon, prosciutto, and jamon serrano. The complex umami flavors, not to mention the remarkable shelf life of dry-cured sausage and salami.
All owe these hunger-inducing attributes to substances steeped in ancient tradition and modern controversy--sodium nitrate (NaNO3) and sodium nitrite (NaNO2)--the active ingredients in curing salts. (Nitrates have three oxygen atoms for every nitrogen atom; the nitrites have two oxygen atoms for every nitrogen atom. As preservatives, both function more or less the same way.)
Interested? I thought so.
Click here for a guide to the various curing salts (Prague powders, sugar cures, and more).
Essential tips for using curing salts:
• Label all meats in the curing process precisely, noting any special instructions and the date(s) they need attention (turning, refreshing the brine or dry rub, smoking, etc.). Transcribe the dates to your calendar.
• Unless air-drying, always hold meat at temperatures between 36 and 40 degrees F.
• To avoid excessive saltiness, soak cured meats or fish in cold water, then air dry before smoking or barbecueing.
• Avoid the "guy syndrome," which holds that if some is good, more is better (e.g. hot sauce, bourbon, wood chips, etc.). When it comes to curing salts, use only the recommended quantities. Store them in the original containers and scrupulously follow the directions on the package. When not used properly, nitrates and nitrites can be toxic.
Get technical: Learn how to use curing salts for dry-curing and brining.
What are YOUR favorite meats and seafoods to cure? We'd love to hear from you and see your photos on the Barbecue Board or the Barbecue! Bible Facebook page.
SIGN UP for Steven Raichlen's UP IN SMOKE newsletter to learn more about barbecue!
READ MORE ABOUT GRILLING AT BARBECUEBIBLE.COM
--
Steven Raichlen is the author of the Barbecue! Bible cookbook series and the host of Primal Grill on PBS. His web site is BarbecueBible.com.