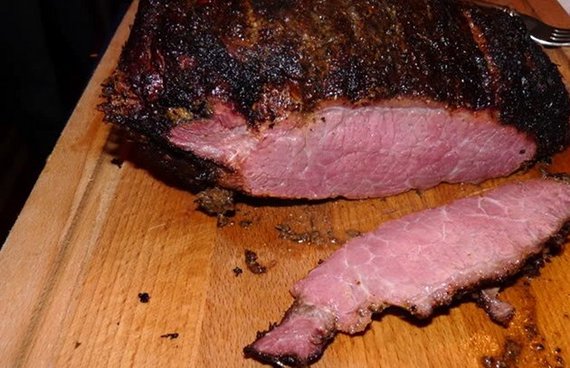 The feast day of St. Patrick, the legendary fifth-century English missionary to Ireland, has become a convenient excuse for Americans to party. Even if they aren't of Irish descent, on March 17, it's time to break out the brogue, the beer, and the beef—corned beef, that is.
So how did beef brisket come to be the iconic food of the American version of St. Paddy's Day?
Corned beef brisket was virtually unknown in Ireland, where the holiday feast traditionally featured pork, specifically a cut known as "back bacon" that included a piece of lean loin as well as fattier belly meat. Once in America, Irish immigrants took to cooking beef brisket, an inexpensive cut prized by their Jewish neighbors on Manhattan's Lower East Side.
Come Monday, millions of Americans will buy vacuum-sealed pouches of corned (salt-cured) beef. Curiously, the word "corned" comes not from the grain we eat on the cob (or use to brew whiskey), but for the medieval term for a large kernel or "corn" of salt. You could think of corning as brining—with the addition of bay leaf, allspice, mustard seed, and other pickling spices.
Many Americans will boil the meat on the stovetop until tender, but they have it all wrong. The best method is to slow-roast it in the smoker, infusing the meat with the blessed scent of wood smoke.
Smoked corned beef requires a little advanced preparation, but if you start now, you can still brine your own brisket and finish it on the grill in time for St. Patrick's Day. It requires little in the way of active time, and the results beat boiled corned beef by a long shot.
Get started on your menu with these recipes:
SIGN UP for Steven Raichlen's UP IN SMOKE newsletter to learn more about barbecue!
Steven Raichlen is the author of the Barbecue! Bible cookbook series and the host of Primal Grill on PBS. His web site is www.barbecuebible.com.