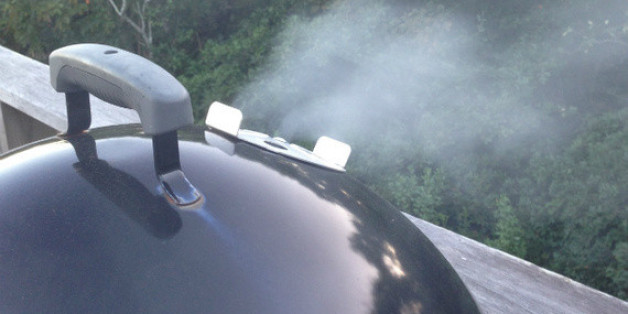 If you're just starting out with smoking, you'd do well to consider a charcoal water smoker--sometimes called a bullet smoker. Shaped like an upright bullet (hence the nickname), the water smoker is simple to operate, but serious enough for competition cooks, who often employ these hard-working cookers in multiple units.
The water smoker has a small footprint (about the size of a kettle grill)--an advantage for people with limited deck or patio space. The unique design and thermodynamics almost guarantee a consistent temperature of 225 to 250 degrees. One of the key attributes of this smoker--the water pan--keeps food moist, even after 8 or 10 hours of smoking. And the tri-part construction makes it easy to add charcoal and wood to the fire and access the meat.
Here are some of my tips, tweaks, and work-arounds for using charcoal water smokers:
Use natural lump charcoal, not briquettes. That way, you can add fresh coals without pre-lighting them. Leave the access door open for 5 minutes to let the air ignite the coals. If you use briquettes, pre-light them in a chimney starter to burn off the chemical aroma.
Line the water pan with heavy-duty foil to facilitate clean up.
Most water smokers come with thermometers built into the top of the lid. Remember, the heat will be higher here than at the level of the cooking grates.
Shield your water smoker from wind, especially on cold or stormy days. Some people use hinged three-panel windscreens; others find a location in the lee (downwind) side of their house or garage. On a related note, if high wind is a factor, close any vents that face it and use the vent(s) on the opposite side to control your fire.
Replace evaporated liquid in the water pan as needed through the access door or from a pitcher. Don't let the water bowl run dry or the temperature will spike. Add cool water when preheating the smoker (sometimes, the smoker runs hotter when it is first fired up, and the cool water tames the flame), or hot water when the cook is underway to avoid temperature drops.
Use tongs to add charcoal and/or wood chunks or smoking chips to the fire via the access door. Lay them on the coals; don't drop or toss them or you'll stir up ash, which will land on the food.
Get 6 more tips on mastering your smoker, plus advice on buying a water smoker, at BarbecueBible.com.
SIGN UP for Steven Raichlen's UP IN SMOKE newsletter to learn more about barbecue!
READ MORE ABOUT GRILLING AT BARBECUEBIBLE.COM
--
Steven Raichlen is the author of the Barbecue! Bible cookbook series and the host of Primal Grill on PBS. His web site is BarbecueBible.com.