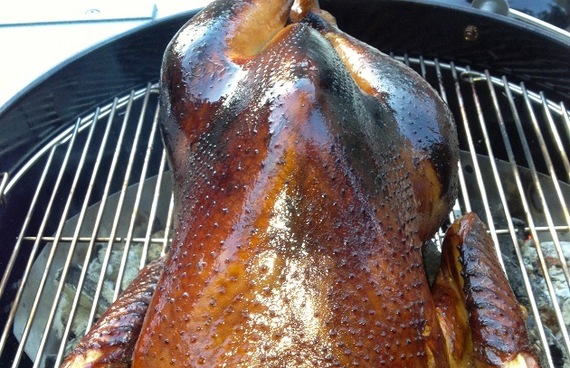 As the crow flies, Boston is roughly 1250 miles from Miami. Cuba is just 230 miles further south, which should tell you all you need to know about why, for my first Thanksgiving in South Florida, I felt like a stranger in a strange land.
Coming from Massachusetts -- traditional birthplace of Thanksgiving -- I had definite preconceptions about how this, the most American of holidays, should be celebrated, starting with the weather. That is to say, brisk enough to justify a heavy sweater and blazing logs in the fireplace. Certainly not sunshine, palm trees and 80-plus degrees.
My normal New England meal would unfold like a Norman Rockwell painting: butter-basted turkey, oyster stuffing, Madeira gravy, cranberries, sweet potatoes, etc. But here in Miami, the bird came blasted with a Spanish-Caribbean marinade called adobo and a garlicky citrus sauce called mojo. The stuffing, too, gave way to black beans and white rice.
In hindsight, there was no better place than Miami-Dade County, which leads the nation in percentage of immigrants (more than 50 percent in 2011 and growing), to cure a case of Thanksgiving provincialism. Our most ecumenical American holiday, Thanksgiving never imposes ethnic, religious, or political boundaries. Everyone is invited to celebrate in his or her own way. And apparently, everyone does.
A National Turkey Federation survey reported that in the U.S., 88 people out of 100 eat turkey on the fourth Thursday in November -- and more than 45 million birds are required to assuage their hunger. Ever the pragmatist, Benjamin Franklin proposed that the turkey be America's national bird, not the eagle. For at least one day a year, he gets his wish.
For me, the big question is what's the best way to cook turkey. Over the years, I've tried dozens of methods, from roasting, baking, braising to deep-frying. As you might imagine, my current favorite method involves building a fire -- specifically, firing up a smoker or a grill.
To get you started for Thanksgiving -- here's that adobo-marinated, mojo-sauced, Latino-inflected bird from Miami that broke me out of my New England mindset -- cooked by a method that may not yet be in your repertoire: spit-roasting on the grill.
If you need some dishes to complete your spit-roasted turkey dinner, try Bacon-Cheddar Poppers as appetizers and Smoked Crème Brulée for dessert.
CHECK OUT THE SPIT-ROASTED TURKEY RECIPE NOW!
READ THESE BOOKS BY STEVEN RAICHLEN:
READ MORE ABOUT GRILLING AT BARBECUEBIBLE.COM:

SIGN UP for Steven Raichlen's UP IN SMOKE newsletter to learn more about barbecue!
Steven Raichlen is the author of the Barbecue! Bible cookbook series and the host of Primal Grill on PBS. His web site is www.barbecuebible.com.