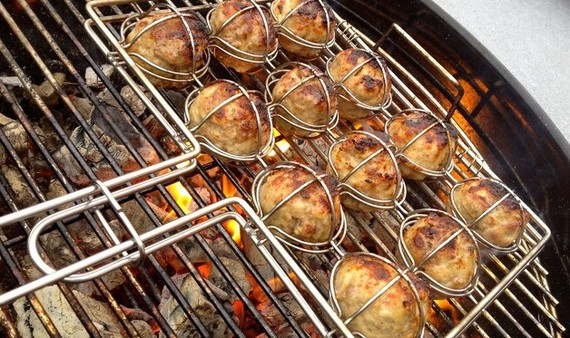 Meatballs appear in most of the world's food cultures. Swedes call them kᅢᄊttbullar and flavor them nutmeg, allspice, and gingersnap cookie crumbs as a binder (served with potatoes and a side of lingonberry jam). In Shanghai, vendors sell "lion's heads"—fist-sized pork meatballs simmered in ginger-scented broth with cabbage. Five thousand miles away, Tuscan celebrity butcher Dario Cecchini supersizes his beef meatballs (polpetti) with cooked fruit and mostarda (mustard-cured fruit) from his shop in Panzano: Some weigh more than a pound.
Whatever you call them, you know a great meatball when you taste it: ground meat, bread, and seasonings combined into savory spheres that are substantial enough to sate you, but not so dense they give you heartburn.
So what makes a great meatball? Well, first there's the meat, or more accurately, the meats, because most great meatballs feature a combination of beef, pork, and veal—or other animal proteins (lamb rules in North Africa). Then, there's the binder—often bread or breadcrumbs soaked in milk or cream—enough to hold the mixture together, but not weigh it down. You'll need seasonings—lots of seasonings—onions, garlic, or other alliums, herbs (preferably fresh), hot peppers, grated cheese, and plenty of salt and pepper. Then there's the cooking method, pan-frying and baking in red sauce being the standbys.
The common meatball is about to get a lot better. You saw this coming—the secret is to cook it on the grill.
Grilling sizzles the fat, endowing the meatball with a crusty exterior. (It also melts out some of the excess fat.) Toss soaked wood chips on the coals and you bronze the meatballs with a flavorful blast of wood smoke. If you're used to soggy meatballs poached in tomato sauce, these crusty spheres will come as a revelation.
So how do you grill a meatball? You could line them up on the grill like miniature burgers. You could skewer them on flat bamboo skewers as they do in Japan and elsewhere in Asia.
But my favorite method is to use a meatball grilling basket. The beauty of this cool tool? With one twist of the wrist you can turn up to a dozen meatballs at once. (Find them at kitchenware stores or online.)
Try these recipes to perfect your meatball-making technique:
SIGN UP for Steven Raichlen's UP IN SMOKE newsletter to learn more about barbecue!
Steven Raichlen is the author of the Barbecue! Bible cookbook series and the host of Primal Grill on PBS. His web site is www.barbecuebible.com.