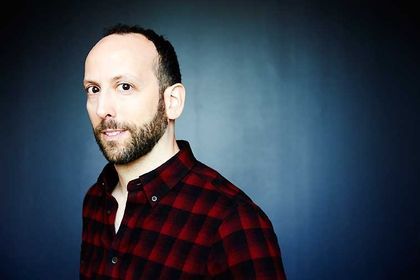 Sure, the term 'funniest comedian' is a subjective one. I mean, who's to say Louis CK is far more clever than Pauly Shore (he is), or Carlos Mencia generates more laughs than Chris Rock (he doesn't). Comedy isn't like baseball: there are few empirical statistics from which to derive talent, performance, and yep, even pay scales.
This all said, it's of my strong opinion that Toronto's Alex Nussbaum is Canada's funniest comedian.
Were I to go the baseball route on this, there'd be some data to back up my statement. Nussbaum has made a number of high-profile national television appearances, including CTV's Comedy Now (his own half-hour special), and CBC's Just for Laughs (featuring footage of him killing it at the world's most prestigious comedy festival). To boot, a while back, NOW Magazine named one of Nussbaum's live performances the Top Comedy Show of the Year.
Nussbaum's brilliant new album, A Number of Bits, is getting significant airplay on SiriusXM and a whole bunch of terrestrial comedy stations. So much so that last month they named him Comic of the Week for the week of August 18th to the 22nd.
And of course, there's the most obvious accolade: Nussbaum has nabbed a Canadian Comedy Award for Best Male Stand-up. Which means the nation of Canada collectively stood up and said, "Hey, we think this Alex guy is hands-down the best comedian in the entire g-darn country." Were this a court case, I could end my closing argument there and subsequently retire to the adjoining cafeteria for a well-deserved diet root beer.
But again, comedy is subjective. Which gives you, the reader, the opportunity to chime in and say, "Alex's accomplishments are all well and good, but personally I think Rich Little is a funnier Canadian comic." (respectfully, he isn't.)
Which brings me to the bottom line here: Alex Nussbaum is Canada's funniest comedian because, simply put, he's freakin' hilarious. Some examples:
Nussbaum on yard sales:
"I'm not looking forward to yard sale season. When my neighbors just put whatever crap they have on their front lawns... It's like, sorry man, I don't want any of your stuff. But obviously neither do you... Don't put this on me. Just because you enjoy openly displaying all of your bad life choices, it doesn't mean I have to walk away with a couple."
Nussbaum on ghosts:
"My friend thinks he's got a ghost freaking him out in the middle of the night. I figure, what's the worst a ghost is gonna do? Maybe move some stuff around? What if you've got a ghost that used to be an interior decorator? With a keen sense of space? It's like, 'Ah, I never thought about putting the couch over there. It totally opens up the living room! Thanks Feng Shui Ghost!'"
Nussbaum on Google:
"I'm not sure about Google, with their slogan: 'Don't be evil.' That's their slogan: 'Don't be evil.' ... Why bring it up? That's suspicious. That's like being on a date and hearing, "Hey, I hope you're having a good time! And don't even think about the possibility of me being a serial killer. Put it out of your mind!"
Find Alex Nussbaum at AlexNussbaum.com and on Twitter.