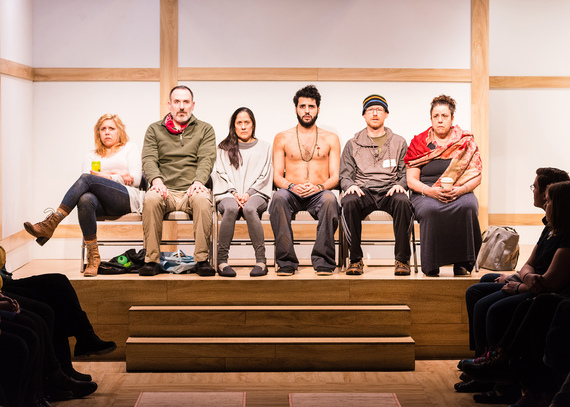 Jessica Almasy, Erik Lochtefeld, Sakina Jaffrey, Babak Tafti, Brad Heberlee
and Marcia DeBonis in Small Mouth Sounds. Photo: Ben Arons
There are those who measure the strength of a dramatic performance by observing not only how the actor delivers lines, but how they listen. What do you get from the performer when they are not talking? Playwright Bess Wohl has seen fit to write a play in which the six onstage characters hardly speak at all. They are participating in a five-day, spiritual retreat where silence rules; the words mostly come from a sometimes distracted offstage moderator (Jojo Gonzalez) with a foreign, or affected, accent.
Thus, just about everything we come to know about these six strangers--and Wohl constructs compelling stories for each of them--is learned solely from watching them listen and react. This might sound like something of a stunt, and for the first several minutes it does seem like a stunt. But the personalities of these silent strangers soon start to emerge, and Small Mouth Sounds turns out to be a first-rate, provocative play. You have six actors sitting silently, listening and observing; and you have ninety theatergoers sitting silently, listening and observing. The combination turns out to be an exhilarating adventure.
Wohl was last represented hereabouts at Second Stage Uptown last May with the offbeat American Hero, which was tastily entertaining though not altogether satisfying. Small Mouth Sounds demonstrates that yes, this a playwright to whom we should pay attention. Just as important, in this play which is just about all blocking, is the direction. Rachel Chavkin, who did a phenomenal job on Ars Nova's biggest hit, Natasha, Pierre & The Great Comet of 1812, brings impressive clarity to the play and the performances.
The six onstage actors do marvelously well, each offering enough pieces of an enigmatic puzzle to make their characters believable. Different audience members might well come to different conclusions after this session of observing silence, which seems to be the author's intention. Marcia DeBonis and Sakina Jeffrey--the latter familiar from her years as the White House Chief of Staff on "House of Cards"--play a couple, with the latter apparently a cancer patient or survivor. Jessica Almasy is an emotionally needy younger woman with lots of baggage, much of which she seems to literally carry around in overspilling shopping bags. Brad Heberlee is even more needy; he is the only one of the group with an actual monologue, an extended speech detailing a litany of personal disasters. Babak Tafti is a yoga instructor--one of the others recognizes him from his videos--and an exhibitionist; Wohl and Chavkin give him a nude scene which turns extremely funny. The group is completed by Erik Lochtefeld, as an awkward man who carries around a smiling photograph of his young child.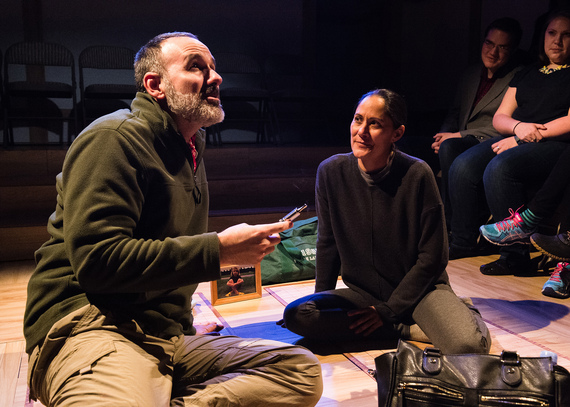 Erik Lochtefeld and Sakina Jaffrey in Small Mouth Sounds. Photo: Ben Arons
This five-day, silent retreat--in the woods, somewhere outside New York City--suddenly ends, leaving the characters in limbo. Is it over? Have they changed? Will the feelings and learnings of the retreat stay with them? Theatergoers, at least, are likely to leave Small Mouth Sounds thinking and pondering.
.
Small Mouth Sounds, by Bess Wohl, opened March 23, 2015 and continues through April 25 at Ars Nova