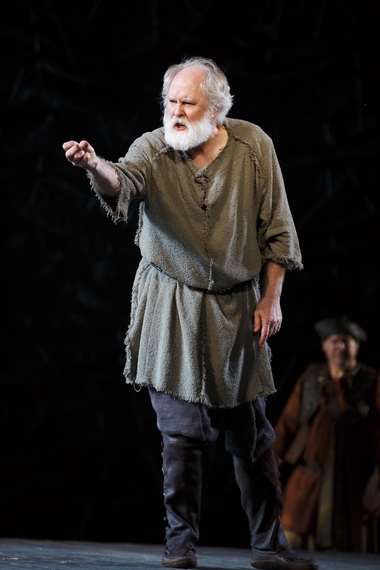 John Lithgow in the Shakespeare in the Park production of King Lear. Photo credit: Joan Marcus
Put Daniel Sullivan (director of two Pulitzer winners, Proof and Rabbit Hole) together with a great play (King Lear) and a highly-respected, award-winning actor like John Lithgow (of M. Butterfly, Sweet Smell of Success and the sitcom 3rd Rock from the Sun) and you're likely to get an illuminating and theatrical rendition of the work, with flashes of lightning for sure. We get flashes of stage lightning in Central Park, thankfully without the actual torrents that have accompanied our last two visits to the Delacorte; and plenty of thunder from two servants way upstage on either side of the playing space, who rattle built-in thunder sheets on cue, and frequently. But there is little lightning of the actorly or directorly sort, leaving us with a perfectly proficient production of the play -- which is not what you would expect, or desire, from a Sullivan/Lithgow Lear.
Shakespeare in the Park was Joe Papp's impossible dream when he established his New York Shakespeare Festival, on a shoestring, back in 1954. It wasn't until 1967 that the NYSF found a permanent home at the derelict former Astor Library, which allowed Papp to produce an increasingly ambitious slate of non-Shakespearean plays at his new Public Theater. This current Lear -- the third at the Delacorte, following the Papp-directed production (starring Frank Silvera) during the current amphitheatre's inaugural 1962 season and an Edwin Sherin-helmed version starring James Earl Jones in 1973 -- is thoroughly proficient. Very good for theatergoers, presented as it is for free (provided you can snag a ticket). But not, given the talent, quite up to expectations.
Lithgow, a genial and intelligent actor of impressive range, is equally adept at comedy and drama. Pathos, though, does not seem to be his strong suit; at least, not this time through. He has some fine moments in the role, usually in places where we can see flashes of sharp intellect through the haze of the character's mind. This is not a Lear that one is likely to care about or feel for; at the press preview attended, the mad Lithgow was getting occasional laughs, which is not a consummation devoutly to be wished. It does not help, exactly, that Lithgow here looks like a string bean-thin Kris Kringle.

The three sisters are without theatrical bite. Four-time Oscar nominee Annette Bening is a harshly cold Goneril, while Jessica Hecht -- noted hereabouts for her performances in View from the Bridge (opposite Liev Schreiber) and Harvey (opposite Jim Parsons) -- is a sharply vicious Regan. Hecht's line readings, like Lithgow's, occasionally draw unwanted laughs from her fans. Jessica Collins, of TV's Loving and The Young and the Restless, does somewhat better as Cordelia.
Sullivan gets better performances from two of the veterans. Jay O. Sanders, lately seen at the Public as the brother in the Apple Family Plays, makes a warmly loyal Kent so likable that he is almost more interesting than Lear. Clarke Peters, of Five Guys Named Moe, is a close second as the Earl of Gloucester. (Mr. Peters' biography discloses that he played Porgy in the original production of Porgy and Bess, which presumably means something other than the original original produced long before Peters was born.)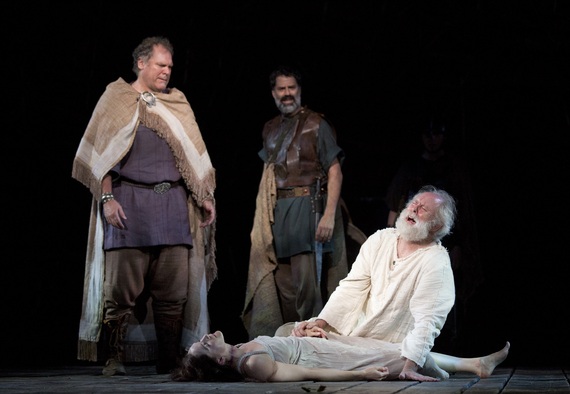 Jay O. Sanders, Jessica Collins, Christopher Innvar and John Lithgow in the Shakespeare in the Park production of King Lear. Photo credit: Joan Marcus
It seems unappreciative and downright unfair to fault director Sullivan for a Lear not half so effective as his recent Shakespeare-in-the-Parks (The Merchant of Venice with Pacino and Rabe, As You Like It with Rabe, The Comedy of Errors with Linklater and Ferguson). But we New York theatergoers are a tough bunch, and this Lithgow Lear is merely proficient. We faced much the same situation last November, when Sullivan's professional counterpart Jack O'Brian brought a well nigh incomprehensible Macbeth to town. O'Brian immediately returned with the delicious Much Ado About Nothing that opened this summer's Delacorte season. Sullivan will no doubt quickly rebound as well, and most surely has another incisive Shakespeare up his ravell'd sleeve.
.
King Lear, by William Shakespeare and directed by Daniel Sullivan, opened August 5, 2014 and continues through August 17 at the Delacorte in Central Park