A new national study among 526 primary care physicians revealed that the majority (61%) reported that health care will "get worse" in the next four years, after viewing segments from President Obama's speech to congress.
The study was conducted by HCD research during February 26-27to obtain physicians perceptions on President Obama's new health care reform plan that was outlined in his speech to Congress on February 24, 2009.
Nearly half (49%) of respondents indicated that skepticism was the emotion they felt most while watching President Obama outline his new health care reform plan. When asked how they thought their professional life would change in four years, the majority (64%) thought it would get worse.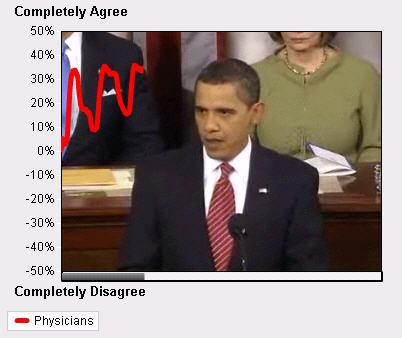 While viewing the video clip, participants indicated their levels of agreement by moving their mouse from left to right on a continuum. The responses ere recorded in quarter-second intervals and reported in the form of curves. The participants were also given post viewing questions.
To view the clip and see all the data, click here for MediaCurves.