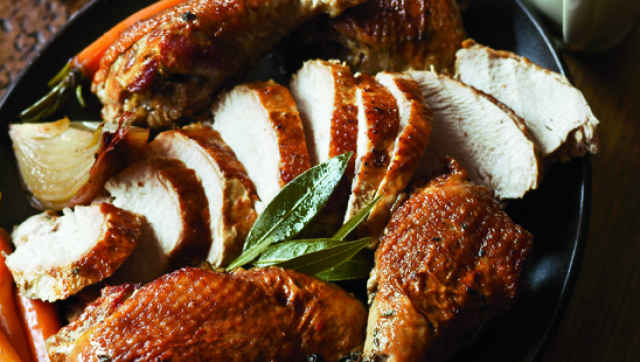 Most of you are probably in the throes of post-Thanksgiving food coma. Dad tried his hand on a fried turkey, didn't burn down the house and it tasted great, even if you did feel your arteries clogging on the spot. Aunt Emma's stuffing was dependably delicious, redolent of sausage, chestnuts and an indeterminable amount of fat of some type or other. The sweet potatoes were delicious, candied in a way that made the melted marshmallows seem savory and Grandma's cranberry mold was as expected with tangerine syrup just to give that something extra. All of this was dependably anchored by butter soaked mashed potatoes and lard enhanced greens. All this with pumpkin pie to look forward to!
What you all missed was the most original Thanksgiving dinner of the year. Frank Moy, owner of the comfortably innovative Cafe Evergreen on Manhattan's tony Upper East Side, took a big risk (aside from being open on Thanksgiving) and attempted a fusion of two cultural icons -- Peking (a.k.a. Beijing) Duck and Roast Turkey. No you say! But yes, it was attempted and to the arched eyebrows of those downing Peking Turkey in the traditional Chinese three courses, it was a major success.
The Turkey was presented at table, beautifully browned, with skin crisp and ready to carve. The skilled waiters whisked the bird away and artfully sliced the skin alone (in the true Beijing style) and carefully folded it into thin home-made pancakes, with cucumber, scallion and Hoisin sauce. It was truly a revelation. We all looked at one another waiting for another portion, but alas and alack, we were to save our appetite for course number two -- sauteed breast meat with seasonal vegetables (celery, carrots, onions, etc.) in a light garlic sauce, which did a remarkable job of preserving the flavor of turkey, while eliminating the dryness that all but the most skilled Pilgrim purveyors seem to accept.
With two rousing successes, we wondered what Frank would do with the dark meat, the favorite of only a small vocal minority. Well, the meat was gently stewed/braised with shitake mushrooms, chestnuts and wine, creating a richly flavored, yet relatively light autumnal interpretation. The use of soy in the braise and a slight touch of anise was the only nod to the Asian setting, and it was just enough.
Some attempts at fusion are a mere conceit. Frank Moy's was initially meant as a tongue-in-cheek tip of the hat to some of his customers' desires to spend Thanksgiving outside of the home and away from a mountain of dirty dishes. It turned into one of the more surprising culinary successes I have experienced this year.