By Erin Weinger, photos by Kiino Villand for Style Section L.A. (kiinovilland.com)
A few weeks back, on a perfect Los Angeles day, a food truck parked in a West Hollywood alley at the height of lunch time. And as most food trucks at lunch time go, this one attracted a group of hungry friends eager to feast, catch up and gain a respite from their work days. Only this troop happened to be made of some of the most influential fashion and public relations personalities in Los Angeles.
And they're all Filipino.
Enter the Filipino Fashion Club, a crew of Filipino designers, retailers, publicists and fashion journalists who -- when schedules sync up -- meet for a Filipino meal and some good conversation. Members of the informal "club" include Decades owner Cameron Silver -- who on this day turned the back alley of his Melrose Avenue vintage Mecca into an al fresco cafe -- Los Angeles Times fashion editor Melissa Magsaysay, WWD west coast chief Marcy Medina, designers Oliver Tolentino and Monique Lhuillier, and Michelle Ravelo-Santos, the west coast PR manager for W Hotels.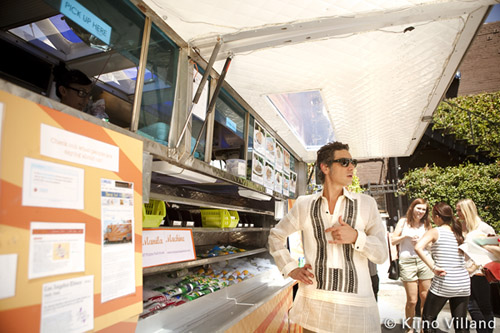 I'LL TAKE MINE WITH EXTRA ADOBO: Decades owner Cameron Silver orders traditional Filipino street food from the Manila Machine food truck. His handmade barong comes courtesy of Oliver Tolentino.

The group began meeting in 2007 when Filipina lingerie designer Josie Natori was in town from New York and organized a small dinner at the Sunset Tower Hotel. "We didn't have a Filipino dinner," said Magsaysay while biting into a longganisa slider from The Manila Machine food truck. "But," added Silver, who isn't technically Filipino by blood but grew up in a largely Filipino family, "We spoke of Manila fondly."
From there the group decided to keep getting together, every so often, over lunch in Chinatown. And on this day, over the Manila Machine's offering of traditional Filipino street foods including sisig over rice (calamansi-marinated pork cheeks, onions, and chicharon), chicken adobo (chicken braised in vinegar, soy sauce, garlic, bay and black pepper) and Spam sliders.
Of course there were stories to be swapped, too. Silver talked of an upcoming trip to China and his new denim line while Ravelo-Santos shared photos of her doll-like infant son, Parker. And Magsaysay brought up her excitement for the mainstreaming of Filipino food with Tolentino, who, in addition to a namesake boutique, owns a restaurant in Manila.
"A lot of people don't know what Filipino food is," she said. "Everyone knows Chinese food. Everyone knows Thai food, Japanese and sushi. But Filipino food is so different from any of those foods."
Case in point: the Manila Machine's purple-hued ube cupcakes made from yams that Silver called "the best thing, ever."
Also on this day, in getting in the spirit of his inherited Filipino heritage, Silver sported a barong -- a traditional Filipino caftan made famous by Magsaysay's grandfather Ramón, who wore one to his inauguration when he was elected President of the Philippines in 1953. Silver's top was the handy work of Tolentino, who spent two weeks hand-spinning its sustainable, pineapple fabric. And the designer says the tops, which are usually worn with tuxedo pants, are becoming an increasingly popular sell in his West Hollywood shop, just a mile west of Decades.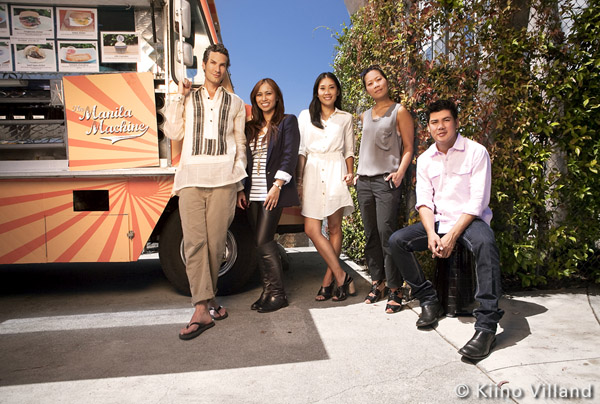 UNOFFICIAL CLUBHOUSE: The group tries to meet when schedules permit. "I wish we could get together more," says Magsaysay. "But it's hard."

As more Filipinos arrived for their Manila Machine fill -- some on their lunch break from Paul Smith across the street -- the club's core members realized that none of them, save for Tolentino, had been to the Philippines in years.
"Oliver, you're a big designer," Silver mused. "Charter us a plane."
Tolentino chuckled and shoveled a spoon full of steamed jasmine rice into his mouth. "I can put you on a boat."
The baby-faced clothier, who looks much younger than 39, only moved to Los Angeles a year ago to expand his brand. So why come to L.A. to build a fashion empire instead of New York? Easy.
"This is where all the Filipinas are."
Visit Style Section L.A. for the latest in Los Angeles fashion, style, shopping and culture.