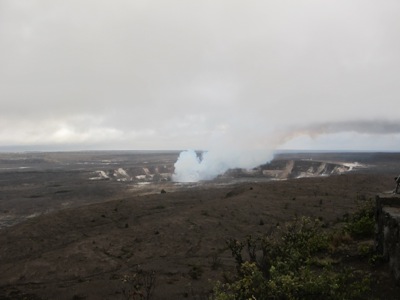 View of the volcanic gas activity from the Jaggar Museum. Photo by Sue Frause.
Looks like we missed Kilauea's volcanic eruption by a month. One of the Big Island's biggest tourist attractions put on a really big show on March 5, 2011. That's when the Pu`u `Ō `ō crater floor collapsed, followed by a middle east rift zone eruption. One day later, a fissure on Kilauea's east rift zone continued to erupt, with lava spattering up to 80 ft. high.
My hubby and I were on the Big Island of Hawaii in February, celebrating a milestone birthday, or what I prefer to call a "speed limit" birthday. We spent half the time on the east side, flying into Hilo; and the other on the west, flying out of Kona.
Our headquarters on the west side was the small community of Volcano Village, where we rented a cozy little cabin called Volcano Teapot Cottage. Located just a few miles from Hawaii Volcanoes National Park, we spent a late rainy afternoon checking out the Kilauea Caldera.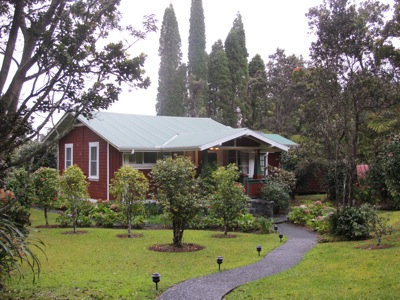 Volcano Teapot in Volcano Village. Photo by Sue Frause.
After making a stop at the Kilauea Visitor Center, we were told that the best viewing area was at the nearby Jaggar Museum. Originally, we had planned to go on a hike, but the inclement weather nixed those plans. And although we were going to stick around to watch the caldera's glow once darkness arrived, the cold and rain made it an easy decision to head back to our cabin in Volcano Village.
One month later, due to the recent lava outbreak and volcanic conditions, Volcanoes National Park has closed the Chain of Craters Road and all the east rift zone and coastal trails until further notice. The Kulanaokuaiki Campground is also closed.
Check for status updates from the USGS Hawaiian Volcano Observatory.
PHOTO GALLERY
Hawaii's Kilauea Volcano: One Month Before the March 2011 Eruption