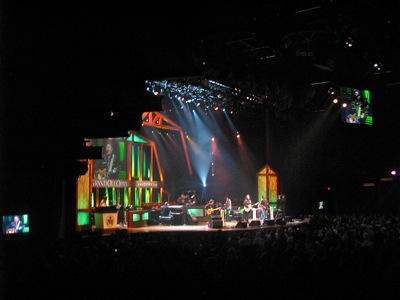 Grand Ole Opry House in October 2009. Sue Frause photo.
When I saw the pictures and video of a flooded Nashville in May 2010, my heart went kerplunk. Six months earlier, I had made my debut in Music City. Although I'm not a big country music fan, the city and its people tugged at my heart strings, and I'm ready for a return visit.
When the Cumberland River overflowed its banks, it forced the closure of the Grand Ole Opry House, home to the Grand Ole Opry. The 4,400 seat auditorium is located nine miles east of downtown. Since then, the show has been staged at various venues, including the Ryman Auditorium where it all began.
During the historic flooding, the Opry stage was covered by nearly four feet of water. Among the treasures rescued after the water receded was the Opry House's signature element, a six-foot circle of oak wood removed from Ryman Auditorium when the showed relocated to the Grand Ole Opry House in 1974. The wooden circle was refurbished and recently replaced on the stage by Jimmy Dickens and Brad Paisley. The ceremony concluded with the duo performing an acoustic version of "Will the Circle Be Unbroken".
The Grand Ole Opry, which turns 85 this year, presents the best in country music live every week from Nashville. On Sept. 28, 2010 it will return to the restored Grand Ole Opry House. Among the artists scheduled to perform are Trace Adkins, Jason Aldean, Dierks Bentley, Charlie Daniels Band, Diamond Rio, Jimmy Dickens, Del McCoury Band, Montgomery Gentry, Brad Paisley, Blake Shelton, Mel Tillis and Josh Turner. The show will air live on GAC: Great American Country.
The nearby Gaylord Opryland & Resort, also closed due to the flood damage, is set to reopen Nov. 15, 2010. Although the Country Music Hall of Fame and Museum suffered minor water damage, it recently opened a new exhibition, Tammy Wynette: First Lady of Country Music. It runs through June 12, 2011.