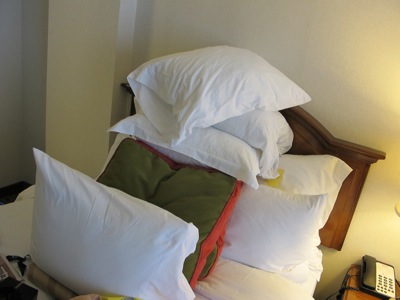 We travel writers sleep around a lot. Back in 2006, I compiled a list of my Best Sleeps for my Closet Canuck blog (many of them were Canadian properties). I ran another one two years later, My Top Ten Beds of 2008.
The hotels and inns selected for my Top Beds of 2010 are for the most part located in the Pacific Northwest. Keep in mind it's not specifically the comfiness of the actual bed, but the overall experience. My other requirement was I had to have taken a picture of the bed; the hotel's images are always too perfect-o for me. I think travelers like to see the real deal, untouched.
I slept in a couple of really nice beds while in Italy this past September with La Dolce Vita Wine Tours. Unfortunately, I have no images, so they didn't make the slideshow. Blame it on the major distractions of fabulous food and memorable wine that my hubby and friends and I enjoyed while tromping around Piedmont, Cinque Terre and Rome.
A return visit is in order soon.