A roasted, free-range Christmas goose worthy of Dickens, preceded by caviar and salmon on toast points and accompanied by artichoke parmesan stuffing and a brand of smoked sausages named on Oprah's Favorite Things and endorsed by Martha Stewart as well as Mrs. Claus can be on your festive Christmas table with a click of your mouse and your warming-up talent -- mmmmm! All the savory aromas and fresh cooked tastes are yours with a handful of specialty food makers that will ship your perfectly thymed and roasted Christmas Feast that all comes ready to eat at the same time, with a soupcon of your warming-up skills.
If you are overworked, overwrought and overcooked or if you just want more time with the family and friends you are hosting from out of town, here are a few digital markets for you. Just click the food item to have it delivered to your table.
* * *
Appetizers
Let's start with the succulent appetizers that allow you to mingle with your guests:
Nouveau Russ Gift Package from Russ & Daughters - 6 to 8 servings
Scottish Salmon, Wild Alaskan Salmon Roe, Wasabi Infused Flying Fish Roe, Crème Fraiche, handmade Russian Blini, Caviar Toasts
Bon Appetit featured Russ & Daughters caviar (American Transmontanus) in their December 2012 issue.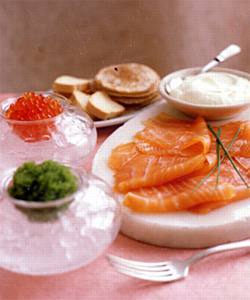 Brooklyn Piggies Gourmet Pigs in Blankets - 14 per tray
"Whether your chose spicy, chicken, or original, keep these artisanal pigs in a crispy puff pastry blanket in your freezer, and you've got a holiday platter waiting to happen." - Oprah in O Magazine for Oprah's Favorite Things 2012
There is also a video on Brooklyn Piggies' site with Missy Koo, owner of Brooklyn Piggies, and Zagat editor Kelly Dobkin cooking up the delicious appetizer puffed pastries. You only have to heat them up.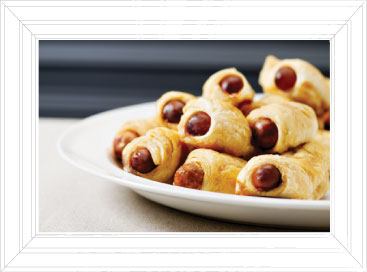 Beet, Apple, & Herring Salad from Russ & Daughters - Available by the pound
It is light, healthy, and delicious. This salad can also be used as a side dish but should be enjoyed within 5 to 7 days of delivery. Martha Stewart has featured Russ and Daughters in her magazine.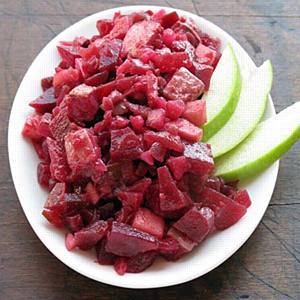 * * *
Soup
With your appetizers already consumed, and your goose warming in the oven, you actually have time for soup.
Ginger Butternut Soup from Gourmet Station - 6 servings
Includes 6 baguettes and 6 ready to bake Macadamia nut cookies and should be ordered by noon, December 22.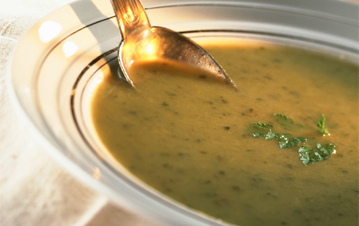 * * *
Main Course
The highly anticipated main course will not disappoint when you serve these traditional Christmas favorites.
Free-range, Grade A all natural Roasted Goose from Schlitz Foods and Goose Farm - 7 to 8 servings
A third generation goose farm located in Sisseton, South Dakota offers up a 7-8 lb brined and roasted, free-range, all natural goose. This Christmas goose arrives frozen from the Northwest. Simply pop in the oven for 90 min. If you want this tasty goose, you should order as soon as possible. (877) 872-4458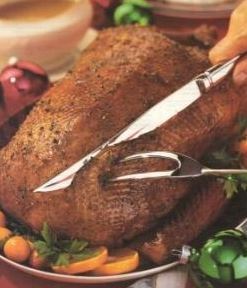 Allen Brothers Spiral Honey Glazed Ham
Perfectly aged and smoked for the richest flavor. Comes with honey glaze and a slightly candied crust. Heat and serve. Can be ordered by the whole or half. Order by 12/21.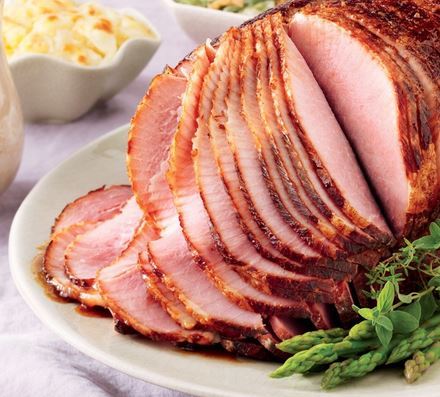 * * *
Sides
To complement your delicious entrees, here is a recommendation of my favorite side dishes.
Beecher's Mac and Cheese - 4 to 8 servings
Some consider this the world's best mac and cheese. They also have a gluten free version.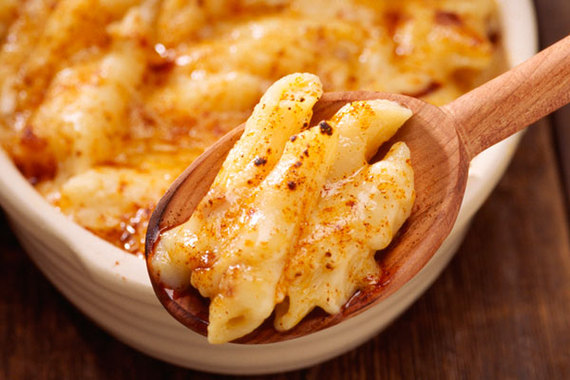 Allen Brothers Maple Brown Sugar Sweet Potatoes
Simply defrost and bake for 30 minutes. Fresh sweet potatoes mixed with real maple syrup, brown sugar, onions, rosemary, and butter.
Williams-Sonoma's Artichoke Parmesan Stuffing - 4 to 6 servings
Artisanal stuffing from the expert chefs at The Perfect Bite Co. is a celebration of local California flavors... toasted cubes of French bread with a chunky sauté of artichoke hearts, mushrooms, and onions. The savory blend is gently mixed with parmesan cheese and rich chicken broth, creating a ready-to-bake stuffing with the perfect balance of taste and textures.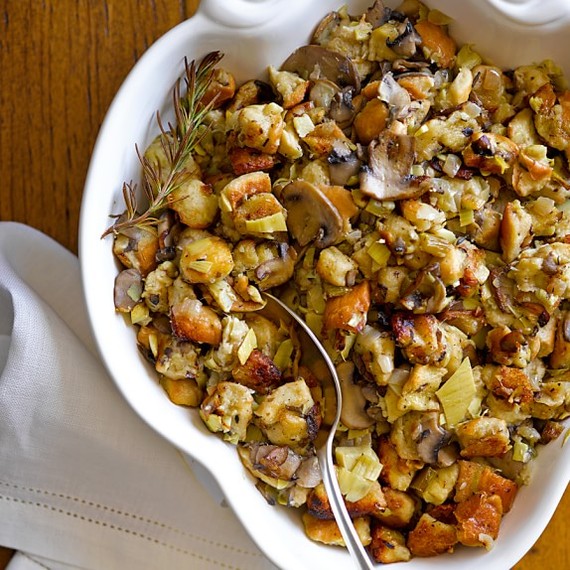 The Perfect Bite Company's Gourmet Creamed Spinach - 4 to 6 servings
All Natural Gourmet Creamed Spinach is a savory side of fresh bright green spinach with generous amounts of Asiago and Mozzarella cheeses, sautéed onions, butter and half & half. It pairs well with beef of course, but also makes a terrific partner to fish, chicken or pork.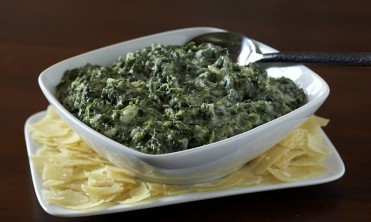 * * *
Desserts
Eli's Cheesecake has been sent as Christmas gifts by several presidents of the United States. Providing Chicago's favorite dessert, Eli's Cheesecake is a family owned bakery which prides itself on 35 years of creating delicious handmade cheesecakes and desserts, using slow cultured dairy and regional ingredients from local farms and producers who share Eli's commitment to quality. All Eli's Cheescakes and desserts are certified Kosher. Serves 14.
A delicious dessert which also adds festive red color to the table.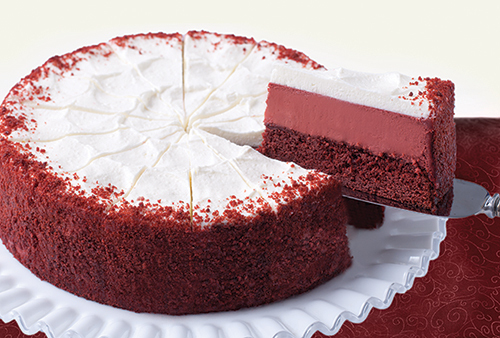 A moist layer of perfectly spiced gingerbread cake topped with rich creamy vanilla cheesecake and crunchy house made streusel.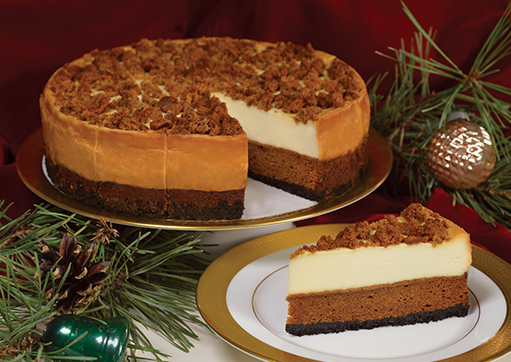 Wildflower Honey Mediterranean Cheesecake - Dessert for a Cause
This honey cheesecake is not only delicious but socially conscious. All proceeds from the honey goes to student beekeepers of the Chicago High School of Agricultural Sciences, which harvests and delivers the honey.