Forbes announced that its strategy for the 21st century proves as successful as the Forbes Billionaires and The Under 30 Issues.
On December 17, Forbes Media announced that it had achieved record readership and achieved its highest readership ever in the U.S., increasing by over 1.5 million readers in this past year to 6.7 million. According to comScore U.S., unique visitors to Forbes.com rose 20.5% from November 2013 to November 2014, bringing Forbes' multi-platform monthly visitors to 31.4 million.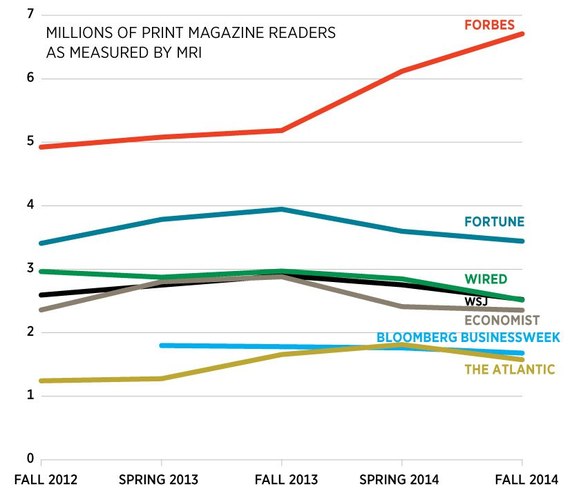 If this were the last century, Forbes would inflate its colorful hot air balloons in celebration, launch its yacht, The Highlander, or fuel up its jet, the Capitalist Tool, to wing advertisers and a cover story to the Forbes home in Morocco. But this is the 21st century and Forbes is all business and profit, and those toys are long ago sold by former heir apparent Editor-in-Chief Steve Forbes; now Prince of Commerce Steve Forbes, who presides with his cerebral lieutenants over the company which publishes Forbes, Forbes Asia, Forbes Europe and ForbesLife as well as Forbes.com and ForbesLife.com.
The Forbes brand now reaches more than 75 million people worldwide with its business message each month through its magazines and 36 licensed local editions around the globe, Forbes.com, TV, conferences, research, social and media platforms.
Randall Lane, editor of Forbes magazine, acknowledges these surging numbers for the once dozing brand. "It's rewarding to see our print magazine surging in lockstep with our online growth," he says. "Too many people see print versus digital as a binary choice. The right answer is both-when each is clicking, they make the other stronger." He attributes this sudden jump in growth of Forbes' readership and influence to adherence to the Forbes Culture on both platforms- a culture in which the stories on Business, Money and Economics revolve around the personalities of those at the helm, the people driving the economic engines as well as a Forbes magazine commitment to creative and top tier photography in its glossy pages and the old saw, fact-checking.
When Randall Lane took his first job out of college it was as a fact-checker at Forbes magazine. When he returned a few years ago as Editor of the magazine, he reinstated fact-checking to its rightful place in the chronicler of man's achievements in the Forbesian world of rich and net worths mingled with start-ups and spreadsheets alongside freshly minted hi-tech Billionaires under 30 and motorcycles, mansions, geo-politics and global affairs. "Our new numbers have not only skewed bigger but younger and richer," Lane said after the year-end report showed Forbes Media was attracting the younger and richer to read and use its multiple platforms.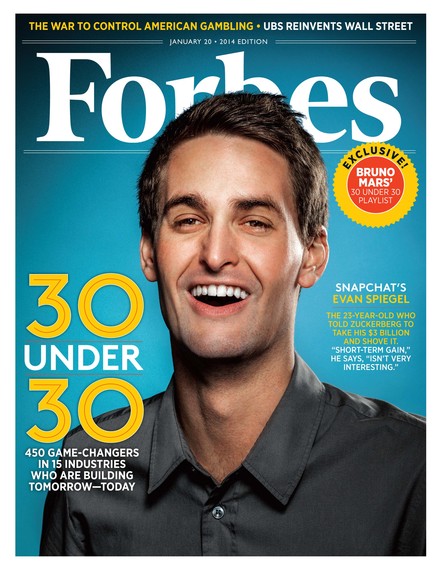 "Younger" is a big New for Forbes. As Forbes prepares for its 98th year, the "Younger" are an exciting new demographic and there are plans afoot to franchise the 30 Under 30 Summit cum Forbes magazine Under 30 edition. And take it global.
The new Forbes 30 Under 30 Edition will be out in January 2015. For last year's 30 Under 30 Issue, former Forbes coverboy rock star Bruno Mars created a downloadable playlist to be enjoyed while reading that particular issue which within its covers detailed the rise of such companies as Tinder, Tumblr, and Dropbox, Spotify and Oculus Rift- all of which were founded by Under 30s.
Randall Lane makes it very clear that the criteria for being profiled in the magazine hasn't changed- they are still looking for the disruptors, change makers, entrepreneurs and innovators. It is still about money, business and the Forbes Lifestyle, not popularity. And it is adherence to the old Forbes Culture that has brought about such a resurgence in Forbes' own popularity.