The burgeoning 2nd Annual FORBES Women's Summit, May 14-15 in New York, is in the rare position of being allowed to be highly selective assembling the Leaders and Power participants all wanting and qualified to participate. FORBES, a Business Icon and Brand since 1917 has amped up and extended its recognition of Women in positions of Power, Influence and then having the entrepreneurship skills to "make it all happen." And the numbers of women who fit the category/model have swelled.
Just on the heels of the April announcement that the Ladies' Home Journal, one of the country's oldest women's magazines would be discontinuing regular publication and closing its New York offices after 131 years, FORBES has strengthened its position in the world of women with its Women's Summit and concomitant FORBES Most Powerful Women issue, out early June, along with its online presence of Forbes Woman. It begs the question what do women really want; a recipe for a soufflé or a recipe for success. FORBES knows it is both and sometimes the soufflé is part of the recipe for financial success and that with the Entrepreneurship of Everything women can take to the Financial Hi-road with a better soufflé dish; Williams-Sonoma is represented at the May Summit and to the corner office from the cat-walk. Kathy Ireland who first made her mark in Sports Illustrated is now the mogul founder of Kathy Ireland Worldwide, one of the World's most successful Apparel Brands.
Under the able aegis of Moira Forbes, the FORBES Women's Summit and ForbesWoman takes its place in the realm of Media and Conclaves in which inclusion guarantees a participants' seat at the table of recognition and advanced opportunities for success. Whether that success comes in the orbit of Banking--Mary Erdoes, Chief Executive Officer, J. P. Morgan Asset Management opens the FORBES Women's Summit in May in the Keynote Interview---which is followed shortly by a panel discussion on STEM (Science, Technology, Education and Math): The New Pathway to the Corner Office led by Padmasree Warrior, Chief Technology and Strategy Officer, Cisco Systems and Lockheed Martin's Vice President & General Manager, Informations Systems & Global Solutions Civil Business, Stephanie Hill.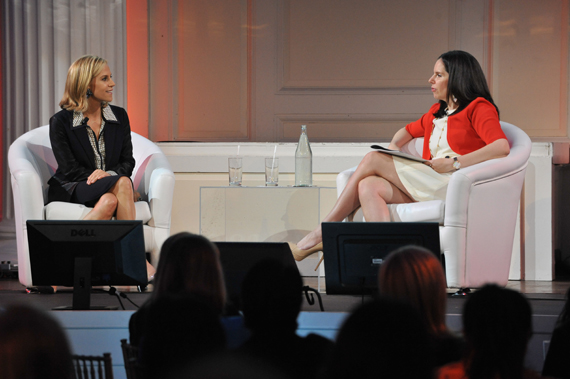 From left to right, Tory Burch, CEO & Designer and Forbes Women President and Publisher Moira Forbes
"Our goal in convening the FORBES Women's Summit is to bridge the gap between generations and industries to truly tackle global issues in unconventional ways, and through a more expansive lens. This can only be achieved by bringing together a diverse array of stakeholders, including the most dynamic thinkers in business, philanthropy, politics, technology and media/entertainment. Everyone in the room will be an active participant, with no distinction between "speaker" and "attendee"--all participants are invited because they have something to contribute to this high-level, peer-to-peer discourse."
On the heels of a highly successful FORBES Women's Summit, its inaugural summit last year, Moira Forbes and the FORBES team demonstrated the power of the FORBES brand to convene a collection of top tier performers, executives, household names, thought leaders and entrepreneurs along with zealous foundation pioneers and entertainers who had made their mark of success in one area and were/are now gathering to attend to a global problem that only experienced problem solvers could tackle. Added to this mix were the start-ups and the younger generation of hard working women with an entrepreneurial spirit so engrained it appeared to be part of their DNA. And the multi-generational and multi-discipline collection of women learned from one another, made strong Connections and did Business. And so they are returning to New York.
This May Cheri Blair, Chair of Omnia Strategy, LLP is one of the leaders on the discussion "Fueling the Entrepreneurial Engine." Such diverse voices as Vice-Admiral Michelle Howard, Deputy Chief of Naval Operations and Diane von Furstenburg, Legendary Designer and Style Entrepreneur will weigh in from famously diverse backgrounds as all of these esteemed women address serious global issues, examine one another's goals and achievements, laugh, talk, analyze and learn from one another. And they will continue to grow their thriving companies or start-ups and formulate ideas and solutions while probably adding to their board of directors or simply becoming friends/advisors and be gainfully inspired because FORBES has opened the door and set the table. Since we can rely on the prestigious FORBESIAN brand of credibility, connectivity and information the participants can suddenly be networking in the same room as one another and not only online or on the glossy pages. But that is where we usually first learn of these women such as Jessica Simpson, Singer, Actress, Philanthropist as well as Founder and Chief Operating Officer of Jessica Simpson Collection, which has boomed in an economy which purchases the practically priced as well as, if not more often than the Luxe brands.
I for one, am hoping to have a seat at the table with Carly Fiorina, whose wisdom and talent I revere along with my old friend, Deborah Norville, longtime TV Anchor who is moderating one of the panels whilst engaging the very young and able daughter of a friend who is currently Director of Online Engagement, The WHITE HOUSE OFFICE of Digital Strategy where she and her young team have engaged us over the Internet in two presidential elections and created such online forums as "Fireside Hangouts"On Google+ and #AskObama Twitter Town Hall.
"Power does not come in a one-size-fits-all package and at FORBES we are defining what power means. Today, in order to effect meaningful change, one has to possess an entrepreneurial mindset, spirit, and approach. The theme of this year's Summit is fittingly "The Entrepreneurship of Everything." Whether it's leading a multinational firm focused on innovation, launching a startup solving a decades old challenge, or spearheading a social movement that will improve the lives of millions -- it's all entrepreneurship. And it defines every aspect of our lives."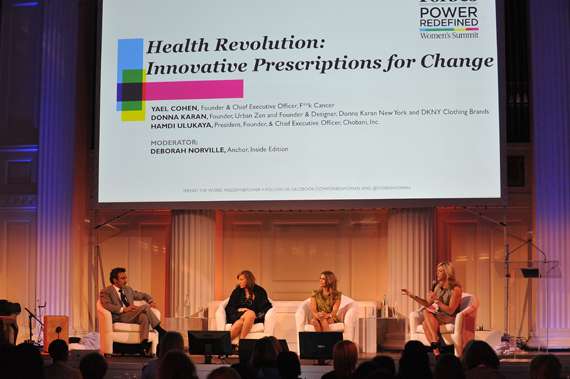 From left to right: Yael Cohen, Founder and Chief executive Officer, F**K CANCER, Donna Karan, Founder Urban Zen and Founder & Designer Donna Karan New York and DKNY Clothing Brands, Hamdi Ulukaya, President, Founder and CEO Chobani, Inc. and Moderator Deborah Norville, Anchor, Inside Edition at FORBES Women's Summit 2013