I have three children. One of them is an angel. Really. She has been an angel for 10 years now. Given the fact that my other two are now teens I could say that makes for decent family balance although I'd much prefer to have my middle child back in her human body and acting out in ways that all teens do.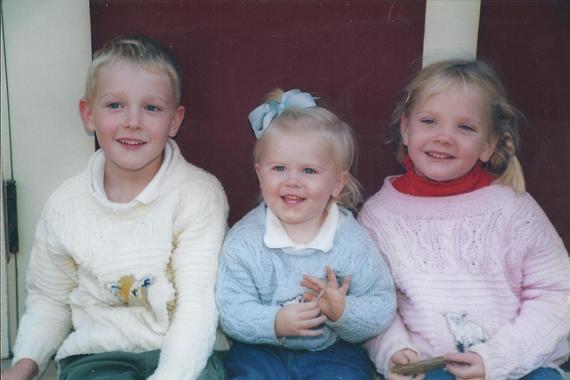 Ever since my first Mother's Day as a mother I have thought that Mother's Day and the birthdays of children were celebrated backwards. I spent my entire first Mother's Day revelling in all that it is to be a mother. As a new mother the world immediately expanded in a way that I never knew was lacking prior to the birth of my children and yet I could no longer comprehend life without that new space. I marveled at how over the course of the year my baby had changed from a tiny baby with pink limbs folded in on himself to a gurgling, smiling, ravenous devourer of pureed peas. The challenges, the euphoria, the firsts, the physical and mental exhaustion washed over me anew. The whole year of mothering memories played for me like an endless video loop set to a cheesy soundtrack. The day's focus for me was entirely on honoring my child and celebrating all that he had become in that year. Nope. This day was not about me.
When my son's first birthday rolled around a few months later I spent much of the day stuck in my head reliving the day he was born. Labor pains, delivery, holding and weeping over the sheer perfection of our baby boy for the first time, learning to nurse, change diapers, soothe, swaddle, entertain. The same was true with my next two babies. They were happy to have cupcakes and some wrapping paper to play with on their birthday -- the day that was supposed to be all about them. Meanwhile I'd be thinking all about the experience of birthing them. Any mother will tell you, childbirth ain't easy. Revisiting the memories of those deliveries on their birth days, joyous as they ultimately were, always makes me feel worthy of a wee bit of spoiling. How about hugs and kisses with a foot massage along with that handwritten love letter in crayon? Bring it on!
Seventeen years later, on the day that is set aside to celebrate mothers, I continue to find myself focused on the honor and privilege (ok yes, and what a grueling and thankless job it often is -- hello teens) that it is to be a mother. This is a quiet day of internal reflection that does not need to be recognized by my children. If anything, I feel that it is my job to recognize them on Mother's Day. Breakfast in bed? No thanks. But let me tell you how much I love YOU.
Each year I write a love letter to my children on or around Mother's Day. It's a way of time stamping their growth and letting them know just how special they are to me.
Since losing one of my precious three children, Mother's Day, like all holidays, is now laced with bittersweet. It continues to be a day of reflection for me. But the reflection is tinged with melancholy for all of the mothering that I did not get to give my daughter who died at the age of 6. I have spent the last 10 years finding a comfortable resting spot in my soul for the grief that I carry as well as redefining my relationship with she who was my child and she who is now an angel. On Mother's Day I reflect on mothering and count my blessings as a mother. My heart aches for our losses and the spans of life that we did not get to share as a family with all three living children. On Mother's Day I do the best I can to keep the focus on the gift of being mother to each of my children. The two who are living on any given day move through various stages of, shall we say, angelic grace, and the one who is nothing short of an angel now and for always. For me, Mother's Day is about the blessing it is to be a mother mothering her children.
I have three children. One of them is an angel. I refer to her as the angel in my pocket. The other two have their moments. But they are all perfect. Despite the anguish that the gutting grief losing a child has brought to my life I would not trade places with any other mother. I consider myself fortunate to have three lovely and mostly perfect children who call me 'Mum'. I'll weep on Mother's Day as I always do. But I'll also smile through my tears. The tears of loss and remembering are comforted by the smiles and the embraces of the present and the promise of future joys. I love my children. Happy Mother's Day indeed.
Happy Mother's Day.