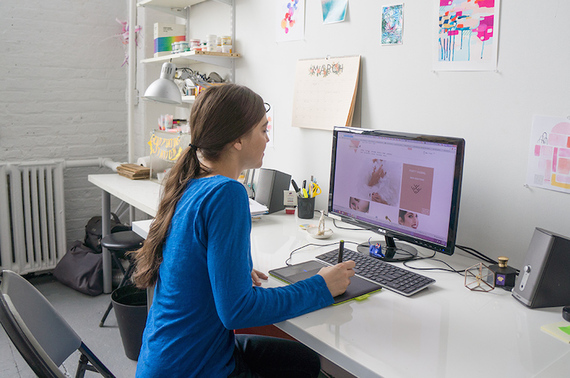 Image: Virginie Millefiori for Madesmith
Planning Growth in Your Business
Your business is either growing or dying. The truth is that you need to proactively grow your business. Increase in sales today does not equate to growth in future. You must have a clear strategy and plan for both short and long-term. There is no such thing as ticking along.
10 to 12 months after the launch of your business is just about enough time to gather and analyze relevant data around your performance thus far and plan the growth of your business. While you may already have a vision for your growth, looking at the data can help you tweak it for improvements and clarify your focus. So, how do you create an effective and dynamic growth plan?
5 simple steps to help you plan your growth:
1. Analyze customer feedback
Do a complete and in depth analysis of all the customer feedback you have received. There you will find great insights on how to adjust and tweak your offerings and services. You may also decide to reach out to all those who have purchased from you and send them a short survey on what they like and don't like about your brand and your products. Explain to them that your goal is to improve your offering for them.
2. Converting non-customers
A great way to find and talk to non-customers is by looking at your newsletter subscribers. Most of the subscribers have not bought from you yet. However they have showed interest in your products and offerings by subscribing to receive news and updates from you. You can create a short survey to find out exactly why they have not bought from you. It could be any factor or a combination of factors such as prices, shipping costs, quality concerns, customer service etc. Make sure to include all deterrent factors even if you don't think your business could possibly have them. Remember purchase decisions are very subjective, so a low price to you may not mean a low price to your non-customer. A free and valuable giveaway is a great way to incentivize this group to give you their opinion. A coupon or discount may not work here as they have already shown that they are not ready to buy from you yet.
3. Find additional partnerships
Now that you've been in business for a little while, take a good look at your surroundings and find 3-5 additional potential partners. These could range from complementary businesses to retailers and media partners. Devise a clear plan on what can you offer them besides a great product to sell. Make sure to personally reach out to them and start the conversation one on one (no group emails and absolutely no line sheets or look books). Offer them something that their business can also use to grow e.g. offer to write about your journey for a business blog (don't overtly plug in your product here). Remember, it should really benefit your partner business and their customers. Also, clarify your expectations from the potential partner so that there is no misunderstanding or disappointments down the road.
4. Create a growth calendar for next year
After your findings are complete and you have analyzed the data, create a calendar for the following:
a. What improvements do you need to make based on the customer and non-customer feedback? By when? And how will you achieve this?
b. New products in order for your business to stay ahead of competition.
c. Which products will you discontinue, and when should you send the notice to your customer?
Marketing messages and campaigns for all of the above.
d. Holidays or special occasions in the next year, when do you need to be ready with your offering for the occasion, and your marketing campaign?
e. When do you need to get additional staff to help you achieve these goals?
5. Don't forget your essence and your existing customers!
As you grow, it is even more important to keep the essence of your business at the forefront. This may include things like your business philosophy, your process, or your signature products that attracted your first set of customers. The only exception to this is if you decide to change the direction of your business based on customer feedback or new market opportunities.
Expanding a business is never easy especially as all of us get spread thin in our day to day activities. However, if we don't grow our business, it may very quickly become irrelevant and dwindle despite all our hard efforts.
I would love to hear what growth challenges are you facing and how you are finding solutions around these problems?
Enjoying this content? Want to learn more about creating a successful business? Sign up for my course Build a Powerful Brand That Sells on Madesmith Academy.