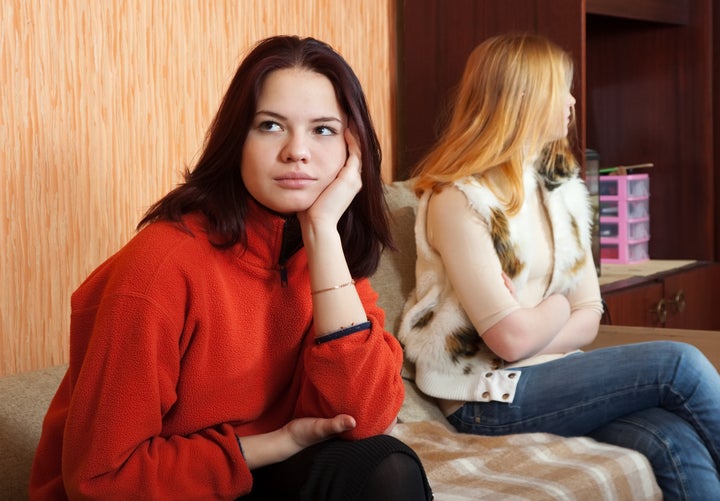 You know all of those stories that you hear about the bride and her sister, who she obviously chose as her Maid of Honor, squealing and crying every time the bride-to-be tries on her dress? How about the bride and her sister daydreaming about the moment her groom first sees her walking down the aisle? OK, that's not who we're dealing with today.
Let's talk about the jealous sister. She's the one who got married before you, had kids before you, bought a house before you but somehow is jealous of your wedding, fiancᅢᄅ, dress...you name it! Dealing with sisters is super tricky. Believe me, I have three.
I had a bride whose sister was the one who had been married for years, had two kids and one on the way. She had been renovating her house and chose the bridal shower to talk about every single detail of the renovation. The bride would open a present and she'd say, "Did I tell you guys about the knobs we picked out for the kitchen?" She even went as far as to pull out pictures of the knobs. The attention just HAD to be on her. It was really shocking to watch. The bride was visibly upset but she didn't confront her sister because she didn't want to be fighting during her wedding. Needless to say, her sister found every opportunity to make the wedding about herself when it really should have been about her sister.
When dealing with a jealous sister during your wedding, you need to be realistic about your relationship. I get it. Now is YOUR time. YOUR special day. Your sister should be there for you the way you were there for her, right? Not if she's the jealous sister. I understand that it hurts and that you wish she would do things for you because she cares and blah blah blah. But by now, you know her. Jealousy doesn't normally just come overnight. Take her how she is and don't try to make your relationship something it isn't because that will only add further injury and conflict.
You'll need to make a decision when it comes to deciding if you want this jealous sister to be a part of your Big Day. How much do you want her around during the planning? If you want her around a lot, be ready to deal with the jealousy and everything that comes with it. If you don't want to deal with it, try not to talk about the wedding and all the details every time you see her. I'm sure there are plenty of other people who would love to hear about the font on the invitation and how it matches the font on the program. She's just not one of them and that's ok.
Now, accept it! It isn't fun or "fair" but it is what it is. Your sister may be jealous for numerous reasons. Be happy that you are in a different place in your life and that you have the support of your fiancᅢᄅ. Don't let the jealousy ruin your day.