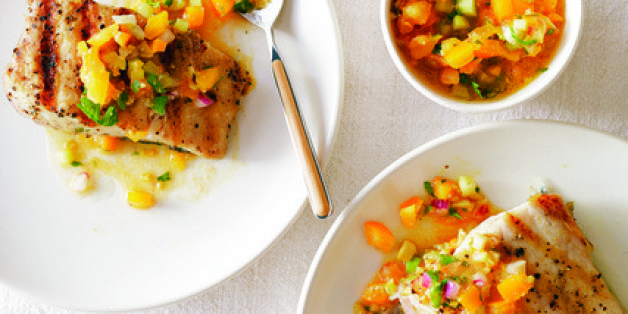 Have you ever put a beautiful, expensive piece of fish--a side of salmon, say, or some thick halibut fillets, or a tuna steak--on the grill, only to lose big chunks of it when it glues itself to the grates? Or accidently char it, or just plain cook it too long--until it's dried out and chalky?
We've all been there. Fish is delicate, and not the easiest thing to grill. But with a few tricks up your sleeve, it's not only possible to turn out delicious, beautiful grilled fish, but pleasurable too.
The 10 techniques below have proven useful to us at Sunset magazine, and we'd like to share them with you. And, if you happen to be on California's Central Coast September 25-28, you can watch me demonstrate some of them at Sunset SAVOR the Central Coast (specifically, grilled halibut wrapped in lettuce, among other recipes from Sunset's new Great Outdoors Cookbook.)
No. 1: Use the right heat level. Fish fillets or steaks need to cook hot and fast, over direct heat; that means at 400° to 450°, for 7 to 10 minutes. Same thing for small whole fish, like sardines. Cook them too slow and you risk drying them out.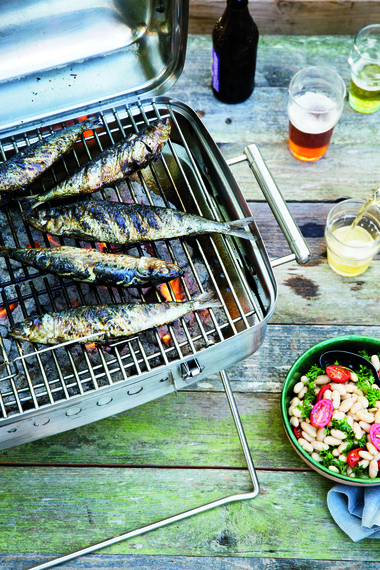 Grilled Sardines with Cold Bean Salad (Photo: Erin Kunkel)
No. 2: Stop cooking when the fish is almost done, but not quite. It will finish cooking on the way to the plate.
No. 3: Clean the cooking grate. Charred bits of food will not only impart nasty flavors but make your fish stick, too. Use a stiff-bristled wire grill brush to scrub the grate clean (easier when it's heated).
No. 4: Oil both the cooking grate and the fish. Use oil with a relatively high smoke point--safflower or canola or corn, rather than olive oil--and pour a couple of tablespoons onto a wad of paper towels. Then rub those over the preheated grate (with tongs). Oil the fish, too.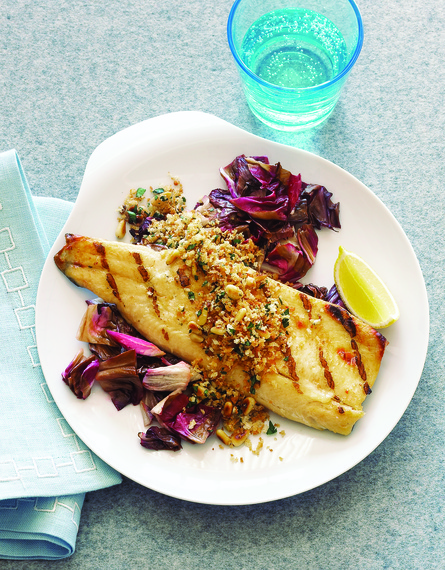 Grilled Trout Fillets with Crunchy Pine-nut Lemon Topping (Photo: Annabelle Breakey)
No. 5: Grill fish fillets skin side down. The skin, being more dense than the flesh, firms up and releases more easily from the grate than the flesh will. You don't need to cook the fish on the flesh side if you keep the grill lid down; hot air circulating over the fish cooks the top.
No. 6: If you want to turn the fish over (maybe you want grill marks), use two spatulas. Flipping a steak or fillet is probably the trickiest moment in fish cooking--especially if your fish is flaky. For maximum control and gentleness, use two wide metal spatulas, one to free the fish and the other to receive it; then slide the spatula out from under the flipped fish.
No. 7: Cook your fish on tinfoil. It's even better than cooking right on the grate, because it's slipperier. First, rub the fish with oil and season it however you like. Then, fold a big sheet of heavy-duty foil in half crosswise. With a knife tip, poke dime-size holes through foil about 2 inches apart. Oil one side of the foil, set it oiled side up on the hot grate, let it heat a minute or two, and set the fish, skin side down, on top. When the fish is done, slide a thin metal spatula between skin and foil and lift off onto plates or a platter. You can easily slide the fish free of the skin if you'd rather leave the skin behind.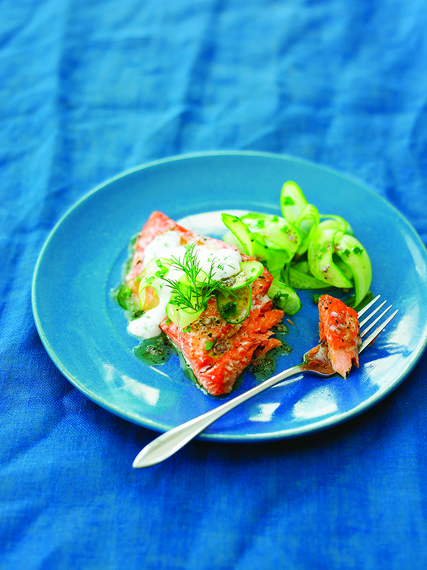 Grilled Salmon with Cucumber Salad (Photo by Leigh Beisch)
No. 8: Cook it on a grill pan or a baking sheet. These perform much like tinfoil, but are ready to go and reusable.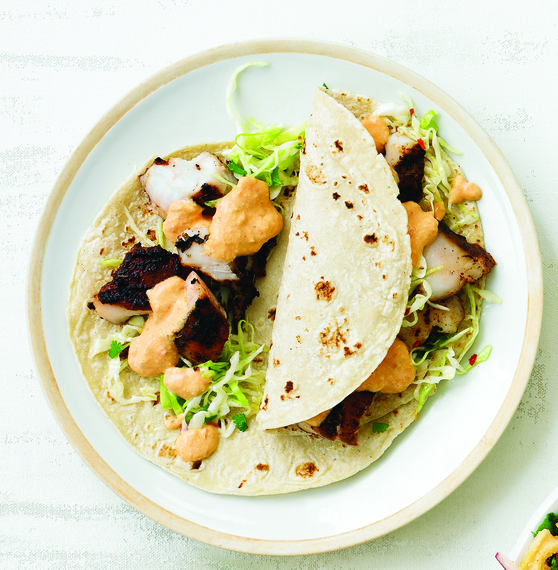 Baja Light Fish Tacos (Photo by Leigh Beisch)
No. 9: Wrap your fish in something. In the case of the halibut below, large, sturdy leaves of Romaine lettuce--blanched until bendable--form the wrapper. Make sure to oil the packets well before they go on the grill.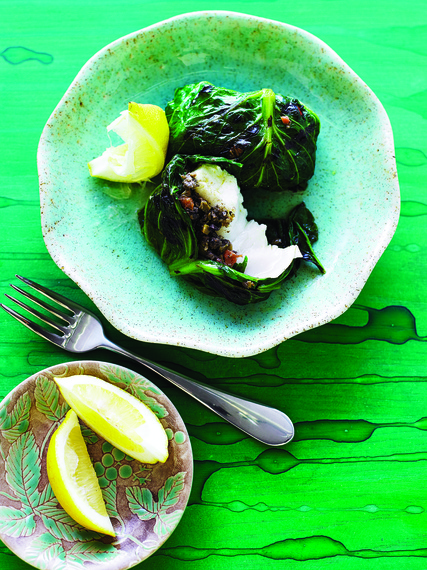 Grilled Halibut, Lettuce, and Tapenade Bundles - For a live demonstration of this recipe--and other grilled favorites--by Sunset food editor Margo True, come to Sunset SAVOR the Central Coast.
No. 10: Cube the fish and cook it on skewers, with other, sturdier foods in between. Those other foods help break up the grip between fish and cooking grate.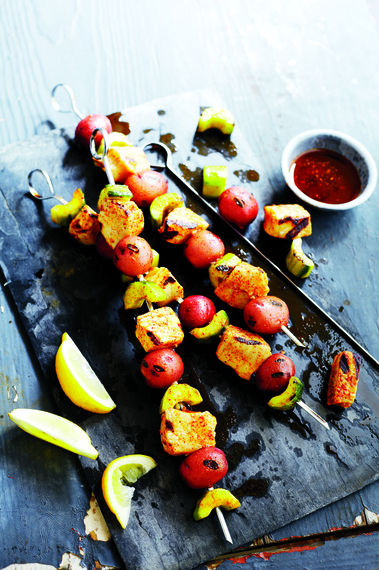 Albacore Tuna, Cucumber, and Potato Kebabs (Photo by Alex Farnum)
Try one or several of these techniques and see which works best for you and is most enjoyable. As with anything in life, it's nice to have choices.