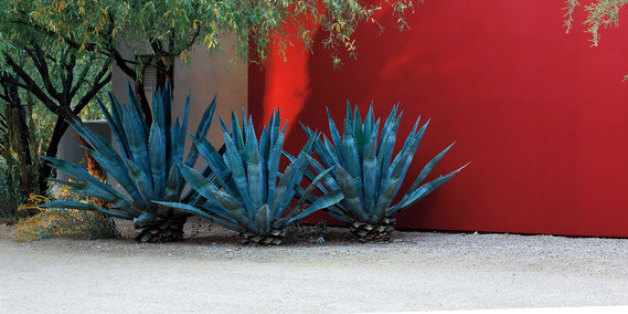 By Kathleen Brenzel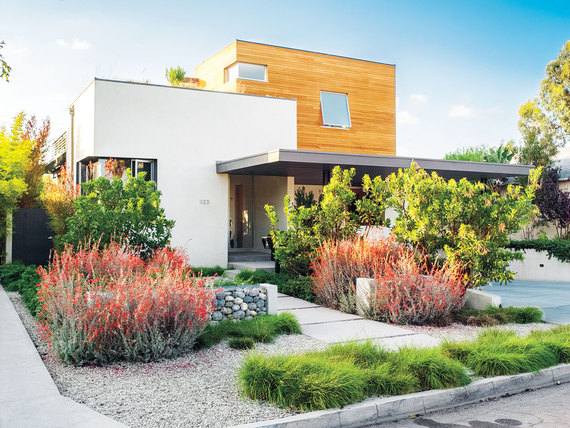 Photograph by Andrea Gomez Romero
A style of landscaping is catching on in the drought-ravaged West that could be called "New Age Minimalist". "NAM" gardens show off pared-down plantings in a way that recalls art pieces on display at museums, or Coco Chanel's classic "little black dress."
They're sleek and stylish, yet sustainable and water-smart. In this Venice, California Garden, by Jeff Pervorse of Bent Grass Landscape Architecture, clusters of native orange-flowered Zauschneria practically glow against the greenery. Six other examples, from the new Sunset Western Garden Book of Easy care Plantings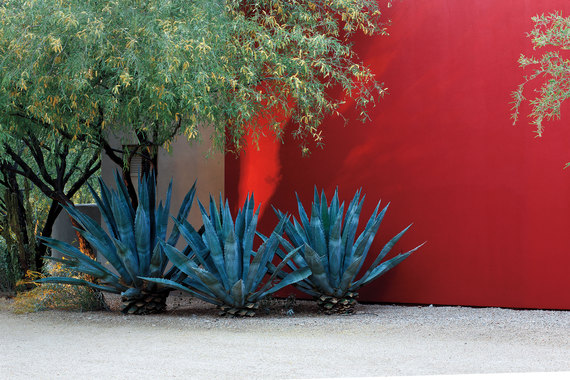 Photograph by Steven Gunther
Bold trio
Each detail is designed to be savored in a sculptural garden -- a style pioneered in the Southwest deserts by Landscape architect Steve Martino. His vivid wall colors act as backdrops for sculptural plants, such as this trio of century plants (Agave americana) in Arizona, with a pair of mesquite trees or textural contrast.
Elegant simplicity
A pair of ocotillos fan out in front of a mustard-colored wall in an Arizona garden, also designed by Steve Martino, where they create the illusion of a giant abstract painting. Later, when bright green leaves sprout along the stems and red- orange flowers appear on top like candle flames, the golden background will make those colors pop. Up-lighting adds drama at night.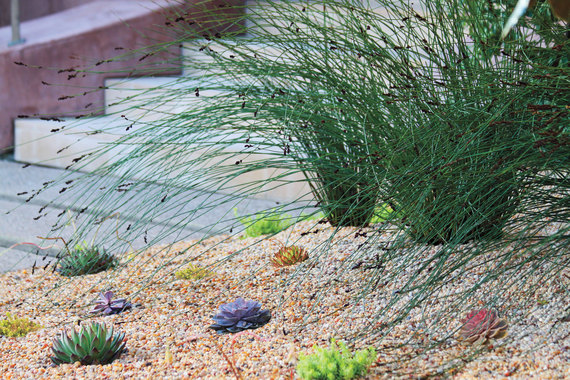 Photograph by Sarah Warto/Boxleaf Design
Succulent "seascape"
Though succulents are static plants, this scene in San Francisco seems to have the mesmerizing ebb and flow of the ocean. Tiny rosettes of mixed Echeveria and clumping lime-green Sedum rupestre 'Angelina', widely spaced and surrounded by a pebble mulch, look like anemones on the sea floor. A reedy Chondropetalum tectorum, reminiscent of kelp, behind, appears to move with the currents.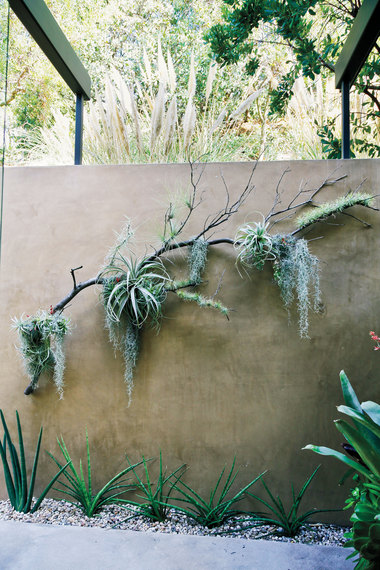 Photograph by Joshua McCullough/PhytoPhoto
Living wall art
Tillandsia (air plants) perch on a tree branch in a Laguna Beach, California, garden designed by Dustin Gimbel. The rosettes are firmly attached to tails of Spanish moss (another type of tillandsia) that are draped over the branch so they move in the breeze. Mother-in-law's tongue (Sansevieria), which is normally a houseplant but can be grown outdoors where winters are mild, fills the narrow border below.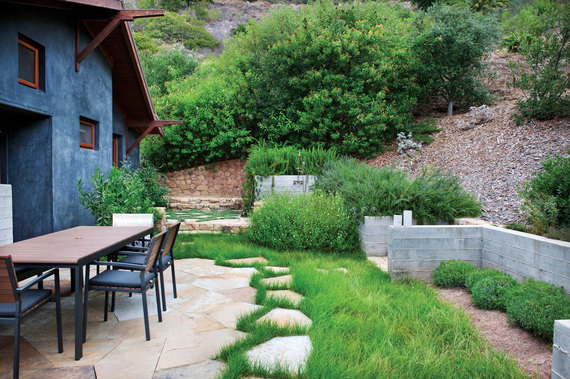 Photograph by Andrea Jones/Garden Exposures Photo Library
Light-touch landscape
A tracery of California field sedge (Carex praegracilis) stitches together the patio and mini meadow in this chaparral-scented garden, designed by Susan Van Atta. A tailored and richly textured complement to the natural vegetation cloaking the Santa Barbara foothills, the garden pairs native plants with equally water-wise Mediterranean plants, including lavender; mounding Salvia greggii 'Alba; rosemary (spilling over the wall); and woolly thyme creating a tapestry effect between pavers on the far patio. Native plants cloaking the hillside include bay, oak, toyon, and California white sage.
Cool Glamour
Blue fescue and silver puya shimmer in this sunny border in Los Gatos, California, designed by Landscape Architect Jarrod Baumann. Their companions: Phormium 'Amazing Red' and thread-leaf nandina (N. domestica 'Filamentosa'). The brushed stainless steel wall screen behind the plants (disguising a concrete block wall) contributes additional glamour.
Mediterranean icon
No garden is too small to create a Mediterranean flavor. This patio in Corona del Mar, California, designed by Chris Fenmore, manages it with just an olive tree and an underplanting of Dianella revoluta 'Little Rev', plus a trio of olive jars.