Russian impresario Serge Diaghilev assembled the finest dancers, choreographers, scenic artists, and composers of the early twentieth century to launch the iconic ballet company whose legacy is now on display at the National Gallery of Art.
"Diaghilev and the Ballets Russes, 1909-1929: When Art Danced with Music" opened May 12 and occupies two floors of the National's East Wing, and this thrilling exhibition is a "must see" for anyone who wants to understand the evolution of modern ballet. Diaghilev's genius informs this collection of 130 original costumes, set designs, back drops, programs, posters, and paintings, 80 of which are on loan from the Victoria and Albert Museum which mounted a Diaghilev exhibition in 2010. Video excerpts bring legendary ballets to life, and a newly discovered rehearsal clip of "Les Sylphides" offers the only extant footage of the company.
There has probably never been two less compatible artists than the cool, disciplined, endlessly inventive George Balanchine, Diaghilev's last choreographer who later cofounded the New York City Ballet, and Vaslav Nijinsky, the gifted but erratic dancer who created four Diaghilev works including "Afternoon of a Faun" (1912) and "The Rite of Spring" (1913) before descending into mental illness. Yet as one moves through the National Gallery's sweeping retrospective, I noticed similar movement in Nijinsky's "Rite of Spring" (when the pagans are stomping) and Balanchine's "Prodigal Son" (when the brigands dance), and surely this is not accidental since Balanchine was aware of Nijinsky's work while creating his own Diaghilev ballets, ten of them including two classics: "Apollon Musagete" (1928), later called "Apollo," and "Prodigal Son" (1929). By any standard, "Apollo" remains Balanchine's signature ballet, a work that endures not as a museum piece but as a striking example of neoclassic purity.
Ironically, it took an American chorographer, the late Robert Joffrey, born seven months after Diaghilev died, to restore some lost works of the Ballets Russes. Without Joffrey's curiosity and shining intelligence, the video clips of Nijinsky's "Rite of Spring" and Massine's "Parade," both of which keenly illuminate this exhibit, would not exist. Indeed, it's impossible to ignore the links between Serge Diaghilev and Robert Joffrey, dance visionaries from different eras who both died at age 57, Diaghilev in 1929, Joffrey in 1988. Each built a ballet company on the strength of personal passion and struggled to keep his troupe solvent; each earned a reputation for glamour and an occasional commercial streak that juiced box office receipts and generated publicity. Diaghilev and Joffrey might have been great friends--or great rivals--but there is no doubt that they were brothers under the skin.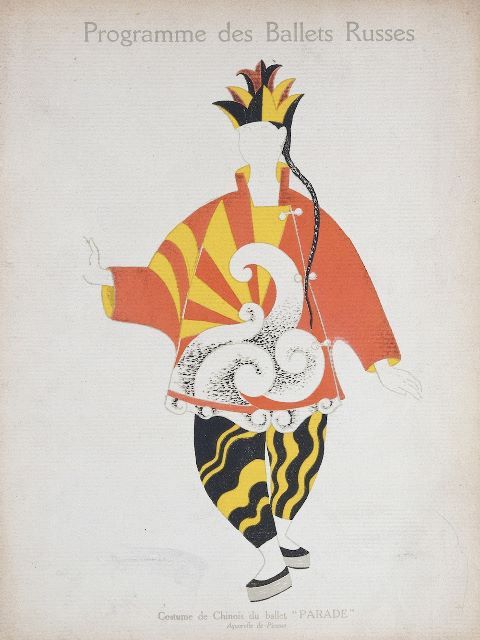 Ballets Russes 1917 "Parade" program with Picasso's Chinese Conjurer costume.
In the 1960s and '70s, the Joffrey Ballet was the hip U.S. company that showcased its dancers' youthful high spirits in works such as "Astarte," Robert Joffrey's multi-media rock ballet (which was as exotic and trendy in 1967 as Diaghilev's 1910 "Scheherazade," devised by Michel Fokine). But by the late seventies, the Joffrey's future was threatened by a series of financial woes. I'm happy to report that it gradually retrenched, moving from New York to Chicago in 1995, helmed by resident choreographer and the company's cofounder, the late Gerald Arpino.
This past winter the Joffrey Ballet toured with Robert Joffrey's restoration of "Rite of Spring," the Nijinsky ballet that caused a riot when it opened in Paris on May 29, 1913, one hundred years ago next week. It tickled me to observe other museum-goers at the National Gallery as they sat or stood watching Joffrey's 1987 staging, which premiered in Los Angeles after sixteen years of detective work by dance historian Millicent Hodson and art historian Kenneth Archer. Hodson and Archer were assisted by Robert Joffrey who in 1955 was taught steps from the original "Rite of Spring" by Dame Marie Rambert who had been Nijinsky's assistant.
The 1987 reconstruction had been Joffrey's quest since he discussed the possibility with Hodson in 1971, and when the ballet opened in L.A. he proudly told the Christian Science Monitor that it was "85 percent Nijinsky." This still seems miraculous considering that the only production notes had been jotted down by Nijinsky's sister, Branislava Nijinska, for a single section of the work, although there were scribbles on the scores of Marie Rambert and Igor Stravinsky, the ballet's composer.
For three years in the late 70s, I was privileged to head marketing at the Joffrey, and I cherish my memories of the company's revival of four Diaghilev works: "Petrushka," "Afternoon of a Faun," "Le Spectre de la Rose," and "Parade," performed during a sold-out Broadway run in March of 1979. The first three ballets were Nijinsky roles, danced by the incomparable Rudolf Nureyev as a guest artist. Excerpts from "Faun" and "Petrushka," the latter starring Nureyev, Gary Chryst, Christian Holder, and Denise Jackson, are on view in the National Gallery; the program was taped in 1980 for a Joffrrey PBS special. Yet whereas the choreography for the first three ballets was restaged by others, Robert Joffrey must be given sole credit for restoring "Parade."
That clever one-act work combined the gifts of Jean Cocteau (libretto), Erik Satie (score), Pablo Picasso (set and costume design), and choreographer-dancer Leonide Massine. With the clacking of press agents' typewriters and a foghorn booming from the orchestra pit, the ballet archly depicted two managers and some raffish performers trying to attract an audience at a Sunday Paris fair. "Parade" premiered on May 18, 1917, and was presented nine times after its initial run, but never in America. Robert Joffrey sought out Massine, whom he'd met many years earlier, and in 1973 he brought the 77-year-old choreographer to Manhattan to coach dancers for The Joffrey's "Parade" revival.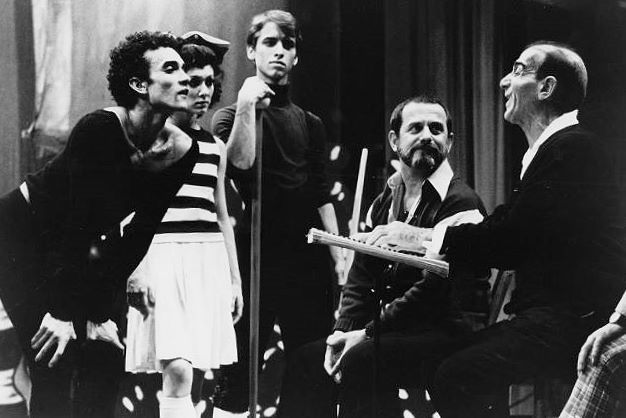 From left: Gary Chryst, Donna Cowen, Philip Jerry, Robert Joffrey, Leonide Massine.
A 1973 rehearsal for Massine's "Parade." Photo credit info below.
Dance critic Clive Barnes wrote in The New York Times (April 8, 1973), "It ['Parade'] introduced cubism into the theatre...It has been lovingly staged. Scenically, this is a joy...Joffrey has a way with these reconstructions and nothing has been done with such eclat as 'Parade.'" Barnes was partly referring to the costumes by Picasso. Two of them stand ten-feet tall and along with the Chinese Conjurer outfit are displayed at the National. There is also a 2006 video clip featuring Danse Europa.
There is much else to savor in the Diaghilev exhibit, some of which is on loan from private collectors. I was amazed to see Nijinsky's costume from "La Spectre de la Rose" and notice the petals that used to fly off his back into the audience--his fans kept them as souvenirs. I was captivated by the Valentin Serov poster for the first 1909 season at Theatre du Chatelet in Paris, a print that shows Anna Pavlova in pink-tinged tulle from "Chopiniana." And in the "Parade" section we learn that the long-lost costume for the Chinese Conjurer survived World War II in a dancer's trunk in Warsaw--a fun tidbit. I loved the Coco Chanel beach trunks for "The Blue Train," whose erotic front cloth by Alexander Schervashidze (based on a painting by Picasso) fills a 34 feet by 38 feet wall space at the end of the exhibit. But the real finale may be found in the blue Rouault set designs and film clip of Balanchine's "Prodigal Son," a harbinger of modern ballet that would develop thanks, in no small part, to Diaghilev's unbridled artistic vision.
***
"Diaghilev and the Ballets Russes, 1909-1929: When Art Danced with Music" runs through September 2 at the National Gallery of Art, Fourth Street and Constitution Avenue, in Northwest Washington, D.C. Call 202-737-4215 for information, or visit www.nga.gov. There is no charge.
To learn more about Robert Joffrey and the Joffrey Ballet, you may buy or rent a new dvd, Joffrey: Mavericks of American Dance. It's available at Amazon.com, and was broadcast last December on PBS. The photo above is a publicity still that has been circulated to promote the film.