If Gertrude Stein were alive today, she'd be a core member of Molly Barnes Brown Bag bunch or would have started the lecture series herself. Part salon/art history lecture/talk show, Molly Barnes Brown Bag lunches are to New York today what Stein's formidable salons must have been like to Paris in the 1920s.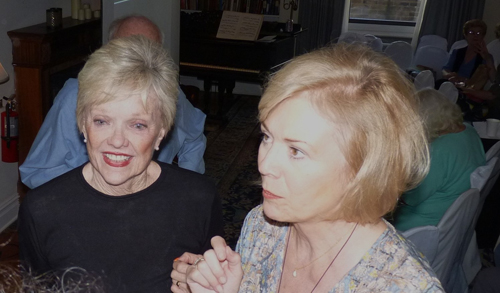 Molly Barnes, left, and Kathryn Scott
Barnes -- a curator, art dealer, radio host, teacher and collector from Los Angeles -- started the lecture series 20 years ago in partnership with the eclectic Roger Smith Hotel in midtown Manhattan. By her count, Barnes has presented some 400 contemporary art dealers, curators, critics and artists. The names are big: the inaugural talk featured Clement Greenberg, famed critic and friend to AbEx artists Jackson Pollack, Willem de Kooning and others. Barnes' roster has included artists Andres Serrano, Kiki Smith and Mark Kostabi, as well as Henry Adams, John Quincy Adams' great grandson and author of a book on Jackson Pollack, Chelsea art dealers Jim Kempner and Stephen Haller and Warhol superstar Ultra Violet.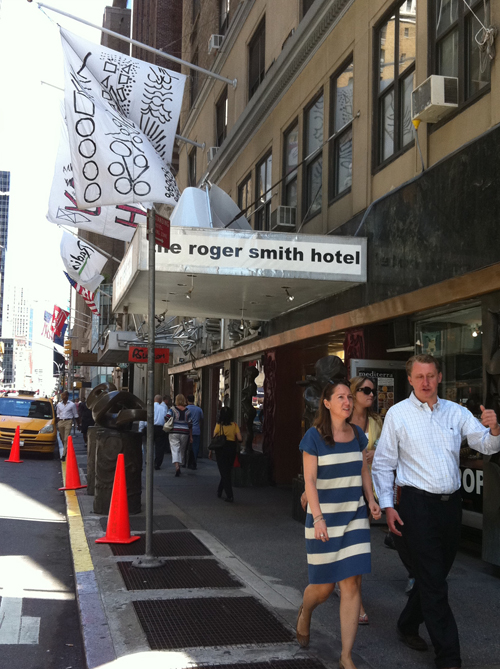 I attended my first Brown Bag, featuring artist Charles Mingus III, a year and a half ago and knew I had discovered a great New York art secret. I arrived with my own lunch, not believing there'd actually be a brown bag lunch. At my second Brown Bag I arrived hungry and eagerly consumed the contents in my brown bag: a beverage, a sandwich, a cookie and fruit.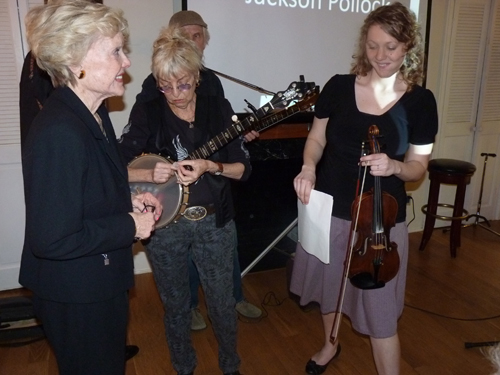 Barnes, Audrey Flack and her Art History Band
Barnes personally welcomes each visitor into the room on the 16th floor of the Roger Smith. The room is adorned with a piano, oil paintings, antiques and some 50 upholstered chairs. Legend has it that when they were young, Buckminster Fuller and Isamu Noguchi spent several nights on the floor of this room and that the carved stucco ceiling inspired Fuller's Geodesic Dome design.
After a brief introduction by Barnes, each speaker presents a slide show and a history of their quirky and oftentimes colorful careers, followed by a question/answer period. The room provides just the right setting for each scholarly, sometimes wickedly funny and always enlightening art event. Painter/sculptor Audrey Flack recently performed with her art history bluegrass band. Before that, Tom Christopher arrived with two nude models and notepads for each audience member. Several months ago, Jim Kempner of Jim Kempner Fine Art in Chelsea presented a few of his gut-bustingly funny film shorts from the series The Madness of Art.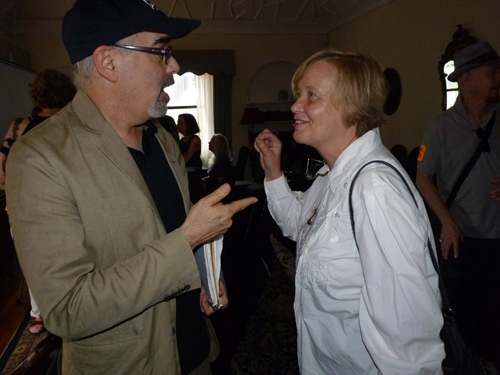 Chelsea art dealer Jim Kempner, left
Since its founding, there have been two Brown Bags every six weeks, always at noon on a consecutive Thursday and Friday. Barnes came up with the idea for the series after accepting a job offer for a "spiritualist with a college education" to initiate art programs for the hotel. "Molly is exceptional," says hotel owner James Knowles. "I knew immediately that she was incomparable in her passion for art and knowledge about the subject."
"Jim always make things fun," adds Barnes, retelling how just last week Knowles handed her five crisp $100 bills and asked if she could purchase five new artworks for the hotel. The decades' long partnership works: the hotel provides the food and venue and Barnes the wonderfully inventive programming.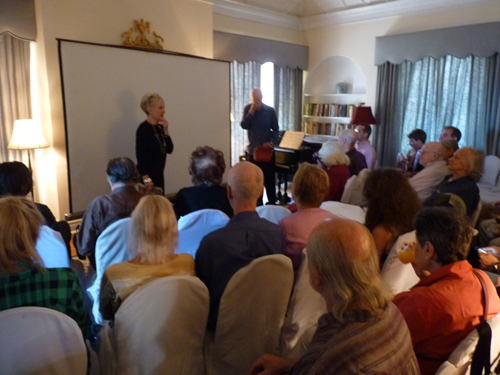 Barnes and artist Sherman Drexler at the most recent Brown Bag Talk
Barnes gets her ideas for speakers every day, as she crosses paths with art world movers and shakers in New York and Los Angeles. Let it be known that if you are fortunate enough to meet Barnes, she will never forget you. She is the consummate connector of people, putting Facebook to shame when it comes to networking in the arcane world of contemporary art. Knowles is happy to be an integral part of this ongoing venture, providing what he refers to as a small chapel where people get fired up about the arts and exchange ideas.
I await with anticipation the next Brown Bag flyer and subsequent phone call from Barnes personally inviting me. Up soon is Connie Butler, chief curator of drawings at MoMA, and Gail Levin, author of a book on Lee Krasner. Perhaps we'll also be privy to a critique of the five new artworks Barnes purchases for the hotel.
For more information about the Brown Bag Lunches or to receive invitations, please send an email to molly_barnes@hotmail.com.
Photo Credit: All photos except the exterior of the Roger Smith Hotel are courtesy of Anthony Liversidge