I found myself in Fredericksburg, Virginia in mid-January, where I took a complimentary one-hour tour at A. Smith Bowman micro-distillery, home of the Bowman Brothers line of small batch premium bourbon.
The last thing I was expecting when I approached the nondescript brick building was the immense space inside. I passed through the double glass doors and into a cavernous building with soaring ceilings, concrete floors and a gift shop area, where a tasting concludes after the tour. An interesting side note is that the building was once the largest cellophane factory in the country, which employed a full staff through the depression era.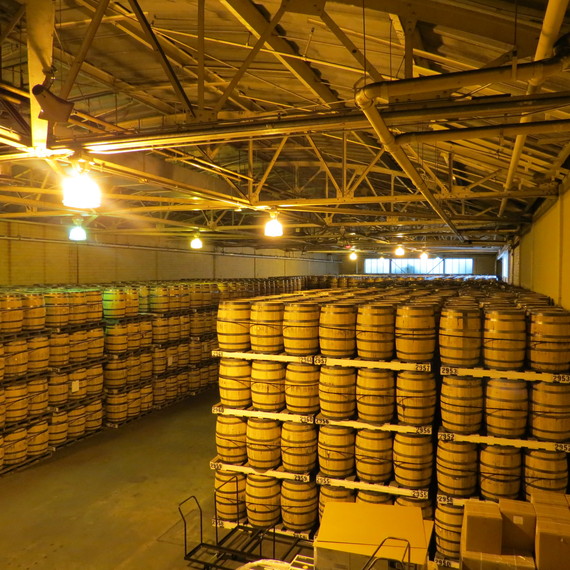 Corn, rye and malted barley form the base for the Bowman Brothers' small-batch bourbon aged vertically in new charred oak barrels.

The Backstory: After prohibition ended, Abraham Smith Bowman, along with his two sons, founded the company in 1935 at their family farm, Sunset Hills, in Fairfax, Virginia. The distillery is perhaps best known for their award-winning signature bourbon, Virginia Gentleman Whiskey. It wasn't until 1988, when sky high real estate prices forced the distillery to relocate to the outskirts of Fredericksburg. And then in 2003, the Sazerac Company purchased the distillery and began updating and enhancing their product line with Bowman Brothers small batch bourbon, the John J. Bowman single barrel bourbon, and occasional special editions like Abraham Bowman.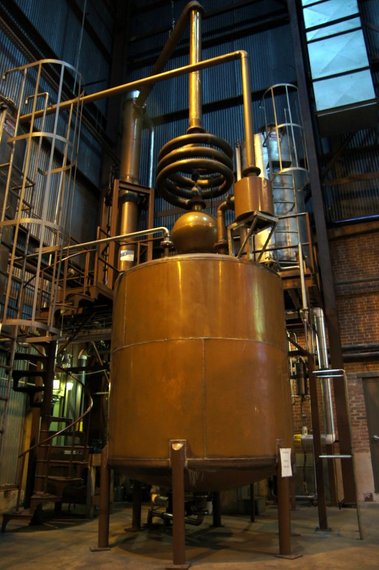 The copper stills were built in the 1920s.
While being led through the still house, barrel warehouse, barrel dump and fill room and learning about distillation, barreling and bottling of bourbon, I then had the opportunity to sample a variety of bourbon whiskeys, gin, vodka and rum with Master Distiller, Brain Prewitt. A couple of suggestions: If you prefer a robust single-barrel, try the John J. Bowman thick with toffee and almond notes, and for loads of spice, try The Abraham Bowman Limited Edition rye cut with a splash of water.
Three other small-batch spirits, bottled by hand and sold on site are: Septa-distilled Deep Run Vodka, coriander-rich Sunset Hills Gin, and dark rum with roots in Guyana.
Complimentary tours are held Monday-Saturday between 9-3. For groups of 20 or more, a reservation is required.
PH: 540.373.4555