The Draycott Hotel is comprised of three traditional red-brick Edwardian townhouses with thirty five rooms discreetly located behind Sloane Square. The posh and quiet neighborhood provides a relaxing, home-away-from-home where one can imagine living in stately London digs, if only temporarily.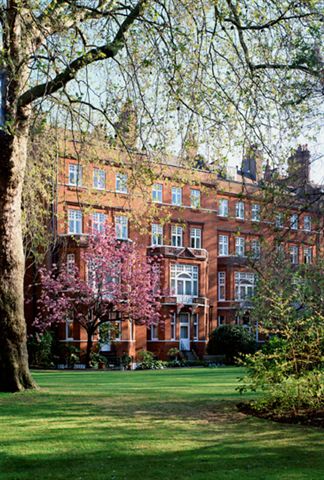 The location: The 5-star Draycott is perfectly situated between Chelsea and Knightsbridge. For deep-pocketed guests who covet designer duds, Sloane Street is steps away where you will find Dior, Chanel, Armani, Nicole Fahri, Gucci and Prada, among others. If bustling and touristy Harrods is on the list, it is a mere 10-minute walk away. For something a little more down to earth, organic and affordable, walk to the Pimlico Farmer's Market and peruse 30 fine produce stalls. It is held every Saturday in Orange Square (9 to1pm).
The Rooms: The theatrically and literary-themed rooms and suites all have individual character with high ceilings, plenty of English-style and dripping with antiques. Most come with working gas fireplaces, so if a cozy fire on a rainy London day is your cup of tea, be sure to request one. For views of the private garden, request a room at the back of the hotel. Room Perks: Power shower, plush pillows, international adaptors and robes.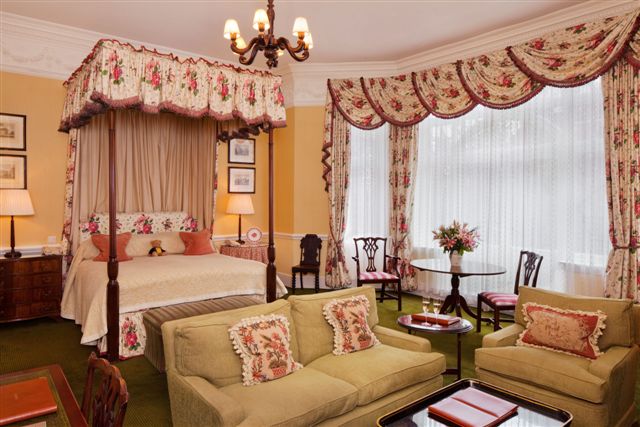 Special Treats: The Draycott serves complimentary tea at 4pm daily, champagne at 6pm, and hot chocolate at 9:30pm. A full English Breakfast is included and served in the intimate breakfast room or when it is a full house breakfast is served in the library, too. A 3-course dinner is available via room service only. Upon arrival, you will find vanilla and chocolate shortbread and a hand-written welcome note on the writing desk in your guestroom. The hotel provides gratis Wi-Fi.
Getting there: Either take the Tube to Sloane Square or the Draycott will arrange for a chauffer to pick you up at Heathrow.

Rates: £140 and higher per room per night, including VAT and breakfast. Packages are available for Christmas, Valentine's Day, and throughout the year.
Town & Country: The Draycott's sister property, Ellenborough Park, a 60-room country house (think destination wedding), located in Prestbury, Cotswolds, is a stone's throw from the Cheltenham Race Course, which is well-known for the National Hunt Festival held every March. (It is Famous for the Gold Cup and Champion races.) The Draycott will arrange a driver for guests combining a visit to both properties. Tip: If you plan to explore the Cotswolds, it will behoove you to rent a car.
My Arrival: I took the Piccadilly line to South Kensington and made a change for Sloane Square. The hotel blends in with the other townhomes, so I really had to look for the inconspicuous Draycott placard. I stayed in the Charles Laughton Suite overlooking Cadogen.