Now you can learn how to make your own perfect, piping hot pizza at Pizza a Casa Pizza School in Manhattan. Mark Bello, owner and preeminent pizza-maker, teaches how-to classes at his pie-making business on Grand Street.
Students jump right in making dough for light and crispy 12-14-inch crusts. A menu is provided, and students choose from a dozen pizza combinations (each student has the opportunity to make up to four pizzas). This is when camaraderie and creativity ignites and top-shelf choices are decided upon from the toppings bar. Think traditional, over-the-top or never-considered toppings and you'll undoubtedly turn out a dough-spinning wheel like no other.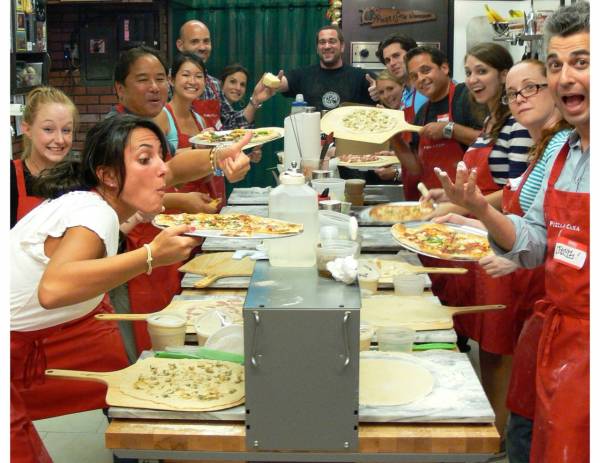 Photo Courtesy: Pizza a Casa
For sweet tooth students, there's a topping combination that sounds more like dessert with drizzled chocolate over bananas. Of course, there's a bit of student strategic planning; everyone wants to come up with their own unique, far-out pizza.
Bello, a native New Yorker, dabbled in pizza taste tests in Chicago, but deep dish wasn't his style. So back in NYC, he started a pizza lab. In a garden roof, Bello grew over a dozen varieties of heirloom tomatoes along with basil. He then started teaching at various locations in NYC until he opened his own Pizza a Casa.
When you walk in Pizza a Casa's entrance, you'll undoubtedly peruse the pizza-making tools, before making a beeline toward the back of the store for the four-hour pizza immersion class. Bello has added pasta-making classes, too.
Be sure to wear clothes which look good with a sprinkling of flour here and there. By the time you leave, you'll be proficient in making a pie in your home oven.
Classes are offered to individuals, couples and groups.
PIZZA WORKSHOP SCHEDULE
Thursdays: 6:30 p.m. to 10:30 p.m.
Saturdays: 12:00 p.m. to 4:00 p.m.
Sundays: 12:00 p.m. to 4:00 p.m.
Price: $150
Address: 371 Grand Street New York, NY 10002