The nation of St. Vincent and the Grenadines is a chain of islands extending 45 miles at the southern end of the Windward Islands. Uncommercialized and with 32 gem-like cays and islands, this corner of the world is ideal for people wishing to escape from hustle and bustle. A forgotten quality of life is accessible among these lightly populated and postcard-perfect places.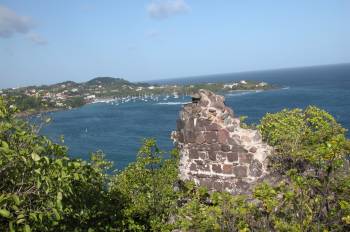 The Southern Tip of St. Vincent (Photo By Susan Fogwell)
Where to Stay:
Accessible by dinghy, tiny Eden-like Young Island Resort is a stone's throw from St. Vincent. For privacy seekers, the 29 cottages are hidden by lush foliage. Try the seven-night Sailaway package, with five nights at Young Island and two live-aboard nights on a yacht sailing to Bequia and Mustique. For more exclusivity, privately owned Mustique is home to the renovated plantation-style Cotton House. For sheer luxury, stay in a bungalow at plush Palm Island Beach Club on Palm Island.
Getting Around the Islands:
For island exploration, visitors have several transportation options. You can take a flight (on SVG Air, Trans Island Airways, Mustique Airways) from St. Vincent's ET Joshua Airport to Bequia, Canouan, Mustique and Union Island. Another choice is to hop on and off an inter-island ferry and travel through the Grenadines. You can also take a day sail from St. Vincent to the Grenadine Islands on a Fantasea tour; trips go to Mustique, Bequia, Canouan and Mayreau and the uninhabited Tobago Cays.
Scuba Diving and Snorkeling:
With the exception of Mayreau, all of the major islands have dive shops. A world-class dive sites suitable for all levels, divers see dramatic walls of coral reefs, tons of unusual fish, colorful sponges, sea turtles and sunken wrecks. For diving in the Tobago Cays and surrounding islets, go to Grenadines Dive. In St. Vincent, there's Dive St. Vincent; Canouan has Canouan Dive; and Bequia is home to Bequia Dive Adventures and Dive Bequia.
Diving at Bat Cave where Screeching Bats Live in St. Vincent (Photo By Susan Fogwell)
Where to Dine:
On St. Vincent, sample local West Indian food and an ice-cold Hairoun beer at Vee Jay's Restaurant & Bar. On Bequia, have rotis and callaloo soup at Green Boley, a tiny bar and restaurant. Mingle with locals on Mustique at Basil's Bar, a thatched open-air hot spot overlooking Britannia Bay and gaze at anchored sailboats. Pompey's Restaurant & Bar on Canouan is an island standout specializing in West Indian dishes. For raucous fun on Union Island, stop in at Olivia's Family Restaurant.
Must-See Sights:
Take a taxi to St. Vincent's Wallilabou Bay and walk on the forgotten "Pirates of the Caribbean" set. Head over to Wallilabou Falls, one mile away, and stand in a waist-deep pool under 13-foot waterfalls. Walk up to Bequia's summit for scenic harbor views from the Old Fort, a restored plantation house. For exceptional snorkeling and diving, jump in at Horseshoe Reef in the Tobago Cays. For lazy beach days, catch rays on Mayreau's white-sand beach at Saltwhistle Bay.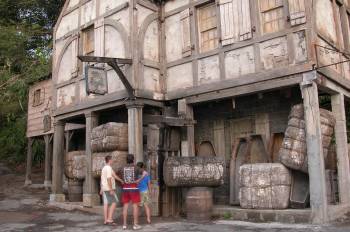 On the 'Pirates of the Caribbean' Set in Wallilabou Bay, St. Vincent (Photo By Susan Fogwell)