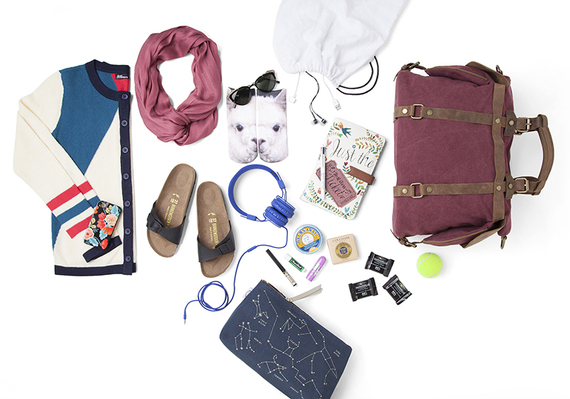 If you follow me on Instagram (if not, you totally should -- @susangkoger), you know that I spend A LOT of time on the road and in the air traveling for ModCloth. As a seasoned road tripper, I've had my fair share of adventures -- of both the good AND the not-so-good varieties -- and I've learned a thing or two about how to handle them.
With summer road trip season upon us, I'm sharing my tips and tricks for surviving travel blunders big and small. Check them out below and be sure to share your tripping tips in the comments.
You arrive, your luggage has not
The number one thing that has helped me weather the road less traveled is to always have a well-stocked tote bag. I'm not talking about your suitcase full of cute outfits and shoes, but a large shoulder bag to act as backup in case your luggage is lost, you're in need of a layer or two, or you experience unexpected delays. Because there are always unexpected delays.
Check out my bag, above. In it, I've got all of my tech needs (stash cords and other small devices like flash drives in a reusable shoe bag, it'll double as a laundry bag later on), an extra layer for warmth, and a handy circle scarf to change things up if I make it to my destination and my luggage does not. And that tennis ball? The perfect tool to help ease tension and sore muscles from long days of travel, just roll it where you're feeling stressed. I'm also always sure to pack some basic toiletries, like makeup remover and a few reliable beauty basics; easy sandals to slip on and off for when you go through airport security; and cute socks, because planes are almost always cold (who wants to put their bare feet on that gross airplane carpet?). And if you're gonna wear socks with sandals, you might as well roll with it. Oh, and you'll also see a few pieces of my favorite chocolate up there, because being separated from your luggage is stressful enough -- you'll want some emergency snacks on hand.
Read the whole story at Story by ModCloth