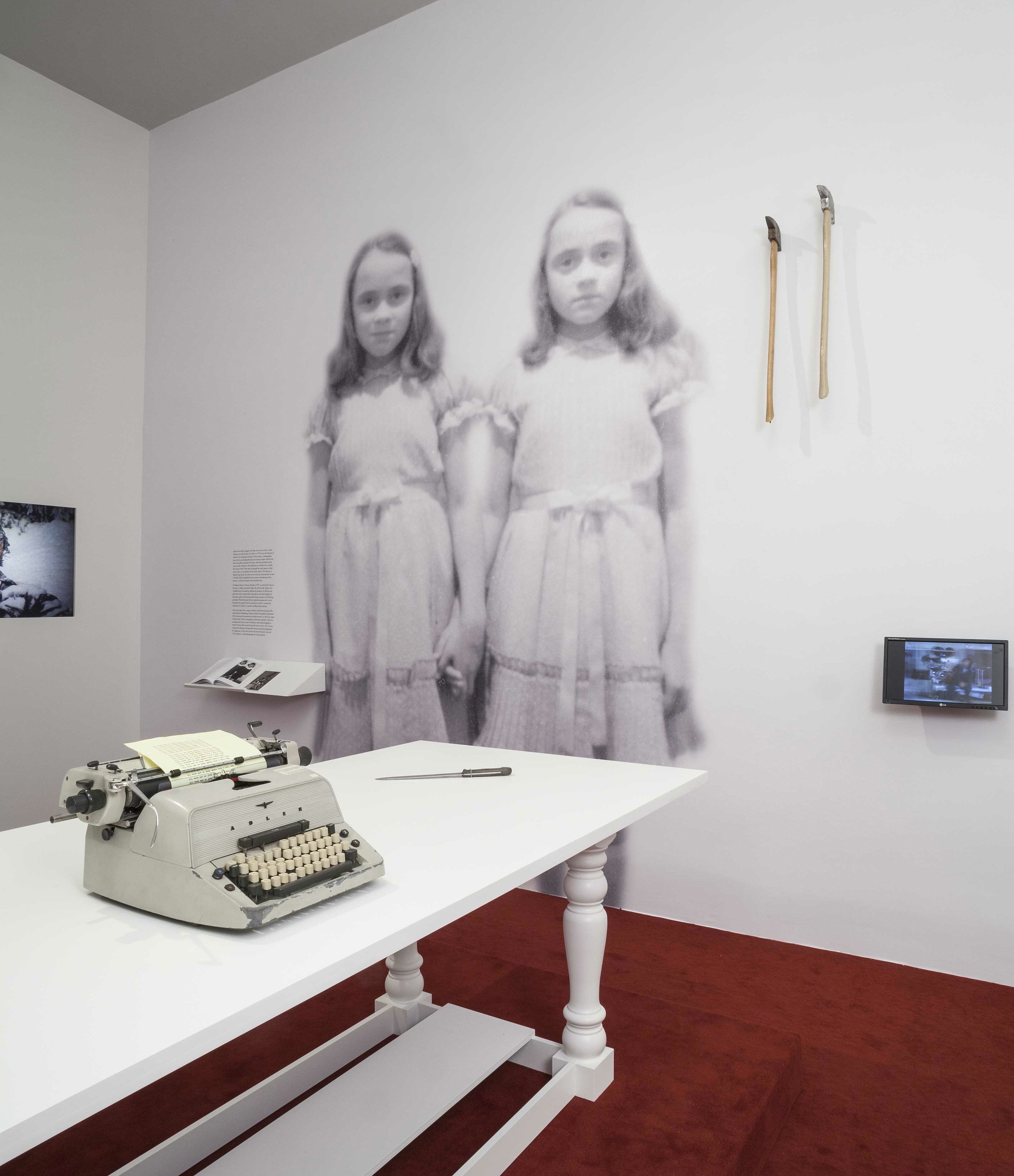 "All Work and No Play Makes Jack..." A View from The Shining Room at the Kubrick Exhibition at LACMA. (Photo courtesy LACMA)
Nothing really.
But Jan Harlan (brother-in-law of the late filmmaker Stanley Kubrick) is visibly annoyed. He arrived, you see, just days ago for a variety of Kubrickian-related events, including the huge LACMA retrospective which commences here in Los Angeles on November 1st. Harlan arrived with his sister, Christiane, (the wife of Mr. Kubrick for over 40 years until his death in 1999). After a long flight from England, they were held up in U.S. Customs for 3-plus hours. Mr. Harlan -- who worked on many a Kubrick film said, "There were numerous windows for U.S. citizens to get through with ease and quickly, but the rest of us were relegated to two or three customs agents. It's easier to get into Pakistan than into the United States!"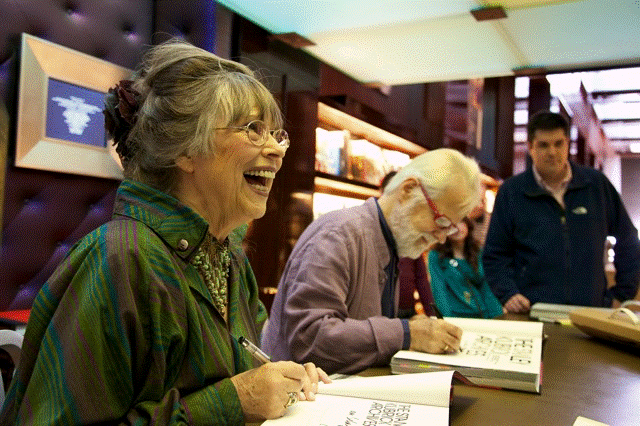 Christiane Kubrick (left) with brother and Kubrick producer, Jan Harlan (right).Photo credit: Dalmiro Quiroga
But once the fans started to arrive, that was all in the past. On this sunny Sunday afternoon, the two are sitting side by side at the Taschen bookstore in Beverly Hills, happily autographing copies of the re-release of the Stanley Kubrick Archives -- the first book to explore Stanley Kubrick's archives and the most comprehensive study of the filmmaker to date.
This is -- and has been -- a labor of love for Harlan and Kubrick for many years now -- well beyond this book. The exhibition has been making the worldwide rounds, from Rome to Melbourne to Hollywood, and the show is always a variation on a theme (for the most part) with the brother and sister involved every step of the way. "Basically the sort of profound, major blocks are in place -- always the same -- however there is a 30 percent trimming -- I dare say -- to adapt to the new location," said Mrs. Kubrick, who at 80 years of age, is stunningly, gorgeous not to mention immaculately elegant. "Paris is very different than Amsterdam and Melbourne was amazing. Each exhibition had a different feeling -- and fresh."
For the LACMA presentation, famed production designer Patti Podesta, (Memento, Homeland, Love and Other Drugs) was LACMA's go-to girl in laying out this lyrical collection of inner workings of the Kubrick mind. "Throughout the exhibition, and thus, throughout Kubrick's filmic career -- one can see the influence of other great artists in his work -- from Gainsborough, to Hogarth to Delacroix -- among others. "The inter-relation between art -- painting in particular -- in film is essential to both -- especially with someone like Kubrick -- the influence goes both directions. "The thing about filmmakers like Kubrick and also someone like, Pedro Almodovar -- is that they rework these influences and come up with a new whole as opposed to lesser directors who rip it off verbatim," said Ms. Podesta -- who we met while she was putting the finishing touches on those lovely white nude sculptures from A Clockwork Orange. "Each exhibit I tried to crystalize the meaning of the film in some way, to get people to be in the mise-en-scène of it; and then to have the opportunity to have these intimate moments with Kubrick's personal stuff (his cameras, photographs and other ephemera are on display throughout)."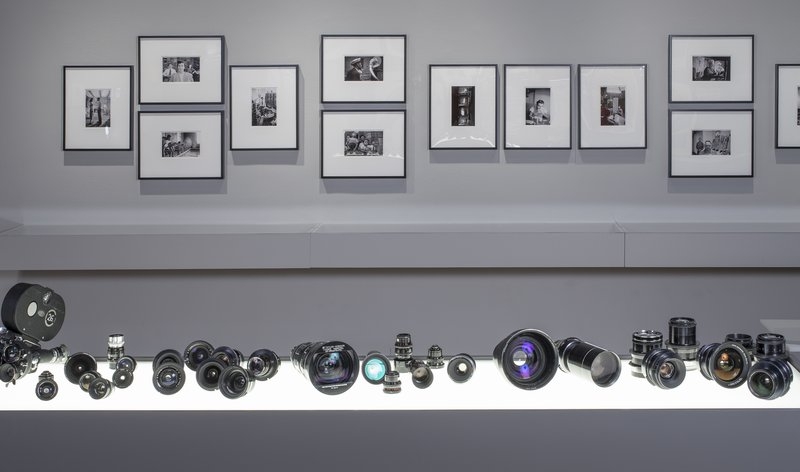 A selection of Kubrick's cameras on display (Photo courtesy of LACMA)
According to Mrs. Kubrick, there's a little something for everyone here. "It's not a purely scholarly exhibition -- it is a mixture of details to refresh your memory about these great films. [What it means]depends on the individual; what you're focusing on. If you're a student, you will realize how difficult it is to make a great film, and the work and the pain and questioning yourself -- all this can be found in the exhibition. Or, if you just want to have a good time and look at all these films -- you can do that."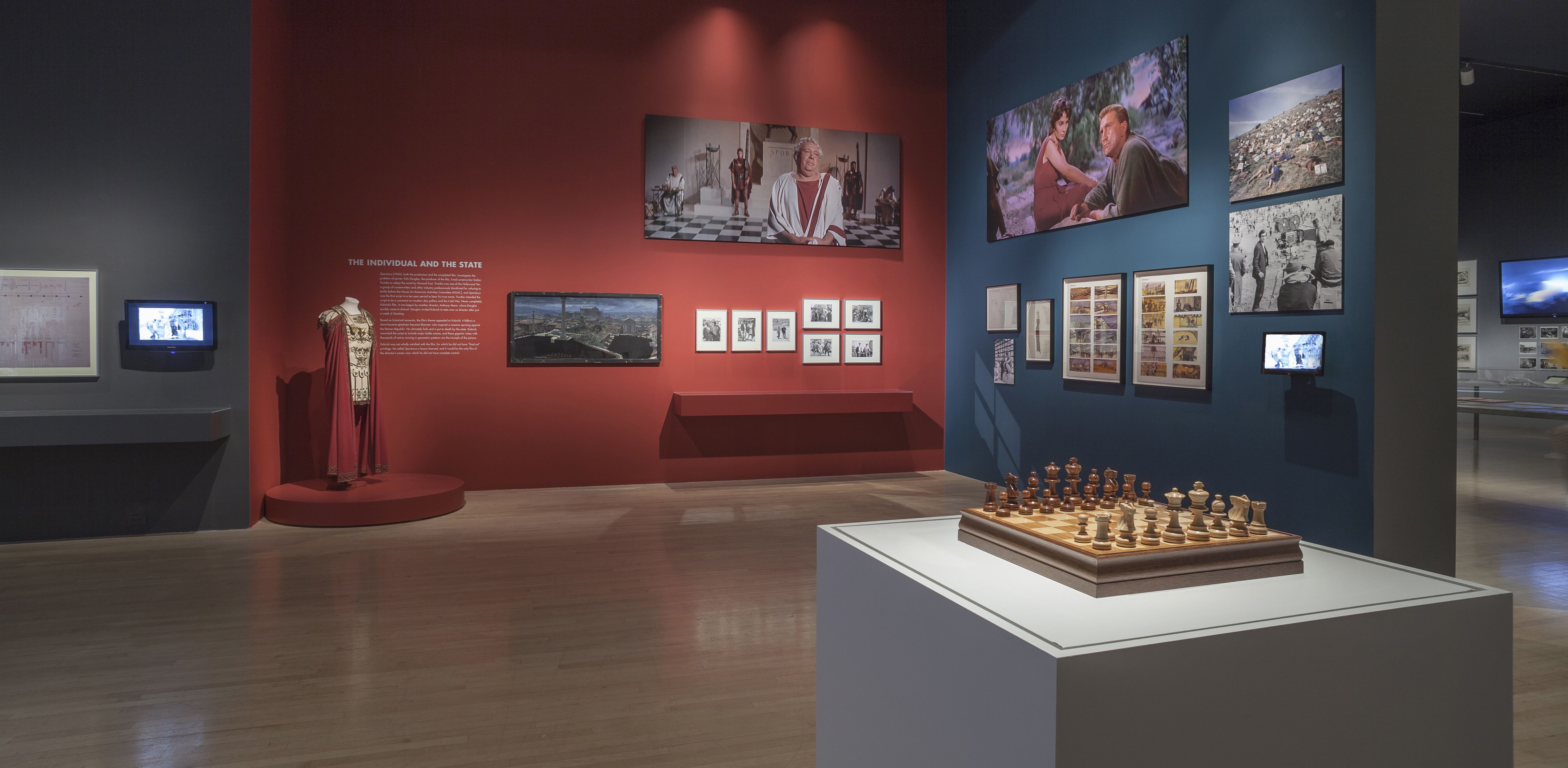 When in Rome... a birds-eye view of the Spartacus Room...(Photo courtesy LACMA)
So do Kubrick and Harlan have a particular favorite film? "No I don't -- every film is very different from the other, and I like them all," muses Mrs. Kubrick. But Mr. Harlan feels differently. "Eyes Wide Shut. Maybe because he considered it his greatest contribution to the art of filmmaking. Another reason is possibly because it was the last film he made -- and I observed the struggle -- I don't know -- I don't claim objectivity." Of her husband's last film -- starring Tom Cruise and Nicole Kidman, Mrs. Kubrick adds further: "You [as a viewer] also have to be willing to have something really painful to watch... It's all the questions you ask yourself when you wish to be a good person. And your brain serves you up all that rubbish, because it's your brain's duty to do so. And you now have to make a choice that is valuable. The question is, how valuable do you want to be?"
Stanley Kubrick at LACMA starts November 1st, 2012 and runs through June 30th, 2013