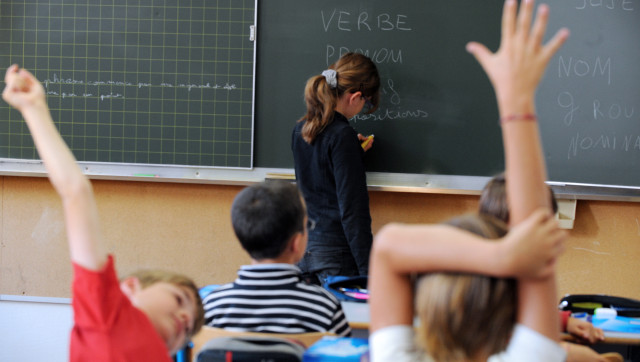 Education's been missing in action in this frenzied political season. In a scan of the words most frequently mentioned at the Republican convention, "work" (247)," business" (237) and "jobs" (220) topped the list. At the Democrats' convocation, education came in at 124, topping "war" the "American dream" and "opportunity." An improvement. But not nearly enough, for the ed Twitterati, who savored each mention in their 140-character domains, a tinge of desperation hanging on each tweet. There went Michelle Obama, and Julian Castro, and Elizabeth Warren, who had the unmitigated audacity to suggest investing in the next generation. And then the president, himself, who said -- did I imagine this? -- that we need to improve early childhood education.
"It is hardly a surprise that education isn't a heated subject in the presidential race," wrote New York Times op-ed columnist Joe Nocera, after the festivities were over. "Not when the economy is still sluggish, and the fight over the role of government so central."
What about that sluggish economy? Anyone around here heard of human capital? The skills, creativity, enterprise and persistence that propel economic growth. Nocera touts former colleague Paul Tough's new book How Children Succeed, a paean to grit and determination, published this month. Wouldn't you know that these very qualities -- what early educators call "social-emotional" skills -- are what make for the most effective, coveted employees. And they're cultivated in the first years of life.
We can't have an economy of any value without a workforce, and we won't have people with persistence if we continue to give education and children short shrift. How can we produce more smart people with character? Invest in kids from birth to five, says Nobel-Prize-winning economist James Heckman. A viable and critical social goal, investment in humans is also good fiscal strategy. The rate of return -- from 7 to 10 percent a year -- he tells us, is higher than the rate of return on stocks between 1945 and 2008. Heckman's been purveying his wisdom for some time now. Our politicos, however, continue to ignore his advice.
Our record of nurturing human capital, alas, is pretty lackluster. "Federal spending on children fell by $2 billion from 2010 to 2011, the first such decline in nearly 30 years," proclaimed this summer's Kids' Share report, from the Urban Institute. The kids' share of the budget pie was reduced to about 10 percent, with spending as a share of total economic output (a.k.a Gross Domestic Product, or GDP) also shrinking to 2.5 percent. (For a little comparison: 40 percent was spent on the elderly and disabled through Social Security, Medicare, and Medicaid, and 20 percent on defense.) The forecast for the future couldn't be bleaker: By 2022, the children's portion of the budget is expected to drop to 8 percent, and their share of GDP to 1.9 percent, with significant cuts in early care and education.
Globally, we don't look so good either. The nation's child poverty rate of 22 percent -- which increased by more than a third between 2000 and 2010 -- is among the very highest of economically advanced countries. The U.S. is in the lower third of the 31 countries surveyed for "fair access to education" in the OECD Social Justice Index. We're also in the lower half of the Economist Intelligence Unit Index for preschool provision across 45 countries -- way behind the curve in producing "young children who are going to grow up as successful lifelong learners and citizens making an economic contribution to society," says Christine Pascal, director of the Centre for Research in Early Childhood.
This week, The State of Working America, the Economic Policy Institute's annual mega-tome, hits cyberspace. The news, in a nutshell, is grim. Economic inequality -- no surprise -- is the order of the day. The gap between our top earners and those on the bottom rungs is yawning. Time is running out on our garden of human capital. It's time to water the seeds of our nation's future.