I had the rare privilege this week of spending a great deal of time with this year's CNN Hero of the Year, Anuradha Koirala, a petite Nepali woman whose life is dedicated to preventing the sex trafficking of girls -- and boys -- as young as six-years-old.
The week began with a fundraising event in Malibu that I co-hosted with documentarian Chelo Alvarez-Stehle to raise funds for Anuradha's organization, Maiti Nepal. Her work involves preventing, rescuing and rehabilitating young Nepalese girls from human trafficking. The topic is so despicable that it was hard for me to jump in with both feet, but I was so glad that I did. I ended up spending Thanksgiving with Anuradha and a few Nepalese supporters -- watching the awards program with her that night on CNN -- and then accompanying her to a fundraising event in Hollywood.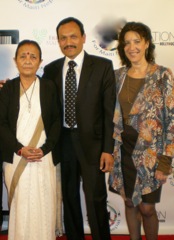 All of us understand that one person can make a difference in the world, but it's one thing to know it intellectually, and another to see it up close and personal. I was touched by how this woman lives and breathes her work -- not with heaviness or despair, but with clarity and love. Anuradha Koirala has been relentless in her efforts, retrieving children from brothels, heading into villages with street theater to teach girls how to avoid the lure of trafficker's promises, and arranging for survivors to monitor borders between Nepal and India because police look the other way as girls are illegally smuggled to work in the sex trade.
I found myself looking at the places in my own life where I may not be living my passion to the degree that I could, not out of guilt because I should do more, but because it feels so wonderful when I let it rip and watch the magic happen.
There's a wonderful book called The Big Leap that talks about the many ways we set the glass ceiling on our lives. Whether we use fear, illness, or just an unnamable reluctance, many of us live much smaller than we are meant to, stepping away -- rather than into -- the bounty of what life has to offer when we stand in all of our gifts.
Michael Beckwith recently said, "If God were to show up as me today, what would I be doing?" He speaks to the belief at the core of my work with parents and children: When we embrace and manifest our talents and callings, we allow ourselves to stand fully in our joy. Watching Anuradha up close, I was reminded of the peace and equanimity that come when we leap all the way into who we're meant to be, and what we're meant to manifest--whether our efforts gain the notoriety of an awards show, or are done quietly and without fanfare.
Anuradha, like the other nine heroes nominated for CNN's award this year and the thousands of others whose work goes on without acknowledgment, does her phenomenal work because it fulfills her. She has yielded to her passion, and her life is extraordinarily rich because of it. Rather than looking at how immense the problems are that she's trying to solve, she simply plods on, one foot in front of the other, with a fierce dedication and unwavering determination.
Our task, as parents, is to call forth from our children the courage and willingness to jump with both feet into the life that awaits them. Whether they become a painter, a teacher, a loving mother or a crusader against human trafficking -- or all of the above -- our challenge is to help our children discover their voice and their song, so they can sing it with gusto.
Inspired by the amazing Anuradha Koirala and her fellow nominees, I look forward to continuing to stretch beyond my own comfort zone so I can stand proudly in the gifts I claim, and to explore those yet undiscovered.