The media delights in detailing the workplace wellness "playgrounds" of Silicon Valley startups... but the average global worker is getting sicker, older and more stressed; three-quarters make less than $13 a day, and only 9% have access to any form of workplace wellness.
When it comes to how wellness is covered in the media, sensationalist looks at the latest, exotic superfood or silly spa experience will often dominate the headlines: endless ink is spilled over the extravagant and esoteric. We read about the $500 yoga pants; ever-spawning fitness and mind-body fads like "doga" (a new yoga variety that combines massage, meditation and stretching for dogs and their owners); $2,000, 24-karat-gold facials or strange fish pedicures... and what wellness-mad celebs like a Gwyneth Paltrow are doing right now, whether bee sting therapy or sipping $200 "moon juice" smoothies.
"Wellness" is of course everywhere now and is a booming $3.4 trillion industry. And given the aggressive merchandizing of the wellness concept, it's understandable that there is rising impatience with its more trivial, bourgeois and faddish varietals. But the media fixation on the lifestyles of the few, more affluent, wellness "outliers" can obscure the overwhelming reality: we live in a world that is only getting less well -- more overweight, with more chronic disease. The facts: there are 640 million-plus overweight or obese people in the world today, up from 105 million in 1975. And that is why cardiovascular disease and diabetes are on the march: for instance, 422 million people globally now have diabetes, nearly double the rate in 1980. Whether it's the wealthiest or poorest nations, no country has yet begun to reverse the obesity and chronic disease epidemic.
This focus on the "well few," and the cutting-edge wellness "outliers," also pervades media coverage of the workplace wellness space. If you live in the U.S. or the U.K., the headlines tend to revel in detailing the enviable wellness "playgrounds" you will find at tech start-ups or big corporations: the ping pong tables, stand-up treadmill desks, farm-to-table food cooked to order, smoothie bars...companies experimenting with paid time off without limits, executive retreats with mindfulness gurus, or new boss-less management systems like holocracy.
But when we narrowly focus on the important progress of the few, we get way, way ahead of ourselves. Because as the Global Wellness Institute's new "The Future of Wellness at Work" report shows, the average worker in the world is not only extremely unwell, less than 1 in 10 have access to any kind of workplace wellness program.
How unwell? Here's snapshot that's a wake up call: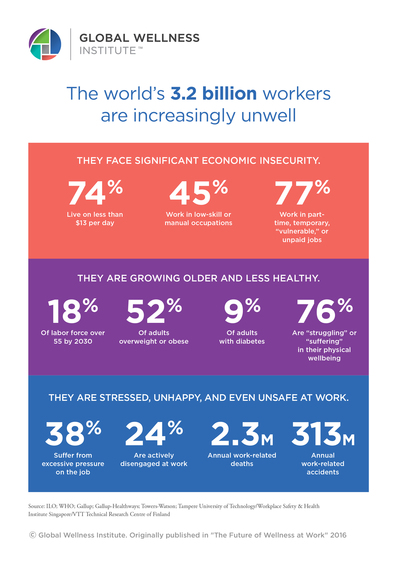 These stats make it clear that the vast majority of workers in the world live with crushing economic insecurity; they're suffering more chronic disease; and they're aging, stressed, unhappy, disengaged, and too often unsafe at work... at alarming rates. There is clear evidence that the wellbeing of the global workforce has actually stagnated or deteriorated.
Forget yoga classes or ergonomic desks, work itself is hazardous for far too many people in the world, despite the proliferation of government regulations on occupational safety. Factory and mining accidents continue to make headlines: from the 2014 Soma mine explosion in Turkey that killed 300, to the 2013 collapse of a garment factory in Bangladesh that killed over 1,000 people, to the 2011 Fukushima Daiichi nuclear disaster in Japan. According to the International Labour Organization, every single day 6,300 people die around the world from occupational accidents and work-related diseases.
So, the current conversation about workplace wellness captures only a tiny sliver of the world's workforce -- primarily that slice working for employers that are large, global, have a lot of resources, and/or are advanced in their thinking on employee wellness or corporate social responsibility.
And, despite all this poor health, stress, and workplace illness/death, the Global Wellness Institute estimates that only 9% of the world's workers have access to any form of workplace wellness program.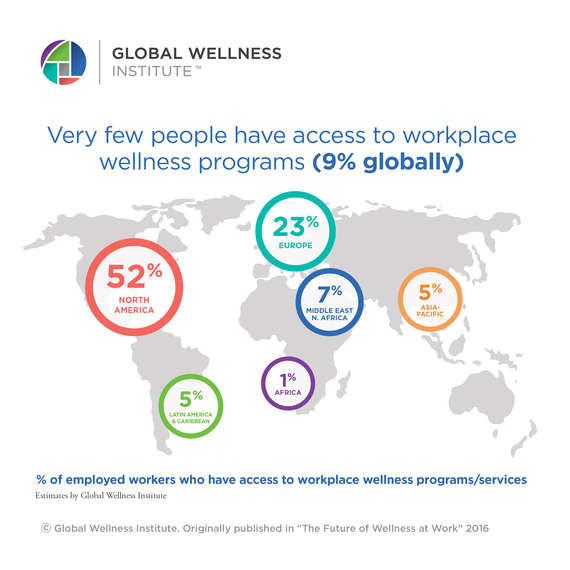 The U.S., where companies foot the bill for employee healthcare, is by far the largest market and innovator. But we at the Global Wellness Institute predict that wellness at work will become not just a luxury for professional workers in wealthy countries, but an imperative for future economic growth in all countries around the world. It will grow in the U.S. -- and all over the world -- because the economic burden of unhealthy workers (in both medical expenses and lost productivity, whether companies pay, or governments do through taxes) is enormous and unsustainable. You can't keep doing "business as usual" when the cost of unwell workers, the Global Wellness Institute estimates, represents 10-15% of global economic output! In the U.S. alone, "unwellness" at work costs $2.2 trillion each year, or a shocking 12% of GDP.
I offered up these facts as a counter to a media tendency to trivialize wellness, by focusing on the most trivial in wellness and the wellness habits of the affluent few. It certainly makes for fun (often snarky) stories to dissect the byzantine "clean beauty" rituals of Instagram wellness celebs, or revel in describing the mind-blowing workplace wellness perks of a cool tech company. And as the wellness market booms, it's important to separate the "silly" and the "snake oil" from the very serious, evidence-based solutions. But don't let the "smaller picture" distract you from the big picture: the world and its workers are very unwell, and we all have to do something about it.
And doing something impactful won't just mean more, limited "wellness programs" as a panacea for wider, unhealthy work cultures. It will mean authentic, wide-ranging "caring" for workers. But that's the subject of a future post...