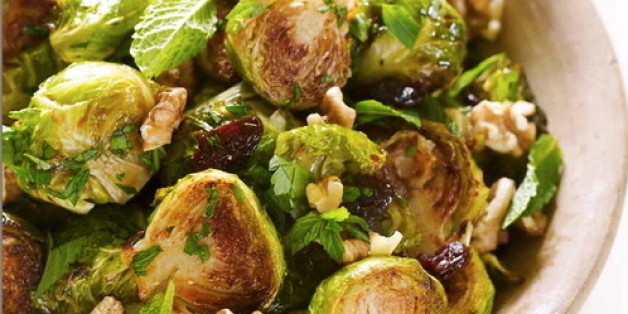 Every year around Thanksgiving time I start jumping up and down about one of my favorite cooking techniques--quick-roasting vegetables. I love it because the veggies can conveniently cook after the turkey comes out of the oven and while the bird is resting. (And of course, this easy method yields deliciously sweet, nutty, and browned veggies--see my demos on the Martha Stewart Show the day before Thanksgiving a few years ago. And let's all be happy I get to stay at home this year!)
Once the veggies are cooked, all they need is a little dress-up (aka quick stovetop sauce) to be holiday-table worthy. Ta da! And my vote for this year's table is Roasted Brussels Sprouts with Pomegranate Dressing, Dried Cherries & Toasted Walnuts, a recipe from my newest book, Fresh From the Farm: A Year of Recipes and Stories. (See recipe below.) The quick dressing is a mix of pomegranate juice, balsamic vinegar, honey and lime juice that simmers just for a couple minutes. So good. And instead of roasting the sprouts on a baking sheet as I've done in the past, I use a baking dish in this recipe, allowing for a little more steaming while the outsides of the sprouts are caramelizing. You can certainly use a baking sheet instead for very crispy sprouts.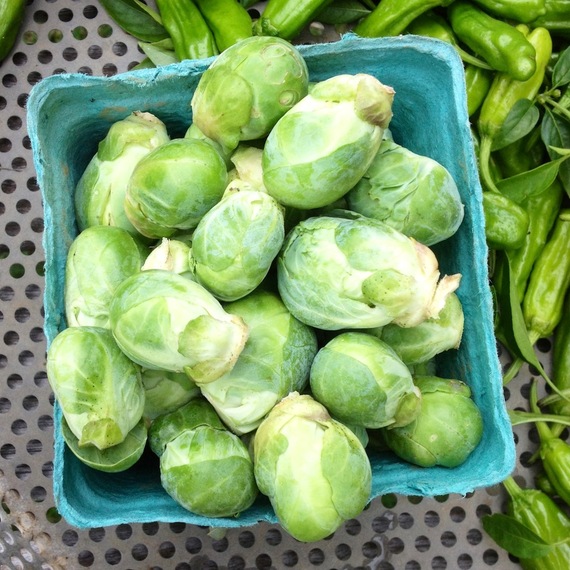 This year we grew a lovely (though small) crop of Brussels sprouts on the farm, and we even sold a few quarts at our farm stand. (Our small farm is Green Island Farm on Martha's Vineyard.) But I've been hoarding the rest for us! Now they are turning purple since we've had our first frost, and I snapped one off the stalk this morning for a snack--very sweet. But certainly farm-fresh sprouts are not necessary for this recipe; just aim to choose sprouts that are all about the same size, if you have the option. And feel free to double the recipe (and the baking pans) for your Thanksgiving table. And in the spirit of wishing you a delicious holiday, here's a link to 10 more of my favorite holiday sides on sixburnersue.com.
Roasted Brussels Sprouts with Pomegranate Dressing, Dried Cherries & Toasted Walnuts
Recipe copyright Susie Middleton, from Fresh From the Farm: A Year of Recipes and Stories (Taunton Press)
Rustic, festive, yummy. Here's a recipe for your holiday table that brings out both the nutty and the sweet side of roasted Brussels sprouts and manages to feel warming and bright at the same time.
Serves 4

1 1/4 pounds Brussels sprouts, trimmed and cut into quarters lengthwise
3 tablespoons extra-virgin olive oil
Kosher salt
3 tablespoons pomegranate juice
1 tablespoon plus 1 teaspoon balsamic vinegar
1 tablespoon plus 1 teaspoon honey
2 teaspoons fresh lime juice, plus 4 small lime wedges for serving
1/4 cup coarsely chopped dried cherries
1 tablespoon cold unsalted butter, cut into 4 pieces
1/4 cup toasted chopped walnuts
2 tablespoons very roughly chopped fresh flat-leaf parsley, plus a few sprigs for garnish
2 teaspoons chopped fresh mint

Heat the oven to 475°F. In a mixing bowl, toss the Brussels sprouts with the oil and 3/4 teaspoon salt. Arrange the sprouts in a 9 x 13-inch baking dish (they will be very snug). Roast, stirring once or twice during cooking, until nicely browned and tender, 25 to 27 minutes. Transfer to a mixing bowl.

Combine the pomegranate juice, balsamic vinegar, honey, and lime juice in a small saucepan. Bring the mixture to a simmer over medium-high heat and simmer gently for 2 to 3 minutes, or until the mixture is reduced by about a third. (It will be a bit more viscous but still loose). Remove the pan from the heat, add the dried cherries and the butter, and stir until the butter is just melted and creamy. (Don't reheat the mixture.)

Pour the sauce over the roasted sprouts and stir gently but thoroughly. Add most of the walnuts and herbs and stir well again. Transfer to a serving dish, garnish with the remaining nuts and herbs (and the herb sprigs), and serve right away with lime wedges for seasoning at the table. (A gentle squeeze is enough.)
Photo top, Alexandra Grablewski, from Fresh From the Farm: A Year of Recipes & Stories (Taunton Press, 2014). Photo middle by Susie Middleton.