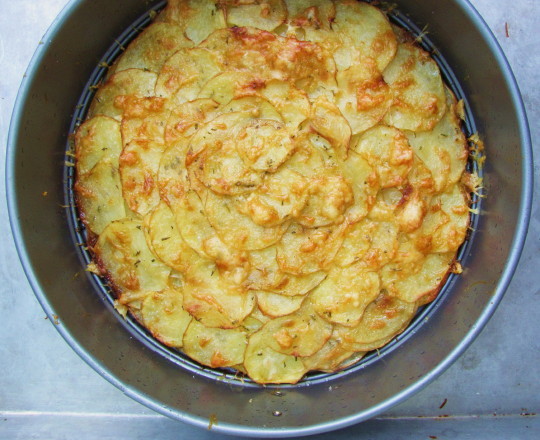 As the author of three "fresh" cookbooks, I'm supposed to say kale is my favorite vegetable. Or Brussels sprouts. Honestly, I like these veggies; but I would lie down on the train tracks for a potato gratin, a plate of crispy fingerlings, or a slice of Golden Gruyère Potato Galette (see below). Mashed, smashed, braised, slow-sautéed -- however you cook them, potatoes are pure comfort. They're also fun and easy to work with in the kitchen, so you can create something brilliant with them without fear of failure (or alienating the in-laws). I say, the holidays are stressful enough, so let's make something we know everyone will like and that you'll enjoy cooking, too.
And speaking of fun in the kitchen, right up at the top of my list of the most loved potato dishes I've developed over the years is this layered "galette" of Yukon Gold potatoes and gruyere cheese, baked in a tart or cheesecake pan. (Photo above; see recipe below.) It's similar to the French dish called Potatoes Anna, except there's no stovetop flipping involved. And while you could also think of this as kind of a potato pie, there's no tricky crust to fiddle with here, either. And I even give you a tip for thinly slicing your potatoes without using a finger-unfriendly mandoline. (Cut a sliver off the bottom of the potato first to stabilize it.) Arranging the potatoes and cheese in layers is satisfying in a craftsy kind of way, and the whole thing can be baked ahead, popped out of the pan, cut into pieces, and reheated at the last minute. Did I mention that it is absolutely delicious? And versatile, too -- great with roast meats, but equally appealing in a warm salad with dressed greens.
Okay, just in case the galette doesn't work for you this Thanksgiving, here's the rest of my top ten favorite potato recipes I've developed over the years (for winter enjoyment), including fabulous mashed potatoes and a heavenly potato gratin. And stand by for more potato recipes (including Grill-Roasted Fingerlings with Rosemary, Lemon, Sea Salt & Fresh Corn Vinaigrette) coming in my new book, Fresh from the Farm: A Year of Recipes and Stories. (We grow a lot of potatoes here on our little farm on Martha's Vineyard. The problem is that we sell most of them at our farm stand, leaving us longing for more. Maybe next year.)
Susie's Top Ten Favorite Potato Recipes:
1. Golden Gruyère & Rosemary Potato Galette (recipe below)
2. Crispy Smashed Roasted Potatoes

3. Braised Fingerlings with Crispy Sage and Tender Garlic
4. Mashed Yukon Golds with Roasted Garlic
5. Creamy Potato Gratin with Thyme & Horseradish
6. Butternut Squash, Apple, Leek & Potato Gratin with a Cheddar Crust
7. Carrot, Fingerling Potato, and Pea Ragout
8. Dark and Crispy Pan-Fried Potatoes
9. Corn Sauté with Canadian Bacon, Potatoes & Peppers
10. Quick Roasted Winter Vegetables
Golden Gruyère & Rosemary Potato Galette
Be sure to use good Parmigiano and Gruyère cheese in this recipe. With so few ingredients, the quality (and flavor) of the cheese makes a different. You can substitute fresh thyme for the rosemary if you like. Stick with yellow-fleshed potatoes for this recipe; red skinned-potatoes and Idahos do not work as well here. No need to peel the potatoes. For this recipe, you will need a tart pan or cheesecake pan with a removable bottom.
3 tablespoons plus ½ teaspoon extra-virgin olive oil
1½ pounds Yukon Gold potatoes (about 4 medium-large)
1½ teaspoons chopped fresh rosemary
¾ cup coarsely grated Gruyère cheese
1/3 cup finely grated Parmigiano Reggiano
Kosher salt
Heat the oven to 375°F and arrange one rack in the middle of the oven. Rub a 9-inch tart pan or a 9 ½-inch cheesecake pan with ½ teaspoon of the olive oil. (Make sure the pan has a removable bottom.)
Put the potatoes on your cutting board and trim a small slice off the bottom of each to stabilize it. Trim off and discard the very ends of the potatoes. Then cut the potatoes crosswise into very thin slices. (Use a sharp, thin-bladed (but strong) knife--a Santoku knife works great for cutting thin potato slices, and a ceramic knife is a great option, too.) Slice as thinly as you can, but don't worry in the least if the slices are inconsistent; the galette will still cook evenly as long as you don't include any really thick slices. If you have a mandoline, you can certainly use it, but you don't need to.
Put the potato slices, the chopped rosemary, and the remaining 3 tablespoons of olive oil into a mixing bowl and toss thoroughly to coat.
Cover the bottom of the pan with a layer of potato slices, starting by making a ring of slightly overlapping slices all the way around the outside edge, and then working inward, laying down more rings of slightly overlapping slices until the bottom is covered. Sprinkle the potatoes with a tiny bit of kosher salt (about 1/8 teaspoon) and then sprinkle about 1/3 of the gruyere and 1/3 of the Parmigiano over all. Arrange another layer of potatoes over that, season again with salt, sprinkle with 1/3 of each cheese again, and finish with a top layer of potatoes and cheese.
Bake the galette until the top is golden brown and a fork easily pierces the layers of potato, about 45 to 50 minutes. Let the galette cool for 10 to 15 minutes in the pan. Run a thin knife around the edge to unstick any cheese and remove the cheesecake ring or the tart ring, leaving the galette on the bottom of the pan. Use a thin spatula to gently release the galette from the pan bottom, and transfer the galette to a cutting board. Cut into 6 or 8 pie-shaped pieces. Serve warm.
Serves 6 to 8
Cook/writer/farmer Susie Middleton is the author of Fast, Fresh & Green; The Fresh & Green Table, and Fresh from the Farm: A Year of Recipes and Stories. She blogs about vegetable cooking and life on a small farm on Martha's Vineyard at sixburnersue.com.