It was nearly 3 p.m. and we hadn't had lunch yet. We'd been so taken with the shady cobblestone streets and the facades of the ancient buildings (OK, and the statues in the plaza and the many colorful little shops) that we'd forgotten to eat. And now we were starving.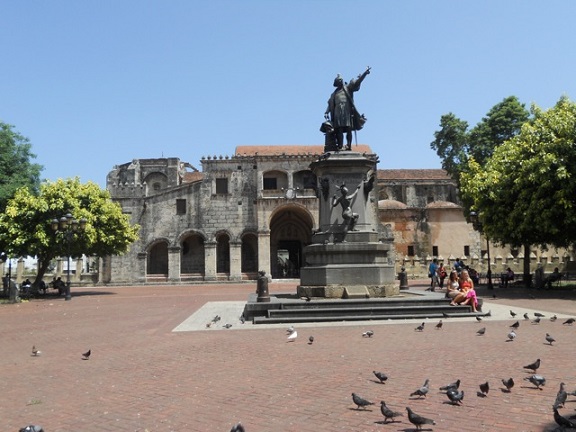 A tour guide on the corner offered his assistance. And when we explained it was food I was looking for, and not a play-by-play of the cathedral's history, he pointed us to a nearby sidewalk café.
What the heck, we thought: when in Santo Domingo, do as the tourists do. Pull up a chair at a table overlooking Parque Colón, where we might listen to the sounds of a local merengue band and watch the pigeons barter for space on the outstretched arm of Christopher Columbus. (In Latin America, Christopher Columbus is known as Cristóbal Colón, and he sauntered these streets frequently little more than 500 years ago.)
As we dug heartily into our Cuban sandwiches (you'll find all the flavors of the Caribbean here), we reflected on a day well spent.
In the Dominican Republic's historic capital city of Santo Domingo, we'd already walked past the first cathedral, the first monastery, first university, first customs house and first hospital of the "New World."
That's a lot of "firsts," even though the Zona Colonial, as it's called, isn't big -- only 11 square blocks inside the historic walls. But it's important enough to have been declared a UNESCO World Heritage historical center. You can certainly spend days exploring sites such the Fortaleza Ozama, a castle-like fortress overlooking the Ozama River, and the oldest formal military construction of European origin still standing in Americas.
We especially enjoyed the Alcázar de Colón, built by Columbus's son, Diego, between 1510 and 1512, to be used as the family home and governor's mansion. It was from here that many expeditions of conquest and exploration of the New World were planned. And although what remains is just half the size of the original, you'll find an interesting array of historical artifacts and works of art.
Finally, after all these years of touring museums and the like, we learned why the beds were so small back then. With massive headboards, they were only about four feet long. That's because it was believed to be so much healthier to sleep sitting up.
Maybe that's where the idea of today's La-Z-Boy comes from? They always put us to sleep...
Speaking of which, we still had much to do. After lunch we planned to continue exploring the Zona Colonial, with time for a quick nap at my hotel, the historic Hostal Nicolas de Ovando, built as a private mansion in 1502, and overlooking both the Ozama River and historic Calle Las Damas.
Then again, we thought, perhaps history can wait. The beds at the hotel are so comfy. And oh so large...