I'm scared of Shirley Gibson, the first and only mayor of the nine-year-old City of Miami Gardens. She ain't for no foolishness and sometimes I have foolishness to report.

Not that I think she'll beat me up, but because she is so demanding of very high standards for her city that I get afraid I can't meet them. And then, every year, I do, mainly because she pushes me, her staff and the rest of the community to do better -- and expect better. Her personal motto is "If we can't do it first class, we don't do it at all." That's a lot of pressure. Yet we rise to it, spurred by her passion and belief in finding the right people for the job and letting them do what they do best. She has changed the trajectory of my life and Circle of One Marketing by requiring that I excel. That's really all it takes. Just the chance to prove or disprove that you are as good as you think you are.

Each year, since its inception in 2006, my company Circle of One Marketing has been responsible for building the national brand for the City's signature event Jazz in the Gardens. This wildly popular jazz and R&B music festival was the Mayor's brainchild that started with 1,800 local attendees, and now in its seventh year, saw 48,000 people from all over the world make the trek to the City of Miami Gardens. We've been privileged to work with 70 amazing national artists like Mary J. Blige, John Legend, Patti LaBelle, KEM, Chaka Khan, Kenny G., Babyface, Nancy Wilson, Wyclef, Erykah Badu... and there are tons more -- too much fabulousness to mention in a short blog. For us it's our most visible and fun project, as it allows us to put all our creative ideas and muscle in action. Every year during the festival, I chase around Mayor Gibson, trying to wrestle her on stage, pulled in so many directions by so many that we hardly make it up there in time. It's an exciting experience that always brings tears to my eyes, knowing how blessed I am and that I'm still there because she boldly gave us the chance to get our marketing swerve on.

Mayor Gibson is known for taking on the traditional idea of Miami politics and leadership and turning it on its head. Like I said, she aint for no foolishness and she does not suffer fools gladly. She cares about results, passion and progress. I know this because I've been cussed out (the Christian cuss out, of course) by her more than once for engaging in "small" behavior. I usually know when I screw up, hopeful that I won't get caught. I know she's gonna call before she does and it makes me want to hide. She never sugar coats but she's always fair. She gets right to the point and will cut me off when my conjecture kicks in. Her years of police training from her "past life" allows her to get to the heart of a problem, compartmentalize all the factors, put it back together and figure out how to solve it. But it's her character that makes applying the facts for fairness an admirable quality. Her strong words are hard to take but always come from the sincere intention of making me a better person and leader. But I'm not special; she is like this across the board, with everyone. Real.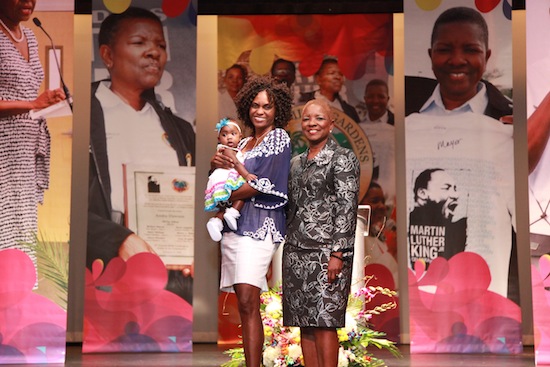 Tuesday May 22nd was her annual State of the City address and her formal goodbyes to the city she birthed in 2003 after a seven-year fight against thousands who said she could not do it. She took the stage, resplendent in an elegant silver suit, a fresh blonde do, perfect make up and a "fly-girl" attitude. One can hardly believe this timeless lady is 68! Her address was bittersweet and triumphant. Measured yet passionate. Scripted and then conversational. And her standing ovation was well earned.

For me, the most poignant moment was when she spun her speech around Helen Keller's quote: "I am only one, but still I am one. I cannot do everything, but still I can do something; and because I cannot do everything, I will not refuse to do something that I can do."

She is now termed out as the Mayor of Miami Gardens. Towards the end of her address, she formally announced that she will run for Miami-Dade Commission seat District 1 against incumbent Commissioner Barbara J. Jordan, who was sitting second row center, and who is also a friend of The Circle. Jordan has passionately been our advocate and also helped my business to grow, so I'm in a funny political position. There... I said it. Two powerful Black women who have both followed and aided my progress, up against each other. HELP!

But, as Mayor Gibson said in her address, in this town, with many strong black females elected leaders like Gibson, Jordan, Edmonson, Wilson and the like, eventually they will have to compete against each other on the same ballot. It's knowing that these challenges exist that allows each of these great leaders to step up their game and rise to the occasion. To some it's a calling; others say it's purpose or destiny.

Having heard this for the first time in Mayor Gibson's State of the City address, I think this African proverb sums it up best:

Every morning in Africa, a Gazelle wakes up. It knows it must run faster than the fastest lion or it will be killed. Every morning a Lion wakes up. It knows it must outrun the slowest Gazelle or it will starve to death. It doesn't matter whether you are a Lion or a Gazelle... when the sun comes up, you'd better be running.

No matter what happens, I know that in her next incarnation, "my Mayor" will wake up every day, ready to run.

May the best women win.