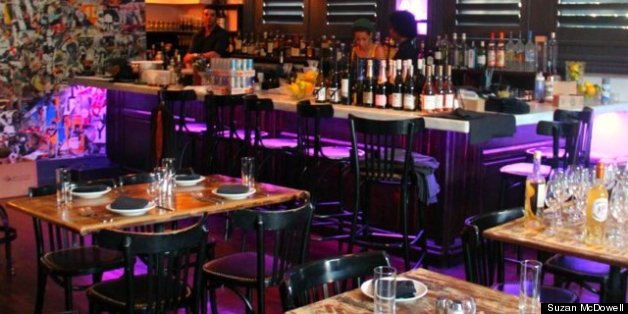 Thank God Amaris Jones has a formidable personal brand. That's because she was as shocked as everyone else when the rug was pulled out from under her hugely popular soul food restaurant, South Street, in the ritzy and getting ritzier Miami's Design District. Inspired by her daddy's Philadelphia church named South Side Church on South Street, the restaurant bore a striking resemblance to the facade of the church. To Amaris, this was not just simply a restaurant -- it represented a deeply personal artistic expression.
Things changed in a heartbeat for South Street. One minute, Amaris is running a busy restaurant in her trademark granny apron, celebrated as the first African-American woman to bring a jolt of soul food and music to the prestigious street that boasts Prada, Hermes, Dior Homme, Louis Vuitton and Cartier as the bigger names. Next minute, she's fielding phone calls: "WTH happened to South Street?" I remember getting texts like "Yelp is reporting South Street's closed: True or false?" In my mind, nothing could be true about that since the last time I went to South Street it was too packed to even stay. South Street opened in October 2012 and was closed by April 2013. Like Chris Rock said, "Grand Opening! Grand Closing!"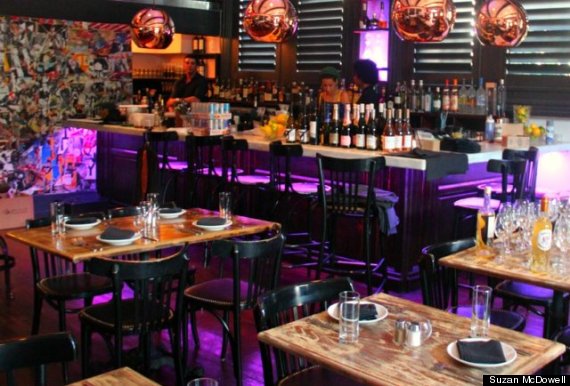 For a while, South Street was THE hottest thing in the South Florida's black, mixed race, neo-soul and creative class communities. From day one people clamored in. I hosted the final Obama/Romney debate party and an election night victory party. I went so much that I thought they would start charging me rent. How much fried catfish and lobster mac & cheese can one woman eat? My thighs were about to have a heart attack. Yet their unusual drink menu kept me coming back with favorites like "The Love Jones" an infused cocktail with cucumber puree, fresh ginger and tequila. It was also a marvel in the general market (code for white) as well, offering an ambiance, menu and décor that was really a departure from anywhere else in Miami.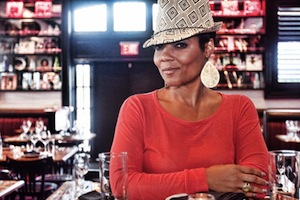 It drew celebrities, glitterati and paparazzi. Martha Stewart ate there. What more could you want but Martha Stewart, the queen of all things perfect, sitting cozy, eating and tweeting about your fried corn? The list went on and on to include LeBron James, Dwayne Wade, Gabrielle Union, Tom Joyner and Tracey & Alonzo Mourning, not to mention the line of mayors, senators and young professionals. It got crazy press, featured on Kourtney & Khloe (Kardashian) Take Miami, the Food Network and the Style Channel. Amaris was invited to demonstrate her famous fried chicken at the sold out Food Network's South Beach Food & Wine Festival.
That is until her partner Amir Ben-Zion, who according to the Herald, decided to sell the $500,000 lease back to its owner who is reportedly shopping it to a high-end retailer for twice that. Word on the street is its Tiffany's. Ben-Zion is also the owner of the always-busy Gigi, Bardot, the recently closed Bond Street and the stalled Cooper Avenue at the New World Symphony's architecturally omnipresent building on SoBe. Cooper Avenue's food was good but too bad it's been closed for months with a sign that cited "AC issues" as the reason. The closing of Cooper Avenue in November 2012 promised a quick resolution. Instead it renegotiated its terms with the City of Miami Beach who ate much of the past due rent. It is supposedly reopening with new partners.
But Amaris Jones is a smart chick and she insisted that South Street be billed as "South Street by Amaris Jones".......just in case of the unlikely possibility of exactly what has occurred. And she doesn't even seem upset at Ben-Zion. Perhaps this because she can take her name and her recipes anywhere and people will follow. She won't tell me what her next move is, just that there is a next move, something hot up her sleeve. It will involve food. It will involve music. It may involve multiple ideas. It will welcome and cater to the creative class and the affluent customer in need of a hip soulful space that celebrates our commonalities and love of comfort food.
I can't wait.