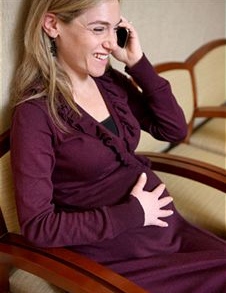 Exposure to radiation from cell phones during pregnancy may affect the developing brain of offspring, possibly leading to hyperactivity, according to Yale School of Medicine researchers whose study was performed using mice.
"This is the first experimental evidence that fetal exposure to radio frequency radiation from cellular telephones does in fact affect adult behavior," according to senior author Hugh S. Taylor, M.D., professor and chief of the Division of Reproductive Endocrinology and Infertility in the Yale Department of Obstetrics, Gynecology & Reproductive Sciences.
It is noteworthy that the article in Science Reports, published March 15, 2012, explains that "mouse brain development is incomplete at birth" and is "distinct from that of humans." While further study is necessary, researchers seem confident they have discovered a troubling link between human fetal development and cell phone exposure.
Photo by permission of Getty
Disclosure: Suzanne O'Malley is a Senior Research Associate with the Yale Heart Study. For information on her Yale screenwriting and summer classes, visit www.suzanneomalley.com or email: suzanne.omalley@yale.edu.
For more by Suzanne O'Malley, click here.