Before I was a Mom, I once spent a fabulous vacation with Martha Stewart. It was an entire week cooking, crafting and fussing around my new house, just me and Martha. I followed torn pages from Martha's magazine and splurged on Martha's new appetizer cookbook. It was a DIY week of domestic goodness culminating with a baby shower I hosted for a dear friend.
On the day of the shower, I filled pitchers with Martha's sparkling spritzer punch and spent the afternoon stuffing tiny green grapes with herb-seasoned goat cheese. My husband, who offered to clean up the demolished kitchen, was hovering nearby, anxiously checking his watch. My memory of what happened next is fuzzy, but looking back, we both agree that I was running late, too anxious and approaching "it's-gotta-be-perfect-like-Martha" full-on freak out mode. I was projecting my panic when he took the patio hose he was using to fill the mop bucket and aimed it right at me. I ended up very wet and kinda pissed, but my mood was much more manageable.
I remembered this hose drenching today when I was read a piece online about how Pinterest is making some women feel that same "I gotta be perfect" pressure. Nope, not me. Pinterest is helping me parent this summer. To put it more emphatically, Pinterest is my parenting save this summer.
In my early days of motherhood, a checkout line splurge on Martha Stewart Living or Sunset Magazine would provide 45 minutes of unrealistic, day-dreaming, drooling pleasure... Until my baby woke up from her nap.
I am now a mom of tween girls, a special needs advocating mom, a writer mom with a home office, a marketing mom and a wife and partner to a husband who owns his own creative small business. I am a homemaker in a home that is now fifteen years old, and a mom in a body that has carried two kids. I still long to craft and DIY, but I have less time and less money to make Martha's sparkling spritzer.
And to be honest, the record hot summer days in Scottsdale can stretch on and on, and with tween girls sibling squabbles, they get grumpy very quickly. With my girl's health issues, getting in and out of the car throughout the day is not a good option, and so we spend a lot of time at home, with quick dips in the pool and me saying NO all the time to incessant requests for time on the laptop, the iPad and the iPhone.
Have you ever tried to compete with an IPAD? Almost anything you can think of doesn't sound as fun to a kid as time on the iPad. Recently, I sat Olivia, my almost 13-year-old, down. I was beyond exasperated, and with nothing left to draw from, said "Hey, don't you think I WOULD LOVE to spend all day on MY iPad? But guess what? It's not healthy, so it's not gonna happen. So instead, we are making our way through summer with the Wii, card games, new recipes, books to read, afternoon movies and creative time at the kitchen table."
Enter Pinterest. My girls and I crafted a lot when they were young, but these days, it is mostly an occasional event. A holiday, birthday or seasonal thing. Cooking fresh food and baking is something we do often, so I warmed them to the site with a few projects that revolved around fun food: s'more snacks, mini pies, Nutella zucchini muffins... basically, I just bribed them with sweets to get them started.
Soon, my girls realized that Pinterest is not just about mom's occasional dinner recipe fails. There are chocolate desserts on Pinterest and other cool stuff. Soon, we were creating our own project inspirations; Bleach designer t-shirts, watercolor ink t-shirts, cool ice chalk, easy mandala designs, neon sharpie converse creations, neon sharpie library bags, summer night lights, Fourth of July lanterns, beaded bracelets, crazy popcorn snacks and more. Pinterest has all sorts of resources that inspire me to adapt each craft for Zoe's abilities, encouraging the use of stencils, pre-cutting some supplies and adding cardboard to items for stability.
And really, we are finding fun because making stuff has all the requirements kids like: You create something that suits your individual style, you can gently laugh together at what you make and we usually get dirty and make a mess in the process. Success.
So, we come together and craft for a few hours. Creating stuff has inspired us all. Olivia is drawing more on the desk in her room; Zoe is making her own collages, cutting and glueing, creating poster-size art; and I whipped my living room into summer shape the other day with some easy DIY decorating. The Pinterest chalkboard that hangs in our kitchen requires weekly child art updates... more success!
Last Sunday, after a trip to the library, I had nothing much planned, and my "almost" teen had already spent some major time on her iPad. So, after my "no more iPad" decree and tears, Olivia was faced with a long, empty afternoon, so she hit the craft cupboard, pulling out this and that, requesting odd items from me and my hidden stash. I left her alone to create and two hours later, she had finished a "clubhouse" for her younger sister Zoe's Barbies.
Zoe still cries over the fact that she has lost her best playmate, her big sister who no longer wants to be down on the floor in Zoe's make-believe world of Barbies and Monster High. So, when Olivia showed me her custom-painted cardboard clubhouse, complete with furniture, paintings on the wall, windows and rugs on the floor, I was moved.
Somehow, Olivia knew that even though she didn't want to play with Zoe anymore, giving her the gift of pretend play would be the best gift ever.
I passed Zoe's bedroom and saw Olivia putting the clubhouse down, I heard Zoe's oohs and ahhs, but even better, I heard Olivia tell her, "I know you miss playing with me Zoe, so I made this just for you. Let me show you how to play with it."
An unexpected gift on a long, hot summer afternoon.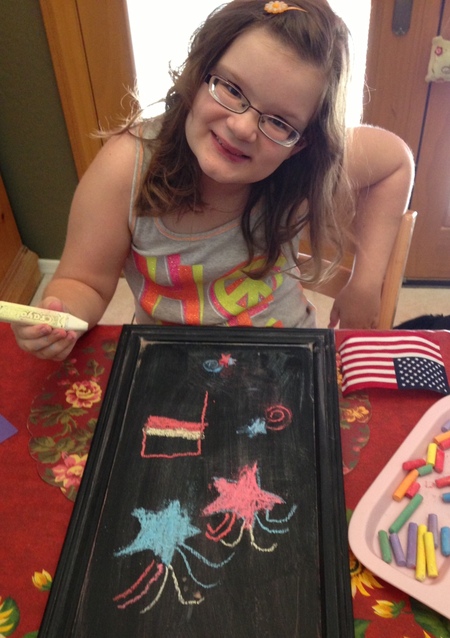 This post originally was published at SpecialNeedsMom.com