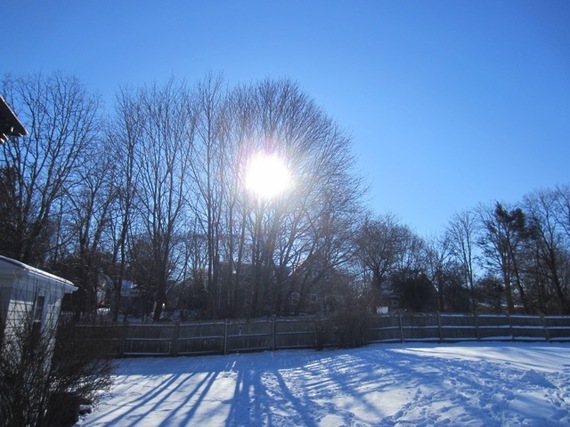 Try this unforgettable New Year's ritual that can tie past lessons to future hopes. Years ago my invitation read:
A Gathering of the Goddesses
The new year is upon us! Bring a small token symbolizing a lesson you learned in the past year. Keep the item a secret and bring it unwrapped to be given away. Ideally, the item should be something found in nature or something previously owned (no shopping allowed). Potluck, everybody!
My friends were intrigued and excited. That evening after dinner we lit candles and laid out our "symbolic gifts" on the table, each item representing a personal lesson from the past year.
Five objects graced the tabletop: a patch of quilting, a set of three seashells, a notebook, a blue-black strip of fabric and a quartz crystal. The ritual was simple.
Start with the person sitting to the right of the hostess. Think of a New Year's wish and then choose an object (not your own) that represents that hope. The person then shares with the group her desire for the coming year and why that object felt like a fit.
Then whoever brought the item chosen would explain what lesson in the past year it symbolized for her. Then it would be her turn to choose a gift.
We started with Laurie, who reached for the faded quilt square. Her mother had died and she was estranged from her remaining family.
"I'm drawn to this piece of cloth because it makes me think of old-fashioned family ties. I've never really been close to my own family, so I guess I'm still looking for my tribe. Next year, I want to deepen my friendships, so that's what this gift means to me," Laurie said.
The cloth fragment came from Sally, an avid quilter. Coincidentally, her lesson from the past year was about family, too. The piece was from her great-grandmother's quilt. Sally used pieces of the heirloom fabric to make new quilts for nieces and nephews. In their 40s, Sally and her husband had accepted being childless. Giving handmade quilts to loved ones was her way of being remembered, and her lesson in the last year.
Taking her turn, Sally chose the journal. She wanted to try a new form of artistic expression, but had always felt insecure about writing. Sally's cheeks reddened when she admitted her new year's wish, "I've always wanted to write poetry."
Donna had brought the notebook and shared the lesson it held. It meant starting on a clean page because of her divorce in the past year, and she said, "I've learned to change things that no longer work for me. Part of my lesson is to talk more about myself than about my ex."
She then chose the set of three seashells because her workaholic ways had taken a toll on her marriage. The shells suggested sunny climes, letting go, having fun. More importantly, they symbolized her future hope for healing.
It was Francine who had carried the tiny shells back from Brazil, an uncharacteristic trip for a very cautious woman. She declared, "Honey, I've learned to spell a-d-v-e-n-t-u-r-e and I'm just passing it on!"
Two objects remained: the quartz crystal and the indigo length of fabric.
Francine chose the crystal because she wanted to "light up" her creativity and try new things in the coming year.
That left me.
I had brought the crystal because it symbolized how divine light had steered my life into unexpected places. Challenges come with the territory, but an all-knowing God lights the way. All eyes turned to the dark strip of fabric on the table.
Donna said, "Oh, now you're stuck with what's left."
I wagged my finger. "This is symbolic, so that means I was meant to have this."
Though the cloth was dull, I said, "It a scarf wrapping the warmth and safety of my friendships around me as I aim to take bigger risks with my writing. Perhaps I have to search for richness beneath the surface."
The ritual finally circled back to Laurie, who brought the somber-looking cloth that was now over 25 years old. It was given to her when she had visited Rwanda, long before the genocide. She recalled the 747-landing-light smiles of African villagers who welcomed her, the curious white student. She spent a week amid lush farmland, hospitality and daily surprises. The plain cloth embodied powerful memories from a land, now forever changed.

Laurie said, "I thought they lived an enviable life that would continue forever. You're right about this scarf. Things are never as they seem."
We sat silently in the flickering candlelight, thankful for our friendships, strengthened by the softness in our hearts.
Sally said, "Well, ladies, I baked a chocolate decadence cake." Drawing a collective breath, we squeezed hands and broke for dessert.
The best is yet to come!
Email Suzette Standring: suzmar@comcast.net
Her new book, The Art of Opinion Writing: Insider Secrets from Top Op-Ed Columnists, is now available on amazon.com