Last week, Silicon Valley Voice took to the stage of the legendary Fillmore concert venue in San Francisco. It was an extravaganza show reminiscent of American Idol, only for geeks, and they rocked! It was amazing to see respected venture capitalists sporting groovy scintillating disco outfits, and signing their lungs off in rhythm. The audience, comprised of technologists from startups and established companies, such as Badgeville, Klout, YouTube and Salesforce, was overjoyed! Exalted tweets soared throughout the night.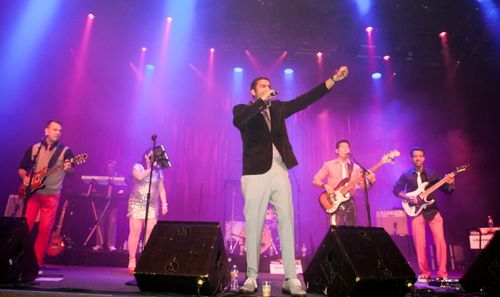 The tech community has enjoyed a longstanding relationship with music, as I wrote in a previous article on the parallelisms between jazz and tech innovation. So it should come as no surprise that Paul Allen, the legendary co-founder of Microsoft, played the guitar with the greatest musicians, and carried his weight. In fact, many Silicon Valley engineers play in bands. Coverflow, the co-producer of Silicon Valley Voice, includes players from Mayfield Fund, Facebook, Fandalism and Electronic Arts.
"When you innovate in one domain it carries over to others", says Raj Kapoor, Coverflow lead singer and venture capitalist. "Silicon Valley is well-known for technology innovation and creating disruptive products. We wanted to show another side of the Valley: the creative talent." Coverflow bass player and venture capitalist Tim Chang echoes: "We are not one-dimension people. People who are talented in science, are often talented in music, or other areas. Great entrepreneurs are multitalented."
The event, modeled after American Idol, invited Silicon Valley best talent to compete for a chance to sing at The Fillmore. Seven finalists were selected from fifty applicants, and got to perform live at The Fillmore. The audience was electrified! Twenty thousand dollars were raised from attendees in just a few hours. They will benefit local children charities (Make a Wish, Bay Kids and Little Kids Rock). The audience winner, Sara Oliver of Electronic Arts, received an extra three thousand dollars to donate to a charity of her choice.
"Silicon Valley Voice showcased the high energy, creative spirit and continued generosity of the tech community, with the outpouring of support and funds raised for several great causes," says John China, head of Relationship Management for Silicon Valley Bank, whose firm sponsored and co-produced the event.
It was invigorating to see and feel the creative energy in the air, and witness the talent on stage. It reminded me that creativity is what makes Silicon Valley so great!
The question is, why is art something we do as a hobby, compartmentalized from our work? Why is it not more integrated into the fabric of Silicon Valley innovation ecosystem? We would have much to gain! As a ballerina turned technologist, I've experienced many synergies.
"We must look back at Silicon Valley history to understand the present", explains Duncan Davidson, veteran entrepreneur and venture capitalist. "HP started the next bench revolution (which lasted thirty years), where engineers built products for engineers on the next bench. One did not need an artistic sensibility to build next bench products."
Times are changing, and changes create new opportunities. In today's mobile computing era, consumers are no longer the engineers on the next bench. In this new paradigm, understanding and delighting customers takes more than technology prowess. As Steve Jobs famously said: "Technology alone is not enough. It is technology married with liberal arts, married with the humanities, that yields us the results that make our hearts sing."
Steve Jobs' genius was to blend artistry with technology, and to get it right. He showed us that artistic sensibility creates better products, better user experiences, and better companies. In doing so, he created huge economic and societal value. At the time of his anniversary, let us pay a tribute to his extraordinary legacy.
Silicon Valley Voice was fabulous. Calling technologists to showcase their artistic talent on stage is a great thing. The next question is: how do we move artistry from the periphery to the core -- from a hobby to a habit -- into the DNA of Silicon Valley technology ecosystem? The time is ripe to cultivate art sense in Silicon Valley!
Photo credits: M.Kim/Fiorito Photography.