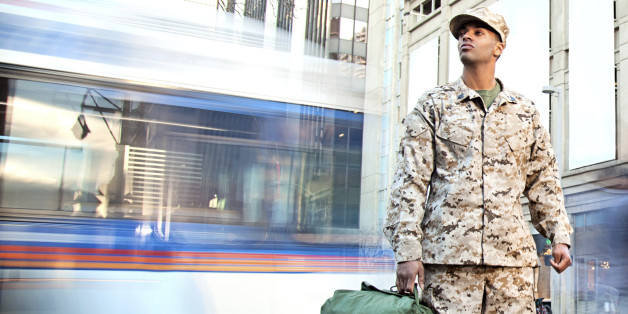 According to the Department of Veterans Affairs, California, Texas, and Florida are the top three states with the highest veteran populations, ranging from 950,001 to 1,795,455 people in 2014. In Florida alone, 8.5 percent of the population is veterans, 6.7 percent of the population in Tampa. However, WalletHub conducted a study in which it ranked 100 cities on 19 key metrics in an effort to find the best and worst cities for veterans: Tampa came in at 62. In fact, the highest-ranking city in Florida was St. Petersburg at spot number 39 and Miami came in at a low of 96. With Veteran's Day just a month behind us, it might be time to reflect on how we can help the men and women in our community who have served for our protection.
As a veteran myself, I am aware of the harsh realities facing veterans today. With VA backlogged and the veteran unemployment rate around 10 percent, to say that being a veteran is tough would be an understatement. In 2007, I ventured into the private sector and started my own accounting and consulting firm, Integrated Finance and Accounting Solutions (IFAS) specializing in federal financial management. In the past seven years, IFAS has turned into a multi-million dollar firm. In many ways, I owe my success to the skills and traits that I developed while still in the Armed Forces. I therefore make it my personal mission to give back through charity organizations and by hiring veterans.
While not everyone is in the position to hire and employ veterans, we can all make an effort to give back to those who have risked their lives for us. Below is a list of five charities and organizations that give back to veterans in Florida.
Located in Jacksonville, Wounded Warrior Project's mission is "to honor and empower Wounded Warriors." They acknowledge fun, integrity, loyalty, innovation and service as their core values and strive to "foster the most successful, well-adjusted generation of wounded warriors in our nation's history." They do this through their many programs that are specifically aimed at targeting mind, body, economic empowerment and engagement. With 62 percent of veterans experiencing pain and trauma that interferes with normal work and social engagements, the Wounded Warrior Project is a service that is desperately needed.
Based in Ponte Vedra Beach, K9s for Warriors pair rescue dogs and service canines to "warriors suffering from post-traumatic stress disorder and/or traumatic brain injury as result of service post 9/11." Veterans attend a three-week program in Ponte Vedra where they assist and facilitate the training of rescue dogs into service canines, thus allowing veterans the opportunity to be part of the solution to their recovery. K9s for Warriors provide a service canine, training, certification, equipment, seminars, vet care, most meals, and housing for free. K9s for Warriors accept not only monetary donations but through a program called Kasseroles for K9s, they accept home cooked meals as well. http://www.k9sforwarriors.org/
Operation Shoebox is located in Belleview and is dedicated to "providing hands-on support for our troops deployed overseas and returning home." Operation Shoebox sends packages to deployed troops with items they truly need such as toiletries, cell phones, etc. Additionally, Operation Shoebox regularly sets up fundraisers and organizes supplies for homeless veterans around the country. Operation Shoebox is one of the easier ways to volunteer your service, either through your time, donating a care package, writing letters and thank you cards, there are multiple ways to give. https://operationshoebox.com/
4. Supporting Local Veterans' Homeless Shelters
In 2010, the Obama Administration aimed to end veteran homelessness by the end of 2015. Since then, there has been a 25 percent decrease in the number of homeless veterans. However, according to data collected just this year, almost 50,000 veterans experienced homelessness on a single night in January 2014. Additionally, from 2011-2012, Florida only saw a 6 percent decrease in veteran homelessness. Homeless Shelters desperately need help and are often finding new and unique ways to solicit funds. Take the Athena House in Tampa for example - this past October, the shelter held a fundraiser in which ticket sales went directly to the needs of the home and attendees were entertained with music, comedy and dance. To find out more about shelters in your area, visit: http://www.homelessshelterdirectory.org/cgi-bin/id/city.cgi?city=Sun%20City%20Center&state=FL
One of the more unique organizations specific to Florida, Veterans Ocean Adventures, located in Miami, focuses veteran rehabilitation and reintegration on ocean activities such as sailing, scuba diving, kayaking, and more. With the veteran suicide rate at an all time high (around 22 veterans take their own lives every day), recreational therapies have become one of the key components for veterans to battle PTSD and restore mental health.
I encourage everyone to give of their time and/or resources to help the men and women in our community who have served for our protection.