You could go to Marrakech to tour history museums, stroll through gardens and eat tagine, but no matter how much you endeavor to simply soak up the environment, the Red City will eventually goad you towards the markets. But shopping in the souks is strictly buyer-beware: not everything you love in this state of exotic intoxication will translate to the wider world, or your living room for that matter. As one would imagine, and can likely see, craftsmanship and design integrity can be hugely variable. Alas, much of what's sold along the narrow alleyways of the street markets is best left there. The real design finds are hidden -- literally, as Moroccan architecture is hugely interior-focused -- behind unassuming doors; the key to purchasing success is knowing which doors to look behind, and which classic pitfalls to avoid.
Craftsmanship and design integrity can be hugely variable -- much of what's sold along the narrow alleyways of the street markets is best left there.
Rule number one -- don't let anyone talk you into having them alter items and ship them to your home. If they can't get it to your hotel within 48 hours, pass. In general, the better furniture stores will pack large items well, have crates fumigated (needed for U.S. customs), and cross all the T's and dot the I's on the paperwork. If in doubt, ask your hotel, but be prepared to pay handsomely. Rule number two -- for smaller items, follow the advice of seasoned shoppers: bring an extra suitcase.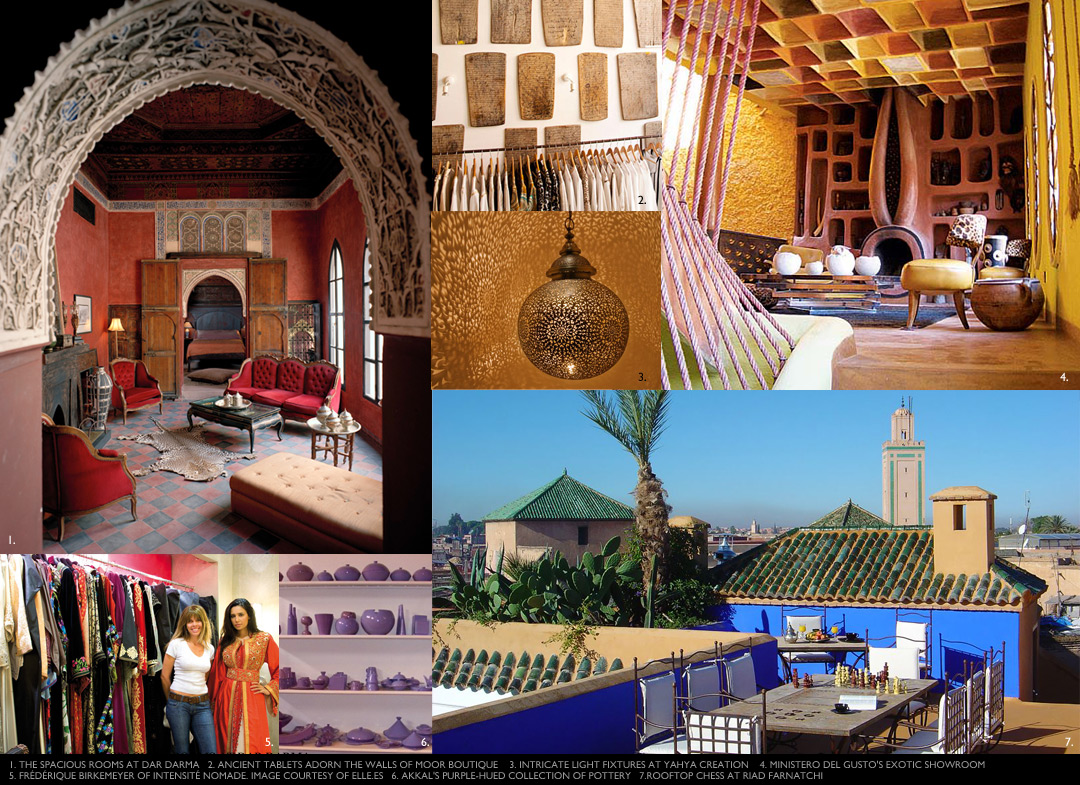 Begin in the medina, the ancient walled city center. An excellent first stop is Mustapha Blaoui's shop, Tresor des Nomades, a warren of little rooms piled to the rafters with what amounts to a crash course in Moroccan textiles, leather, camel-bone inlay, and other traditional arts. Anyone in the market for classic housewares should buy them here -- artisanship simply doesn't get any better. From there, head for smaller specialty boutiques. Assouss Argane is the premier source for pure argan oil -- one reason why Moroccan women have such luminous skin -- bottled and made into soaps by a women's cooperative in the south of Morocco and sold for a fraction of what you'd pay at home. Similarly, the Akkal showroom, located in the city's industrial area (a car needed), offers not only bargains but a wider selection of their elegant contemporary home wares. A jewel box on the second floor of a small shopping arcade, Hanout carries gorgeous embroidered beaded silk tunics that are made by a Central Saint Martins-trained Moroccan designer, who sold them at Selfridges when she lived in London, plus a smart selection of diminutive, understated jewelry. And the ever-popular café Terrasse des Epices is on the arcade's roof, offering an effortless coffee break spot. Even if you aren't in the market for an antique Murano chandelier or a leopard-print armchair, Ministero del Gusto (appointments suggested) is worth a peek for its striking design; the "ministry of taste" showroom has textured walls based on the sand houses of Mali and fireplaces inspired by Ghanaian jewelry. Make sure to get a look at the Berber-inspired rooftop, and stop to check out the vintage couture on your way back downstairs.
The medina can be dizzying, so it's worth choosing a hotel that's calm and centrally located -- close enough to retreat to for a homemade lunch or poolside respite. Dar Darma is straight out of Elle Décor, an Arabian riad crossed with an Italian palazzo (checkerboard floors, boiserie walls) with heavy doses of Goth. Riad Farnatchi is more traditional -- stunning carvings and colorful mosaic tiles -- with an eye-popping dining room that has mirrored wallpaper and high, white tufted-leather banquettes. Both are residential in scale (six and nine rooms, respectively) and stylish enough to serve as shopping inspiration.
Set aside at least a day to venture beyond the medina walls and explore the Gueliz neighborhood known for its contemporary fashion and home décor boutiques favored by the expat set. Worthwhile spots include Atika, which sells high-quality, knock-off Tod's loafers made with Italian insoles and Moroccan leather for about US$80, and Moor, whose designers slim the tunic's traditionally drapey silhouettes, rein in the typically exuberant color palettes, and are sparing with the intricate Rabati embroidery. For the couture take on the caftan, visit Intensité Nomade, the subterranean boutique of Marrakech designer and "queen of the caftans", Frédérique Birkemeyer. The equivalent of interior-design is found at Yahya Creation, which purveys refined versions of traditional perforated metalwork (light fixtures, wall hangings, backlit mirrors) to top hotels and Saudi princes, some of whom hire Yahya to adorn entire palaces. If you don't want to deal with international shipping, packable treasures include engraved boxes, candleholders, and small teardrop-shaped lanterns. Tuck into the cozy lounge chairs at nearby Cafe du Livre, which carries the US language newspapers and a tempting tapas menu in addition to full-service high tea.
A flock of up-and-coming designers has landed in Gueliz as well. A standout is Falida el Gadi (by appointment), who offers a couture take on classic looks. Her reworked military jackets are particularly cool. Men get to play here too. Her sleek collarless jackets are a chic alternative to a blazer, and capture what you want from all these purchases: the kind of just-exotic-enough look that wins compliments -- and begs questions.
-- Ann Abel for Tablet, April 2012
Got the travel bug? Tablet's Magazine helps travelers discover new places through inspirational and informative features.